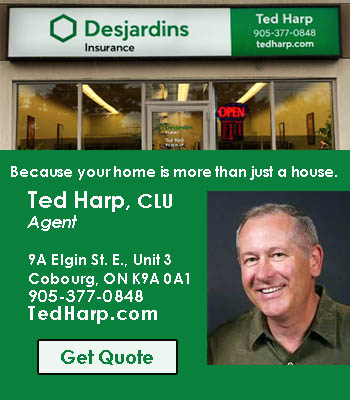 CPAC.ca | In Committee from the House of Commons | Holiday Travel Problems: Via Rail Executives at Transport Committee
(Today's Northumberland file photos)
Canadians finally heard from VIA Rail executives what exactly happened on the evening of December 23, 2022 to VIA Rail train 55 that caused over 200 people to be stuck like "prisoners" in a train for over 13-hours in Cobourg.
A VIA Rail train heading from Ottawa to Toronto on December 23, 2022 struck a tree approximately one kilometre west of the VIA Rail Station in Cobourg.
It was nearly 13-hours before local emergency services were notified of the incident – and that was only because some of the people on-board the train had had enough and disembarked and notified police.
When emergency services arrived to the nearest residential location of the train, they walked approximately two minutes to the train and were shocked to discover how long the train had been there.
On board were over 200 passengers where water was rationed and some washrooms were out of service.
During that time period, although it was against VIA Rail policy, VIA Rail staff sold food to customers who were stuck on the train.
The Standing Committee on Transport, Infrastructure and Communities in the House of Commons particularly dealing with the incidents involving the disruption of VIA Rail trains of Christmas.
Appearing at the Committee from the Crown Corporation were Martin R. Landry who is the interim President and CEO of VIA Rail Canada along with Michael Brankley who is the Vice President of Railway Operations for VIA Rail Canada and Rita Toporowski who is the Chief Customer Officer for VIA Rail Canada.
Landry said VIA has never had a situation like what they had on December 23 and December 24 where a passenger train struck a tree in Cobourg and the following day a derailment happened in Grafton shutting down all VIA Rail service.
Invitations to members of CN Rail were declined but may appear at a later date at the committee.
The House of Commons transport committee continues its study of airline and passenger train problems that affected travelers over the December 2022 holidays.
Landry started off by apologizing to "loyal passengers."
"We have winter storm protocols and it's obvious we need to review and enhance their effectiveness."
Landry stated there were "significant challenges" over the period of the storm and that CN Rail owned the tracks where the incident happened in Cobourg.
"It was the owners who is responsible to assist us as quickly as possible in the event of problems related to railway infrastructure."
With a freight train derailing in Grafton, "unfortunately this left us with no other choice but to cancel all of our services on our Montreal/Toronto, Ottawa/Toronto routes for three days from December 24 to December 26."
Members of Parliament were given a period of time to ask the executives questions surrounding the incident, specifically train 55 in Cobourg.
Landry said there were a "number of events" that lead to the events with weather, power and frozen switches being factors.
Landry stated that VIA could have communicated better with the passengers during the time period.
"The lack of communication had an effect that there was a greater stress on passengers because in some cases they were left in the unknown in a night during a winter snowstorm."
"You have to remember that passengers that were in the immobilized train were safe within the train. We took a decision because we weren't able to move the train, so we decided to keep the passengers on the train."
Landry said in the case of train 55, "we were not near a road so it was at that time we decided to keep the passengers on the train."
"No delay is acceptable, in this particular case it was beyond anything we've experienced previously," said Toporowski.
"The extent of the delay was such that conditions degraded over time. It was a 13-hour immobilization on train 55."
Extra supplies are regularly put on trains at various stops, "however train 55 was in a situation, it wasn't accessible to any station."
Toporowski even said managers tried to drive to the site to deliver food, but couldn't. (Even though when emergency services were finally notified, it was an approximately two minute walk from the road to the train).
"Train 55 was a very unique situation – given around 5 a.m. we started to run out of supplies."
"Train 55 was the bottleneck. If we couldn't liberate that, other trains were also delayed."
Brankley said because the rail lines are owned by CN, it is up to them to remove the tree that caused damage to the front of the train, along with knocking the horn off. The tree came to rest on one of the passenger cars.
"There were multiple plans in place to remove the tree, but as the situation evolved with the weather those plans continued to change."
On three occasions there were plans to remove the tree, but each time it changed and the tree wasn't removed.
"Sometimes the communications we gave to our passengers were unfortunately misleading, based on the information we had received (from CN)."
Brankley also added that VIA officials could not reach the site.
"Emergency services later in the morning intervened and with some difficulty reached the site. Unfortunately it was a location that was difficult to access which was part of the reasons why we kept the passengers on the train."
MP Aexandre Boulerice asked Landry, "how can you explain when passengers were stuck for 10's of hours, they were prisoners of their train, without having adequate information given to them?"
Landry said, "I do agree with you that it's completely unacceptable," and said VIA Rail wants to adjust their protocols in place to ensure the well-being of passengers.
MP Shelby Kramp-Neuman asked if there was an emergency why did it take so long to contact local authorities?
Brankley said throughout the night of December 23/24, "there was an operational disruption." with VIA Rail having contingency plans.
"During those operational disruption phase, we had passengers in a safe place, with access to light, heat and access to washrooms. We couldn't access the train to evacuate them."
Brankely said, "it was only in the early morning when passengers, unfortunately took it upon themselves to detrain from the train that the situation became unsafe for both those passengers and then for on the rail infrastructure."
Kramp-Neuman then asked if VIA was contacting local authorities/emergency services in Cobourg or was it just the passengers?
Brankley stated, "VIA Rail police were in contact with CN police. Based on the assessment of conditions in the town of Cobourg the term "code black" was referenced which I'm not familiar with. Which I understand would only respond to life threatening emergencies."
Kramp-Neuman then asks about the close proximity to houses, yet no one seemed to be able to anyone access the train/passengers?
Brankley stated, "there was a subdivision nearby where there was no hydro as well. We were on an embankment, with a creek running below the embankment, through a forested area to get there.
Even in daylight, emergency services had to work to get into that location. We did not see it as a safe environment to de-train passengers."
Kramp-Neuman then asked why the train couldn't move from the location to a crossing. Brankley said, "the issue that kept us from moving that train was the fact that the tree came to rest on the train with a significant portion of the trunk leaning against the train in the vicinity of the passenger windows. The assessment was, if we tried to move the train at that time without assistance from CN that the tree would intrude into the passenger compartment window and open the car to the environment."
The Committee heard that even though VIA Rail has teams that could have removed the tree, the train was on CN Rail property and it is there responsibility to remove the tree.
"We are dependent on CN to be able to remove that tree. The locomotive had a broken window so we weren't able to move ahead – we had a very precarious situation."
Landry said it took a lot longer to remove the tree, but it was because the first CN team was involved in a accident on the roadway.
"When the second team arrived, they thought the winds were to strong to be able to remove the tree without creating more damage."
MP Mark Strahl said it was "delayed response to an emergent situation" that the interim CEO of VIA Rail held a meeting with the Minister of Transport, MP Omar Alghabra on January 11, 2023.
Strahl brought up the point the passengers were actually "lucky" because if the train had been derailed, "how long would it have taken emergency crews to access the site? It seems like what we are hearing, it would have been impossible for crews to get there inside of 13-hours."
Brankley said, "if the train had left the track, or if the train had been breached and exposed to the environment that would have constituted an emergency. At that point emergency protocols would have been enacted based on the passengers no longer being safe in regard to light, heat and sanitation."
Brankley said he couldn't speak to the timeline of emergency services and how long it would take them to arrive in a "greater level of emergency," such as a derailment.
Toporowski shed light on VIA Rail's procedure of food where there is a delay.
After 45-minutes they open up their emergency snacks and water and provide them for free. After another 45-minutes VIA Rail goes through another "run-through" providing additional snacks and food for free.
"Post that, we start assessing how long we think the delay is going to be. Should we believe it's going to be much more protracted, we would open the carts we have on-board the trains. Next to that, should we have access to a station, we would find a way of getting to the station and getting the extra food that is actually in the station. Should it be even more protracted, we would order food and have it brought to the station or brought to the train."
"In the case of train 55 we were unable to do that. I understand on train 55 we were selling food and that is against what we normally would have done."
"Once again, that's a failure on our part," said Toporowski.
Exclusive – Port Hope Man Comes to the Rescue for Over 200 People Stuck On Train
Thirty CN Rail Cars Derail South of Grafton on Christmas Eve