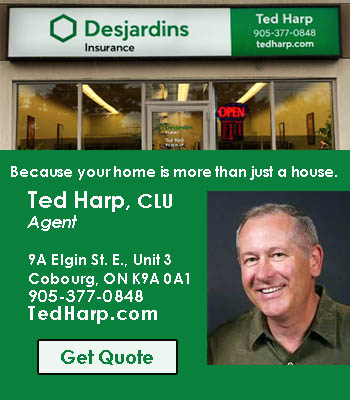 Cobourg Police are looking for suspects following a deadly shooting in downtown Cobourg on Monday, June 27, 2022.
The shooting happened shortly after 10 a.m. at The Jamaican Patty Shop located at 12 King Street East.
A witness heard the gunshots and saw the suspects leave the shooting.
"It was harrowing to hear two gunshots downtown Cobourg on a Monday morning," said the witness speaking to Today's Northumberland.
Police issued a brief press release at 11:08 a.m. stating the victim succumbed to their injuries.
At 10:06 a.m., police responded to a report of gunshots in the downtown area. As a result, a single male was rushed to Northumberland Hills Hospital, where he succumbed to his injuries, stated the release.
The area has been locked down from Division Street to McGill Street.
The witness said he stopped in to the TD bank on the south west corner of King and Division Streets talking to friends when he heard the gunshots ring out in downtown.
"Heard two gunshots. And I literally look across the street and see these two guy run out of The Patti store with two black hoodies on, heads covered, face covered. (They) hopped into a black Lexus that was parked right in front and rip right to the corner in a mad rush."
The suspects fled north on Division and got temporarily stopped behind a car near Covert Street, "then peeled north on Division."
The witness went over the scene to see if everyone was alright.
"The cops came very quickly. They were in almost what seemed like seconds. Guns drawn, they went into the restaurant."
Paramedics arrived and a short time later the victim was carried out on a stretcher with emergency services performing chest compressions (CPR).
"It's a peaceful town and to see this sort of thing is shocking and sad and wrong."
"We shouldn't have this sort of violence in our community at all."
The witness grew up in Cobourg and Port Hope and said anyone would be naive to think violence doesn't happen in any community.
"But I don't recall this type of thing happening and the frequency with which this is starting to happen."
People in the area who heard the gunshots and witnessed the gunshots were clearly shaken by what happened.
"I'm at a bit of a loss for words because you don't ever expect that. Especially in small town communities like ours."
Cobourg Police are holding a press conference at 2 p.m. and Today's Northumberland will provide any updates as they become available.