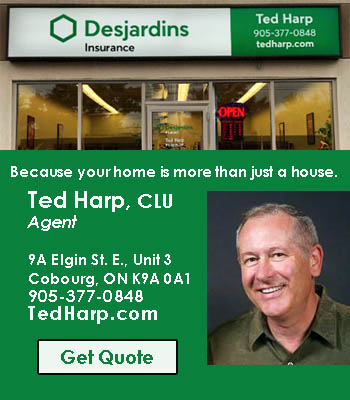 Weekly Media Release
Between Monday April 2, 2018 and Sunday April 9, 2018 the Cobourg police Service responded to 161 calls for service including, 22 Community Services, 4 traffic Enforcement, 16 Police Information, 2 Traffic Complaints, 14 Police Assistance, 9 Motor vehicle collisions, 8 Thefts, 9 Assaults, 2 Domestic, 2 Harassment, 9 property Calls, 4 suspicious persons, 2 Animal Calls, 2 Weapons Calls, 1 Noise Complaint and 5 Disturb the peace calls.
Here is a summary of the week:
Monday April 2, 2018
– Police attended at Home Depot for report of a fraud. Suspects completed a false return and left the area with approximately $700 in store credit along with $700 in stolen goods. The investigation is continuing.
– Officers responded to a daytime break and enter at a James residence. The homeowner returned home and chased the suspects towards the downtown area. Police responded and arrested two suspects for break and enter. Both were held for a show cause hearing.
– A Maher Street resident called police about a dirt bike being ridden in the area. Police attended and checked the area with negative results.
Tuesday April 3, 2018
– Police attended the intersection of Division and Elgin Streets for a 2 car collision. No injuries were reported.
– Police attended the Winners store on Strathy Road for a shoplifter. A female suspect was charged under the Trespass to Property Act and issued an offence notice.
– Police attended at CCI high school regarding a theft of shoes and clothing reported by a student. Investigation is ongoing.
– An assault was reported at a local motel, officers attended and arrested a male suspect after speaking to the victim. Investigation continues.
Wednesday April 4, 2018
– Police were dispatched to a Division street address for a report of an assault. Officers attended and after investigating, 2 suspects were arrested and charged with assault.
– A report of two men arguing at a local gas station resulted in one male leaving the area. No assault reported and suspect not located.
– A 3 vehicle collision on Elgin Street resulted in one driver being charged under the Highway Traffic Act. No injuries were reported.
– Police attended a Sinclair street residence for a neighbour dispute. No charges at this time.
Thursday April 5, 2018
– A John Street resident called police regarding harassment. Police attended and provided advice. No charges at this time.
– Police conducted traffic enforcement on Darcy Street for highway traffic Act offences. 1 vehicle was towed and charges laid against one driver.
– A family dispute at a King Street residence resulted in officers attending and providing advice for all involved parties.
– Police attended at Dairy Queen on Division street for an assault. The victim declined to proceed with charges.
Friday April 6, 2018
– A John Street resident called police after he was approached by an unwanted male in the area. Police spoke with the complainant, provided him with advice and cautioned one male for harassment.
– Police responded to a downtown restaurant for a disturbance when staff called for assistance. Police attended and the involved persons had dispersed. The complainant was later spoken to and no assault had taken place. There were no injuries.
Saturday April 7, 2018
– A local dealership was targeted for theft overnight. The owner reported tires and rims taken from vehicles on the property. Investigation is ongoing.
– Police were called to Wal -Mart on Strathy Road for a report of a shoplifter. Police attended an charged a female suspect with theft and possession of property obtained by crime.
– A Cottesmore Avenue resident called police when 3 youths were seen entering a garage. Police located the youths a short distance away. All involved were spoken to and investigation confirmed that nothing was taken.
– A family dispute at a Cornell Cres. residence resulted in weapons charges for one person. A 25 year old female was arrested and held for a show cause hearing.
Sunday April 8, 2018
– Police attended a Munro Street address regarding a dispute over property. Police were able to resolve the matter and provide advice.
– Officers were called to a Division Street parking lot for a report of a male standing by a vehicle with a rifle. Officers quickly responded and located a suspect wearing a house coat walking towards Division Street with a rifle hanging from his shoulder. Officers immobilized the individual and secured the weapon. Further investigation confirmed that the rifle was an airsoft replica. The individual was released at the scene.
– Two males contacted police regarding a dispute that occurred earlier in the evening. Police spoke to the complainant who would not provide any details on the incident or co-operate with police. Both parties left the area in a taxi.