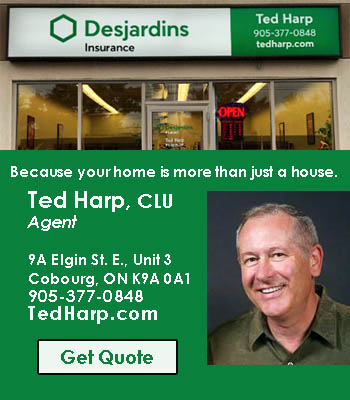 By Cecilia Nasmith/Today's Northumberland
Country music fans should block off their calendars for Aug. 3 through 6 and plan to be in Colborne for the Apple Country Jamboree – four complete days of music, plus gospel hour and an optional Early Bird Show to kick things off.
This is the 18th Apple Country Jamboree (though it is a 20-year-old event with a couple of years out for COVID). This is the second post-COVID edition, but the first without a very key player with the passing of Linda Grills last summer.
"It's been pretty difficult without her. She did all the administration and all the registrations," organizer Gary Warner said of the new tasks that have fallen to him.
"She was my right arm, she really was.
"I never had any experience in camping and campgrounds and one thing and another – and she did. She was a key person in laying out the whole campgrounds, handing all the registrations. She knew all the sizes of the trailers coming in. She put a lot of work into it. I would say, 'We need this and need that,' and she would just go ahead and do it."
A large share of the credit for the on-going success of this country music celebration must go to her, Warner stated.
"I just have to follow in her footsteps and what she's laid out."
Things are falling into place for the campers to start filling in the parking lot at the Keeler Centre (80 Division St.) for the Civic Holiday weekend, and (with emcee John Lester) the official program begins Thursday with nightly entertainment starting at 7 p.m.
Thursday – On the program are Mike Pollard, Anita Bird, Rick Amair, Rita Harpell and Jeff Code
Friday – Jan McCambly, Dale Decharme, Mike Pollard and Cheryl Adrain entertain.
Saturday – Enjoy the talents of Aaron Henry, Silvia Rioux, Jim Beech and Ben Lentir.
Sunday – Winding down the festivities are Jennifer Smith, Jim Simpson, Brendan McMunn and Jamie McMunn.
The Stage Show Band features Doug Johnson on pedal steel, Emile D'eon on lead, Ken Post on drums, Don Reed on fiddle and Rich Levesque.
If you're up for more than just listening, bring your instrument for the Open Mic afternoons Thursday through Sunday from 1 to 5 p.m. Emcee Bruce Forsyth will introduce the Open Mic Band (Tom Mark, Doug Montgomery, John Meydam and Steve Smith), but other players are encourage to sit in and give these guys a break.
The Sunday Morning Gospel time is 11 a.m., hosted by Linda Evans and featuring Angie Austin, Gloria Downer Pearson, Pat Arnott and Ken Post.
And for those who can get there Wednesday, there's the traditional Early Bird Show. This year, early-bird audiences will enjoy the Heart of Texas Records Road Show, featuring Tony Booth, Dallas Wayne, Landon Dodd and Dottsy.
Honouring the legacy of Linda Grills has been made an important part of things this year, with a Thursday-night tribute by emcee Lester – an opportunity to cover all the highlights of her contributions to an event that meant so much to her.
She was just so good and so smooth at doing the work on the administrative side of things, Warner admitted, that he never paid attention. He just knew everything would get done and come out right – and it did, without a hitch. Now he's had to buy a new computer and new programs and learn how to do things like print out the tickets.
It's new territory for a retired auctioneer, he said, but no big challenge for the lady who was head of the IT department at Belden Corporation until she retired.
"She worked there 47 years, longer than any other employee that was ever there," he said.
The very first jamboree (which ran on Labour Day weekend in its early years) was begun by himself and steel guitar player Stu Peters. Between Warner's contacts and skills and Peters's ability to book entertainers, it looked good – until they realized an important piece of the puzzle was missing, because neither one of them was very computer-literate.
"I said, 'I know somebody, and you know her too. I'll ask Linda,'" he said.
"I phoned Linda, and she said it sounds like a lot of fun."
The result was a great success for their first year, he reported.
"I decided right away we were going to do another one."
Before the next Labour Day, they lost Peters to cancer. But by then, Warner knew enough musicians and entertainers to fill the bill and they carried on. Over the years, they have attracted such names as Gene Watson, Moe Bandy, Jeannie Seely and Jeannie Shepard.
Now, without Grills, Warner is hoping to carry on again – at least for this year and next.
It's a hard kind of event to estimate crowd size for, but the audiences at the Keeler Centre pretty will fill the venue every year.
The campgrounds actually become a little village settled right in the Village of Colborne for about a week. Warner recalls one especially big year when they had 250 to 300 campers parked (which means roughly twice that number of people present, plus at least 700 people who came from their own homes on day passes or weekend passes.
They have developed a way of keeping track of what these temporary settlers spend in the community, completely apart from their registrations and admissions for the musical events. During that big year, Warner reported, the community ended up $33,000 richer.
This year, everyone who produces a cash-register receipt from a Colborne store can bring it in, write his or her name and lot number on the back, and enter it in a draw (as many times as you like).
A draw will be made Sunday night for next year's registration.
Camping registrations are still being accepted. For those who just want tickets to the shows, there are daily passes for $25 and a four-day pass for $85. And tickets for the Early Bird Show, sold separately, are $40.
To arrange your tickets, or for more information, contact warner at 905-376-3709 or gwarner@eagle.ca.