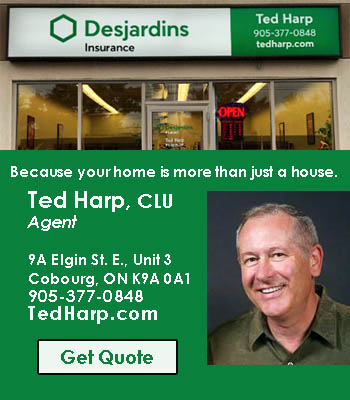 Investing in Kids: The Port Hope and District Health Care Foundation has announced a $38,500 donation to Five Counties Children's Centre to help fund priority treatment services for children and teens in Northumberland County.
From left, the Foundation's volunteer president Matt Clayton, Five Counties employees Krista McNulty, Diane DeHaan, Jenn Cork, Five Counties program manager Elizabeth Carmichael and CEO Scott Pepin mark the funding donation.
Five Counties grateful for Port Hope and District Health Care Foundation support
By Cecilia Nasmith/Today's Northumberland
Five Counties Children's Centre is delighted to recognize – again – the Port Hope and District Health Care Foundation for its latest donation of $38,500 in support of its Building Abilities For Life campaign to fund priority service needs for local children, youth and families.
This brings to almost $90,000 the Foundation has provided to Five Counties since 2020.
"If money talks, a generous donation speaks volumes to the value of helping give voice to more kids, while reducing pediatric treatment services in Northumberland County," the announcement said.
The aim for this latest donation is to provide speech and occupational therapies – among the most in-demand Five Counties services – for Northumberland children and youth from a waiting list of some 2,600 clients who may face a wait time of 18 to 24 months.
As Five Counties cope with the long wait times, they are on track this year to support more than 6,000 young people and their families throughout the region it serves – Northumberland County, Peterborough, Kawartha Lakes and Haliburton County. This would represent the largest number of annual clients Five Counties has served in its nearly 50-year history.
"Even as we make progress to provide more speech and occupational therapies for kids, the cold, hard fact remains that too many kids are still waiting too long for services," Five Counties Chief Executive Officer Scott Pepin said in the press release.
"That is why we are so indebted to the Port Hope and District Health Care Foundation for seeing this need and stepping up repeatedly to show their support for our Building Abilities For Life campaign."
Foundation President Matt Clayton expressed his group's pride in helping local kids get the early intervention that is key to building abilities for life.
"Our community is a better place when kids have the support to be able to learn to communicate, be heard, move independently and carry out everyday activities that many of us take for granted – but, for them, may be an incredible achievement."
The press release shared the case of Bonnie, a Port Hope mother of four whose youngest child (Lincoln) is benefiting from such services as speech, occupational and physio therapies at Five Counties. Lincoln was diagnosed two and a half years ago with multiple-care needs, and his mother was referred to Five Counties for assistance. She is grateful for all the help Lincoln and her family get from staff at the Cobourg Five Counties location. Lincoln is improving – and Bonnie finds the advice she gets at Five Counties beneficial for her other kids too.
"Lincoln is doing great," she declared.
"He would not be where he is today without the support of Five Counties. He would be struggling, and I'd be struggling to help him."
Bonnie recalls the lost feeling of having a young child diagnosed with physical and developmental issues, and compared her referral to Five Counties to being thrown a lifeline when it was most needed. She hopes, with more community support, other families in such situations can get the same kind of help in a timely manner.
"Five Counties can help with so much and in so many ways," Bonnie said.
"Even if they can't help directly, Five Counties will point you in the right direction. They will help, no matter what."