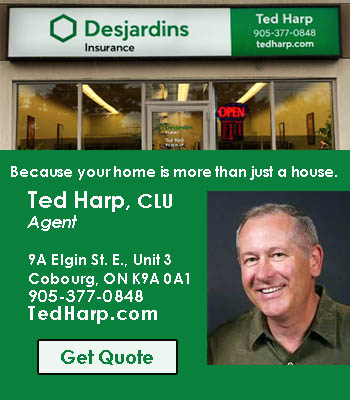 It was brief, but a fast moving left its mark on Northumberland County on Saturday, May 21, 2022.
High winds ripped a roof off a barn, flipped pontoon boats on Rice Lake, numerous hydro poles were toppled and thousands of people were without left without power after hydro poles and lines were brought down.
It was shortly after 1 p.m. when the storm with high winds and rain came from the west, heading northeast.
Emergency services on the north end of Northumberland County were inundated with 9-1-1 calls.
Port Hope, Hamilton Township along with Alnwick/Haldimand Township took the brunt of the damage.
On Plank Road in Gores Landing, trees and wires littered the roadway north of Rice Lake Scenic Drive.
Witnesses said the storm came quick and hit hard before leaving just as quick.
Dylan Sallows from Garden Hill knew the storm was coming and pulled his boat from the water at Gores Landing, and was about to leave when a portion of a tree came crashing onto his pickup and boat that he'd just purchased a month ago.
Sallows was still in the truck when the tree hit.
"I just pulled over and unloaded my rods to my buddies truck and next thing you know – crash, it came down."
"I was in it. I heard a big bang and ducked in my truck and that was it."
Sallows said the storm consisted of high winds for 10-minutes and, "that was it."
Gores Landing General Store owner, Mayuran Nathan witnessed the tree and wires come down and phoned 9-1-1 immediately. Unfortunately Nathan said it took approximately 15-minutes for someone to answer.
"Nobody picked up."
Nathan's wife even called 9-1-1 and no one picked up.
There was a serious incident on Knoxville Road in the Municipality of Port Hope. The road was blocked for several hours between the 5th and 6th Line, but there is no update.
On Rolling Banks Road in Alnwick/Haldimand Township a number of trees came down causing damage to a trailer and overturning a pontoon boat.
On Sandercock Road numerous hydro poles were snapped and toppled onto the road.
Some roads across the region are still closed and as of 2 a.m. on Sunday morning approximately 5,000 customers are without service from Hydro One from Port Hope, Hamilton Township and Alnwick/Haldimand Township.
There is no word when power will be restored.