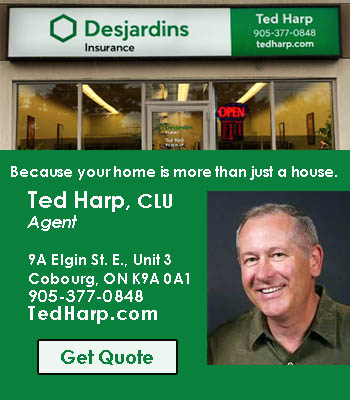 For Extensive Video Coverage and Interviews CLICK HERE
Cold weather and high winds didn't dampen the spirit of this group.
On Thursday, January 27, 2022 hundreds of people gathered on bridges in the Municipality of Port Hope to cheer on a convoy of transports passing through on their way to Ottawa.
Prime Minister Justin Trudeau called them a "fringe" group, but with the numbers that were on the bridges it certainly didn't look like it.
There wasn't a mask in site on any of the bridges, but children to seniors came out dressed for the warmth with Canadian flags, homemade signs along with other flags that voiced their displeasure for Trudeau.
The most difficult part of the day was trying to figure out when the convoy started, or ended.
But for the people standing on the bridge, or the transports blowing their loud horns, it didn't really matter.
It was a common theme of "we've had enough."
One woman who moved to the area from Toronto said, "it's amazing – it's incredible. It's amazing to see Canadians stand up. We stand with the truckers."
Port Hope resident Mark den Biesen said it was a "historic day."
"I think this is a great day for freedom."
"Whether your pro-vaccine or anti-vaccine, everyone in this country should be pro-freedom."
"Thanks to the truckers people have begun to woken up and they realize they are no longer alone."
Describing it as a peaceful, and happy," den Biesen said it was "awesome."
Stating the Prime Minister has trampled on the rights of Canadians.
"There is no emergency that should justify the removal of our God given freedoms."
"A fire has been lit. And the fact that the main stream media is diminishing it, is a crime."
"God willing this will be a turning point for our Nation and we'll see our freedoms restored."
A woman from the Niagara region that stopped momentarily after exiting the highway said she is doing it for her parents.
For the last two years they've been separated not able to see each other because they are in different long term care facilities.
Both have had all three of the shots.
"As of today, I'm not longer allowed to see my dad because I won't get the third jab."
At Easton's Service Centre just off County Road 28, north of Highway 401 it was almost like a Country Farmer's Market with loads of fresh produce and food being dropped off for the truckers.
A woman from Millbrook who was running the "market" said they were there to support freedom of choice.
Three woman had been working for three days in a kitchen and made over 1,000 sandwiches.
"And the kindness and generosity of Canadian people who was to support each other. This is the Canada I want to live in."
A short distance away a transport driver was taking a break after driving from Toronto.
"The support that this has brought in has been incredible," said Dave who has been driving transports for 28 years and who is the organizer of the Toronto section of the convoy.
"I actually don't have words to even describe."
At Don Mills, Dave said there was roughly 5,000 to 7,000 people there supporting them.
"The turnout was incredible."
Dave said, "everything you touch, regardless of where it is, comes on one of these," as he sits in the cab of his transport.
Truckers have watched since the start everyone including first responders go through, "what we (truckers) are all going through right now."
"Losing their jobs, not having the choice."
"The vaccination is part of it – but it's not the only part of this."
"But when you lose your livelihood, you lose your freedom."
"Because you make a choice that it's our God given right to do so. You have nothing left without that choice."
Dave said truck drivers were the last ones in line the government decided to do this too.
"Nobody else had the opportunity to stand up."
"They can park us – but then that hurts everybody – coast to coast. Canada, US, worldwide."
"But they cannot silence us."
Dave said truckers have been waiting for the right time to take the stand and go against what the government is doing.
"We need everybody to stand together to stop this."
Dave is heading to Ottawa and there are certain things planned that he would not elaborate on.
"But we do have an agenda. And it's not just a bunch of truckers. This is not just a protest. This is not just a bunch of us standing together, holding hands waving signs and asking politely for this to end."
"We are actually legally going in to end all of these mandates to end tyranny."
"Everything the government is doing is a violation of our human rights."
Dave said the group, "will not accept" violence.
"That is not part of this. This is peaceful. This is being done properly – legally."
The truck drivers do have security set up and Dave said they are working with police across Canada.
He knows not everyone agrees with the truck drivers, "and we respect that."
"We are working with the authorities and if anybody does step out of line – violence, the proper authorities will be there – and those people will be dealt with – legally."