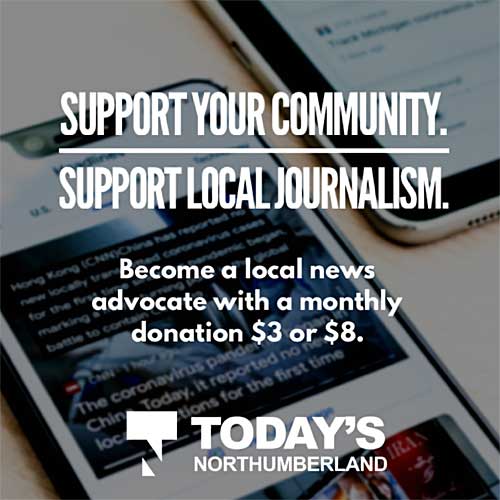 Cobourg Police Chief Paul VandeGraaf said it was a beautiful way to see Northumberland County on Saturday, June 12, 2021.
VandeGraaf (age 53) and his bicycle partner Ria Colquhoun (age 71) took part in the Ride for Rebound event which kicked off bright and early at the Northumberland OPP Detachment in Campbellford and took the cyclists through the hills of Northumberland including Port Hope and ending at Rebound Child and Youth Services on D'Arcy Street in Cobourg.
The initial ride was scheduled for 115 km but due to some areas of construction, the ride worked out to be 87-kilometres.
The hardest part VandeGraaf freely admits was the hill going into Welcome north of Port Hope.
"There was a few hills, but thinking why we're doing this, there is a lot of kids that are going to get the help they need."
VandeGraaf said ride was to raise awareness and funds for Rebound Child and Youth Services Northumberland.
"The goal was to stop at every police service in our county that serves youth – and that Rebound serves."
"We ended where all this began (at Rebound head office) to try and help the youth in our county."
VandeGraaf admits he was not an avid cyclist until August 2020.
During the winter he trained on a stationary bike.
"Once the snow left, I hit the roads."
"Today, you couldn't have asked for a better day."
Including VandeGraaf there were six riders that took part in the event, but because of COVID restrictions riders thought it best to do the ride on their own, except for Colquhoun who is an avid cyclist.
"We set a pace that we weren't going to exceed and we never touched that pace we were well above it all the way through so it was just wonderful."
"Crime prevention begins when people are really small. Because we know the links between literacy and crime."
"So they (Rebound Child and Youth Services) are the greatest crime prevention agency," said VandeGraaf.
The two-riders averaged 25 kph for the ride, with an elevation gain of 710 metres.
Executive Director of Rebound Child and Youth Services Carol Beauchamp said the Ride for Rebound means a lot to the non-profit agency.
"It's actually raising funds for our programs and services. We're able to do programs and services we wouldn't otherwise be able to do."
Beauchamp said specifically a 10-week art program this year.
With the Chief taking the ride on with other riders and support from the community is gratefully appreciated.
"I'm so grateful for the Chief and all the other riders for getting on-board."
Approximately $6,000 raised from Saturday's tour across Northumberland County.
VandeGraaf says it will be an annual event.
"We see this as a warm-up because COVID really through a wrench into us."
"Hopefully this time next year, we'll ride in with 30 riders."
After some photos at Rebound on D'Arcy Street the two riders cycled back to the police station on King Street.
The plan after that for Colquhoun was to go for a walk to "wind down."
VandeGraaf said he wasn't sore – "not yet, "but call me around seven tonight and I might have a different answer."
Rebound Child and Youth Services works between 1,400 and 1,900 youths a year between the ages of seven-years-old and 18