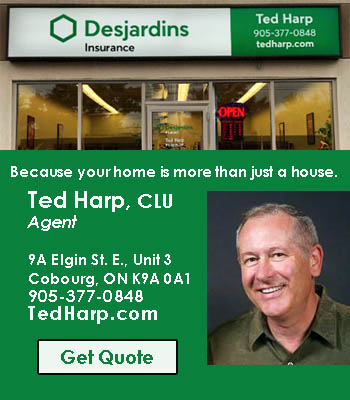 Today's Northumberland had an in-depth interview with a correctional officer at the Warkworth Institution about the conditions and dangers facing inmates and staff.
Rob Essex is not only a correctional officer, but is the Local President for the Union of Canadian Correction Officers.
On Wednesday, January 22, 2020 Warkworth Institution was placed in lockdown for an "exceptional search" of the facility to ensure the safety and security of staff and inmates.
Essex said that although 90% of the inmates are just doing their time, it's the other 10% that is a concern for the everyone inside the facility.
With the end of segregation for inmates, violence is on the rise because there are no consequences for the inmates.
It's not just a problem at Warkworth Institution, it's a concern for the safety of correctional officers across Canada.
Essex says, "we're losing touch with what Correctional Services is."
TN: Tell us about the latest occurrence inside the facility.
Essex: On Wednesday it was a day we did a lot of strategic searching. We had two mini-cell phone seizures which are about the size of a thumb.
We also seized weapons out of a unit – homemade shanks carved out of various types of metals. We also had a number of needle seizures.
Then we had multiple use of force.
Those are inmates not following direction or behaving according to the rules.
Unfortunately, after intervention requires actual physical handling and use of O/C spray which makes it dangerous for the Correctional Officer involved as well it's not ideal for the inmate.
We tried to negotiate and use dynamic security to de-escalate but sometimes that does not work and we have to use the O/C spray and physical handing.
TN: This is a medium security institution?
Essex: This is a medium security institution. Generally Correctional Services Canada doesn't recognize different levels of "medium" but this would be recognized as, in our opinion a "high" medium.
It has a little more structured routine, a little bit more infrastructure that would allow little more control so we tend to have offenders that have "higher institutional adjustment" which means they are generally not as cooperative or abide by the rules as other offenders that are classified as medium security.
TN: When you say "other mediums" is the institution (buildings) structured in a way that would be different that other medium institutions?
Essex: If we look back in the 80's and 90's, Collins Bay Institution out of Kingston was considered more of a higher medium. It had older units what you would say have a little more control to manage an offender that had high institutional adjustment.
Due to a variety of issues, they did retro-fitting and built new units that are a bit more open so that population moved to Joyceville Institution which I worked at.
Joyceville was designed for more care and control ensuring that offenders were manageable that had a high institutional adjustment.
Then with the closure of Kingston Penitentiary, Joyceville went to become the assessment institution. So therefore, de facto we became the higher medium because of our infrastructure.
Bath Institution and Beaver Creek Institution are a little more open where inmates are truly not secured in their cells at times where we have a little more ability to do so.
TN: Can you explain what a "medium institution is?
Essex: You have all types of offenders at Warkworth Institution.
Everything from people who have addiction issues, break and enter, armed robbery, drunk drivers, but we also get into situations where we have people who have committed second degree murder, we do have those who have been involved with offences with children and sexual assault.
We have pretty much what you would consider the full spectrum of offenders.
We have two maximum security institutions in Ontario. Millhaven and there is a maximum security unit in Collins Bay.
However with the closure of Kingston Penitentiary and losing those beds, basically has caused an overcrowding with the maximum security and most people likely don't know this, but maximum security inmates are not double-bunked so therefore you don't have any bed space.
So our big concern right now is we are finding a lot of those right now that would have been seen traditionally seen as going from assessment would go to maximum security are now coming to Warkworth instead.
So you're getting those that have been assessed at what we believe to be maximum security are coming directly to medium security – Warkworth.
These are guys that we consider as younger, more violent, but because this is maybe their first federal sentence they are a bit of a benefit of a doubt to come to a medium security.
But these are guys that traditionally we haven't have to deal with historically here and it's becoming more and more challenging.
Ninety percent of the offenders that reside here want to do their time – attend their programs, seek employment and quite truthfully do want to better themselves, but it's the 10% that are creating the issues for the 90% here because there are no consequences.
We've had the elimination of segregation which I'd never want to see anybody isolated for long periods of time. But if managed appropriately it's a tool to be able to deal with those individuals immediately.
What we're finding is these guys are getting institutionally charged, however our institutional court, our major court which we have here every week – we have 100 outstanding charges.
So we're not getting close to dealing with that. So there is consequences there.
I just learned from officers that were at outside court for an offender who was charged with possession of carfentanyl (illegal highly addictive drug).
The judge threw the charge out because the judge felt other offenders were in and out of his cell even though he admitted to being involved with drugs earlier that night and having individuals in his cell partaking in illegal activity, the judge threw the charge out still saying because he (the offender) said it's not his.
Even though it's laying in plain site, in his secured cell at the time.
TN: When did it come down that inmates can't be segregated?
Essex: Officially it was basically the end of November. We know that a lot of special interest groups over the past couple of years have pushed court challenges saying segregation is unconstitutional, though I don't believe courts have actually said it's unconstitutional, but did feel it's not managed appropriately.
I do say that I feel at Warkworth Institution since I transferred here 11 years ago that we managed it appropriately.
That offender is entitled to their property and get their time out of their cell.
The model for segregation now is the "Structured Intervention Unit" which is in Millhaven Institution which has all sorts of challenges.
The Warden has to meet with every single offender and ask them questions like, "how they are doing, I see you haven't taken a shower, or you haven't gone to yard, is there any reason?"
And this is a Warden of an institution who has to meet with all these offenders that are in segregation every day that are in the "Structured Intervention Unit" every day to see if they are ok.
Those that are down on their luck in the public, don't have that type of attention.
Those as a result of criminality and are having a tough time don't have that type of attention, but an offender who commits something that they are placed in federal custody and one that gets transferred to a Structured Intervention Unit gets that type of attention – it's very frustrating.
It's frustrating for officers because we have seen a rise in violence.
Since November there have been a very clear difference. Last week with the assault on the officer. The chanting of inmates on the range saying, "get him, get him get him" and some officers say it was "kill him, kill him, kill him."
Whatever the case may be that is something that did not occur at Warkworth Institution and generally has not occurred at a lot of medium institutions over the past few years. It's just that change in attitudes.
I will say, at least at Warkworth Institution we have a very good relationship with our management team.
As Correctional Officers were are trying to do things here.
But when you have the courts and policy makers at the Correctional Services of Canada that don't work inside institutions or don't work inside Warkworth Institution pushing us to make certain decisions or push us to do certain things that we feel is actually a threat to our institution.
It feels like we don't have a voice right now.
It's the systemic issues we see with Correctional Services of Canada and last week when the story broke about the officer being assaulted, the responses
I've been getting across the country and the United States is this is ongoing everywhere, actually throughout North America.
It's far and beyond an institutional level. This goes to government.
TN: Anxiety for the officers must be incredible and could you see something tragic happening?
Essex: Obviously when you witness the assault and talk with those who were involved in the assault on the officer, that's what people are most are fearful of is that's just the tip of the iceberg.
That this type of violence is going to continue and put our safety at risk.
We went to seize one of those mini cell-phones on Wednesday and the inmate would not give it up.
Cell phones are quite dangerous things in an institution but at Warkworth unfortunately we find a lot of these little things.
Generally you give it up and you'll be charged, however you're not going to putting yourself at risk being the offender and putting officers at risk over it.
If there were some consequences the offender would simply give it up, but instead they fight, fight, fight because there are no consequences.
TN: How is the officer doing that was assaulted?
Essex: He's doing well.
He's a very private man. But he's doing well.
Obviously frustrated and isn't necessarily directed at this institution.
It's pointed towards the organization as a whole.
When you speak with the general public, it seems like almost everyone is on our side, and you have some very vocal, special interest groups that are a minority type driven groups that seem to think a federal offender is very hard done by.
We're losing touch with what the Correctional Service is.
It's about corrections, it means correcting behaviour.
But then you also have to look at victims rights as well.
These guys have committed crimes to end up in here.
It's very clear the pendulum is swinging to far the other way.