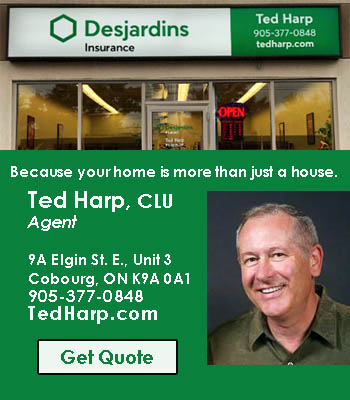 Cecilia Nasmith/Today's Northumberland
North American's only Aboriginal bilingual town crier came out the big winner this weekend at the Provincial Finals for the Ontario Town Crier's Guild.
Daniel Richer de la Fleche of Ottawa-Gatineau was accompanied by his partner Julie Dudley, who knelt to accept his ceremonial staff while he spoke. A town crier since 1981, he has had occasion to announce every prime minister from Trudeau (Pierre) to Trudeau (Justin).
Along with taking over-all first place, de la Fleche win the Best Ambassador award for the entrant best representing his or her own community.
It was only a few weeks ago that provincial guild chairman Bill McKee (who served as emcee for the provincial finals) and Cobourg town crier Mandy Robinson came to council to ask if the town could possibly manage to arrant to his the provincial final, as the scheduled community had been forced to pull out.
Cobourg partnered with Alnwick/Haldimand Township to stage the event, with Cobourg Mayor John Henderson, Alnwick/Haldimand Mayor John Logel and their respective councils and communities pitching in on a joint event.
On June 1, two morning cries took place as the Esplande park – one to celebrate each contestant's home town and one to celebrate Victoria Hall.
Following lunch at the Art Gallery of Northumberland, a final cry to celebrate heritage architecture (including inns and taverns) was held on the grounds of the Grafton Village Inn (itself a former stagecoach stop).
Afterwards, the guild held its annual general meeting and dinner was served at the Canon Nind Hall at St. George's Anglican Church.
McKee introduced David Rose of Easton, Pennsylvania (secretary of the American town criers' guild), as a benchmark crier, as well as the judges – Cobourg Councillor Adam Bureau, Bill Ryan, Alison Fraser, Jeff Halligan, Marie Anderson, Marsha Jones and Randy Barber, as well as Northumberland-Peterborough South MP Kim Rudd.
Local home-town criers were among the competitors.
Robinson wore her trademark red bonnet and flowing red full-skirted gown with lace sleeves. An avid poet, she was named to the post on January 1, 2016.
As she was attending her first competition, she received the traditional bells-up ceremony in acknowledgement.
Liam Cragg, whose Grafton hobby farm contributed the hand-crafted soap and maple syrup in the participants' and dignitaries' goodie bags, may be the newest of the bunch, appointed by Alnwick/Haldimand Township for the Canada 150 year. He's a former banker and politician from Bracebridge, but in that community as well as Northumberland has enjoyed performing in local musical theatre.
Each contestant telegraphed the elements of the role that matter most to him or her through their costuming as much latitude is allowed in their choices.
De la Fleche honoured his heritage through his fur boots and beaded spider medallion. Tom Pekar of Port Colborne and Niagara-On-The-Lake (who runs ad dental practice in St. Catharines) delivered his cries in an elegant blue frock coat.
Doug Turvey of Ingersoll – a provincial guild past president who runs his own computer company is involved in community theatre and plays bass drum for the Ingersoll Pipe Band and Pipes and Drums of Canada – had none of the typical colonial elements but did appear in a dignified three piece suit with a long coat.
Jenn Olivero of Hanover (a community-TV personality who has a show with her husband Adam) not only dressed in colonial array, but brought along her who family in complementary dress. Her young daughter Claire helped award prices in a white mobcap and striped apron.
Like de la Fleche, who brought along a consort in complementary costume, Les Whiting of the Town of Petrolia and Lambton County (a retired high school teacher who has taught in Canada, England and New Zealand) was accompanied by his lade in a green print under a frilly parasol.
But the couple who captured the Best Couple prize (a relatively recent innovation) were Bruce Kruger of Bracebridge and his wife Lynn (in a floral dress and parasol). Kruger is a retired OPP inspector who has rendered cries for queens and kings as well as two prime ministers.
In overall standings, third place went to Mark Molnar of the City of St. Catharines and Township of Lincoln (a member of the Army Reserve and Canadian Royal Navy who has dabbled in acting and cab driving – and now works in financial services for Canadian Tire).
Second place went to Andrew Welch, who works for the Red Cross, has seven years of crying behind him for the Township of Caledon.
Welch also was deemed Most Humourous, accepting the Dave Thomson Memorial Award from MP Rudd and young Caire Olivero.
Next year's provincial championships will take place in Bracebridge.