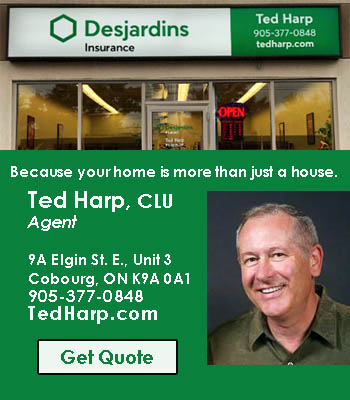 Cecilia Nasmith/Today's Northumberland
Donna Woods represented a contingent of Northwood Drive residents at Cobourg council's committee-of-the-whole meeting Monday to request council abandon plans to install a sidewalk on their small street this year.
In spite of their arguments, council remained for the most part unpersuaded.
Woods described an idyllic life on the small street, which connects Carlyle with Westwood. Children play hockey in the road, people stroll and bicycle happily, only a handful of cars belonging to non-residents enter the street in a given week. A majority of the residents are seniors, with a fair number of young families.
She contested the point system that made Northwood a prime candidate for sidewalk work in 2018, pointing out assumptions she found erroneous – that should have yielded a lower score in the criteria now in place, she contended. For example, though there are two nearby schools, a third property supposedly set aside for a school does not currently have one in place. The score of 76, Woods argued, should have been 41.
She also pointed out several Northwood addresses where the addition of a sidewalk would leave owners with no viable place to put the snow they clear from their driveways.
"Many other streets needing sidewalks should be considered before Northwood Drive," she insisted.
"The majority of Northwood residents here today, in addition to the ones who cannot be here that I am representing, are very happy, comfortable, and feel completely safe without the sidewalk."
Councillor Brian Darling reminded the residents in attendance that the policy for selecting sidewalk work each year was formulated after a similar uproar last year by Abbott Boulevard residents, who also did not want a sidewalk.
"Council agreed it was the best way to go," Darling said.
Director of public works Laurie Wills agreed. Having criteria is a better method than a subjective evaluation, she said, and it's a fluid, working document.
Councillor Debra McCarthy reminded the audience that one reason for installing sidewalks is accessibility issues, epecially in light of the Accessibility for Ontarians with Disabilities Act.
"Nobody ever wants sidewalks, but they immediately open up the world to persons who have mobility issues," McCarthy said.
"The decision we make affects communities 25, 50 years from now. The neighbourhood will be enhanced, ultimately, by having a sidewalk."
"We are working toward accessibility standards for 2025. If it doesn't happen now, it certainly may happen in the future," Deputy Mayor John Henderson said.
Still, when the vote was called to accept the presentation for information purposes (without further action), Henderson and Councillor Suzanne Seguin were the only ones voting in opposition.