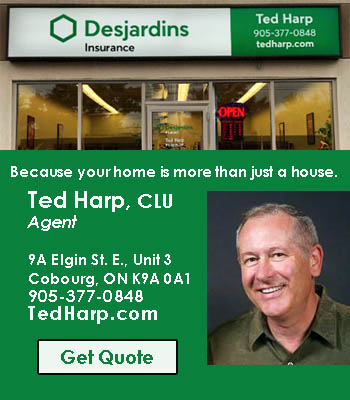 By Cecilia Nasmith/Today's Northumberland
CBC Radio Ideas host Paul Kennedy thinks of rivers as the lifeblood of the planet, and he will come to Port Hope this Sunday, April 29 to share his own perspective as part of an event called Rivers – Their Words, Their Music – Readings From River Literature.
This 2:30 p.m. presentation is hosted by Northumberland Learning Connection as part of their spring series called Rivers – Currents of Change.
Kennedy recalled being asked to take part in a program of readings and music and stories on rivers in an interview this week. He accepted immediately, having been under the spell of explorer Alexander Mackenzie's journals since his adolescence.
When he shared his enthusiasm with university friends in Scotland in 1972, he found two recruits for a river voyage he wanted to take. By the time the opportunity arose in 1976, he had married – fortunately, his wife Patricia wanted in on the adventure. It would take place along 1,600 km. of the Mackenzie River over 27 days.
None of them had ever been in a canoe before, Kennedy recalled, and he himself was only a moderately experienced paddler. They purchased two canoes in Edmonton and had a friend drive them to their starting point where the Great Slave Lake empties into the Mackenzie.
In retrospect, the river was kind – a long body of water that was exceptionally wide at points (at Mill's Lake, it is seven miles across) with virtually no rapids. It carried them along at a near-effortless 14 miles per hour, And in July 1976, there was 24-hr. sunlight. They could leave off clothes for all-over suntans and travel 10 hours a day if they wanted.
The deerflies, horseflies and mosquitoes, however, were ravenous, Their tent walls gradually gained red splotches from their squashing these human-blood-filled pests.
Having just been recruited for the Ideas program, Kennedy also took the opportunity to get to know the country that was the setting for this fabled river – to admire the big bears, to speak with Aboriginals they met, to discuss the pipeline plans of the day before it was decided such plans must wait until all land claims were settled.
One of their Scots friends was a gifted cook who took charge of the chocolate, flour, liquor and bundles of oatmeal. All they had to do was provide the protein by catching Arctic Char for meals. When one of their party had a birthday, Kennedy recalled, this amazing woman actually made a birthday cake over a campfire and cracked open a bottle of whiskey to celebrate.
They finished up at Inuvik, their Scots friends having detoured to explore another direction. So exhausted they just left the canoe on the bank, they stumbled into town and saw its two establishments, the Mackenzie Inn and the Mad Trapper Inn. They entered the Mackenzie, ordered surf-and-turf and took turns visiting the washroom. When Kennedy saw his face in the mirror, he almost did not recognize it.
Afterward, they set off down a route by the name of Airport Road, hoping for air transportation home – until a passing driver struck up a conversation. Sharing their plans with the man, they learned an airport controllers' strike would not permit their plans.
The man was Frank Tupper, grandson of the prime minster of the same name. He offered to hire them at his Shell Oil base camp until the strike was over.
That would be 10 days, Kennedy said, "10 of the most amazing days of my life."
The good food and real beds were a treat, of course, and Tupper was generous about treating them to frequent outings at the two inns. He also let them fly along with his crew, and they had the intoxicating chance essentially to retrace their river journey by air.
Some think of rivers as corridors of trade and transportation, a liquid highway.
"l say they are veins, they are arteries, they are physiologically things that hold the water that keeps this planet together. Water travels downriver to the ocean, similar to the precious red stuff that flows through our veins."
Though the Mackenzie is not the most powerful river, it shares the characteristics of some of its larger cousins – the Amazon, the Nile, the Ganges – in its constant motion, its consistent flow that shapes and reshapes its beds and banks.
During his time with Ideas, Kennedy would make an acclaimed award-winning eight-hour series on oceans If not for CBC budget cuts, his dream was to do a similar series on rivers. He is looking forward to being part of the one hosted by Northumberland Learning Connection on April 29,
Rivers – Their Words, Their Music – Readings From River Literature will take place at the Sculthorpe Theatre at Cameco Capitol Theatre (20 Queen St., Port Hope), and it will be part of a multi-faceted program sponsored by Cameco.
With music by David Newland and Uncharted Waters, the event features former Cobourg mayor Peter Delanty, writer and actor Kate Story, as well as Judy Madden, former voice of CBC Radio news (not to mention Kennedy's presentation). It's an afternoon featuring the poems and stories of Mark Twain, Margaret Atwood, Joseph Conrad and others, spotlighting the innocence and timelessness of rivers – the fear, the force, the pull of liquid history.
Organizer Sarah Holland says the audience can look forward to some wonderful (and perhaps familiar) CBC Radio voices reading all about rivers, interspersed with music – a fun afternoon with some favourite stories and melodies.
This is the last presentation of Week Four of the series. Week Five, the last of them, is yet to come:
Ganges and Spirituality is the May 3 talk by M. Ram Murty of Queen's University. With its meandering mythological origins in the celestial Himalayan peaks, the Ganges has become a goddess in the consciousness of India. Ram Murty examines its role in Hinduism and the Indian ethos.
The People of the Mekong River: Resiliency Through Change is the May 4 discussion by Sarah Allen of York University. This southeast Asia river supports more than 70-million people, many of whom have created new lifestyles in spite of dams, commercialization and climate change.
Where The Water Flows: A Guided Walk Along The Ganaraska River is the May 6 special event, a tour of two to two and a half hours for which participants are asked to wear sturdy shoes and dress appropriately for the weather. The ecological and historical journey will take you from the Port Hope Conservation Area to the river's mouth at Lake Ontario with Trinity College School environmental co-ordinator Alison Elliott and Ben Walters of the Fleming College forestry school.
As well, the presentation that was scheduled for April 14 had to be put off because of the icy weather. You can still enjoy this special event May 13 at 1 p.m. at The Loft (upstairs at 201 Division St., Cobourg):
Three Rivers: Wild Waters, Sacred Places starts at 1 p.m. at The Loft (upstairs at 201 Division St., Cobourg). Renowned artist Ron Bolt shares his perilous and soul-searching Yukon journey down one of North America's last wild rivers. The presentation will include images by eight artists (including his own) that resulted from this journey and became a national touring exhibition.
Tickets are available at the Victoria Hall Concert Hall box office through Visa, cash or cheque. Alternatively, order by phone at 905-372-2210 or 1-855-372-2210 or on-line at http://tickets.cobourg.ca/TheatreManager/1/login&event=941.
If available, single tickets for talks, discussions and special events can be purchased at the door.