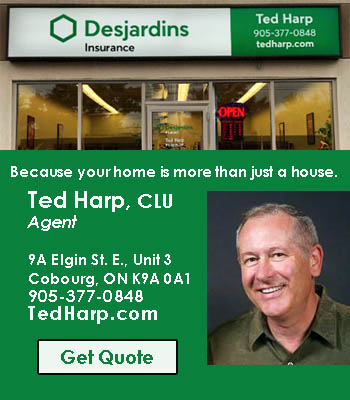 Em Glasspool sleeps wherever it's possible these days in Cobourg.
But that's not how it used to be for the 46-year-old.
Growing up in Markdale Glasspool took a Champlain scholarship at Trent University and graduated with a BA in English literature
Glasspool was very active in the Peterborough theatre, writing and directing a number of plays. a musician and long time bartender. He helped raise approximately $17,000 for violence against women in Peterborough
Today's Northumberland met Glasspool for the first time was on Monday, August 14, 2023 as he was just walking away from the encampment and just looking for something to eat just after 10 p.m.
"I don't have anything but the bags, but they are still to heavy to carry," Glasspool says pointing to a area where it looks safe.
"I have no where to sleep, no money and haven't eaten. I'm at the end of my ability to cope."
Glasspool asks to use a phone and calls a friend in hopes of getting $20.
Glasspool's mother usually helps, but at this time of night, he said she's likely sleeping.
The person on the other end of the phone agrees to meet at 1:30 a.m. to help in Victoria Park and will send the money.
Getting to Cobourg from Peterborough was something Glasspool said he was forced to do.
"I was forced to come here against my will by the CMHA (Community Mental Health Association) Supportive Housing."
It was during COVID that he spent 30-days in jail for assault with a weapon.
While he was in jail he received a no trespassing order, so he was evicted after living in a two-bedroom apartment in Peterborough for seven years.
When he was released from jail, everything Glasspool owned was gone. In a dumpster somewhere he suspects.
"So I'm homeless with nothing but the little plastic shoes they give you."
CMHA has programs available for people coming out of jail with mental health issues, but they managed to find Glasspool an apartment in Peterborough.
"There were problems with my apartment in Peterborough and so they then moved me out of that and into a hotel."
Glasspool then says they gave him two choices.
There were other available apartments in Cobourg, or Glasspool could be homeless in Peterborough.
It was 10:30 p.m. where the choice had to be made and they were leaving at 8 a.m. for Cobourg.
"Cobourg was a place I'd never been – I've lived in Peterborough for 27 years."
Glasspool said no mental health treatment was offered when arriving in Cobourg.
The apartment he lived at in Cobourg was at 1 King Street East.
People came to his apartment unit and he gave them food and help.
He even put up a sign out side his apartment unit that said he had Naloxone which saves some people during an overdose.
"I was forced to take it down. There was people dying of using."
But he and a friend saved numerous lives during that time period.
After a fire in Glasspool's apartment three months ago, he was evicted and he's been living on the street ever since.
Just recently Glasspool helped save the life of a woman who overdosed just north of the Esplanade in Cobourg. Unfortunately Glasspool said the woman he helped save, has accused him of stealing money out of her pocket.
Glasspool said he has a "substance abuse disorder" and uses cocaine and alcohol, but has been clean of alcohol for two years.
When Glasspool says can be done specifically for people like himself is to make all the empty spaces in town, places for people to live.
Glasspool said people with addictions will only get help when they want to get help.
"I would go because I'm ready to go when I want to go. I don't go because someone says you have to go."
Stating that he's been to rehab, "a million times."
If there weren't so many barriers and if there were some "yes's along the way" referring to positive feedback it would help people who are trying to get clean.
"My entire reason for using or slipping again is being lonely and sad."
When asked where he'll be in five years, Glasspool laughs and says, "running a little business," then he gets serious and states, "I want to be helping the community out."
When The Warming Room at St. Peter's Church is in operation it costs $2,100 a night he said.
Files by Peterborough Examiner
Editor's Note:  Today's Northumberland reached out to the Canadian Mental Health Association Haliburton, Kawartha, Pine Ridge for comment.
The following statement was sent Chief Executive Officer, Mark Graham.
"While we can't speak to a specific client's circumstances because we respect privacy first and foremost and act in accordance with Personal Health Information Protection Act laws and regulations, we can speak to our Supportive Housing Mandate and the processes we follow.
Our mandate is the following:
Support people to live as independently as possible
Support people to participate in the community, accessing community resources and assistance
Provide supports to minimize stress, provide illness management and prevent crisis and hospitalization
Provide education and support to people to enable them to develop and maintain skills and relationships
Supports are flexible, based on client need and stability and may be dependent on the different housing programs available. As part of our Supportive Housing Mandate, individuals must be connected to mental health supports for the duration of their tenancy. These supports may include individualized one on one supports provided by CMHA HKPR or other community partners.
There may be circumstances in which we are not able to meet this mandate. We would follow the Residential Tenancies Act in these situations, but we always work towards accommodating alternative housing. We offer and continue to offer mental health supports to all residents of Northumberland who are 16 or older and would encourage individuals to reach out for support when needed."