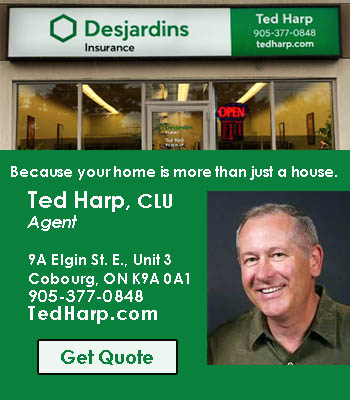 By Cecilia Nasmith/Today's Northumberland
Five live events in April will make up a community celebration that kicks off the 2023 Capitol Summer Season.
It is being billed as "a brand-new tradition – a multi-day community celebration in an effort to share more stories, create more memories and make more connections."
Themed events at Port Hope venues from April 25 to 29 will celebrate the shows that make up this year's summer season (as well as the businesses that support the theatre year-round).
April 25 – Greek Getaway at Olympus Burger
Showcasing the adventure of Shirley Valentine, Olympus Burger (55 Mill St. S.) invites you to put on your toga (this part is optional) and enjoy an evening of Greek food, win and familiar traditions from 4 to 9 p.m. for a $5 donation.
April 26 – A Good Ol' Hockey Game at the Ganaraska Brewing Company
Pay tribute to The Ballad of Stompin' Tom and gather at the Ganaraska Brewery (33 Mill St. S.) for a classic road-hockey tournament hosted by the Port Hope and District Chamber of Commerce. If spectating is more your cup of tea, sit back and listen to Stompin' Tom's greatest hits and enjoy a traditional menu of brews and wings as you cheer in your favourite team. Tournament registration opens March 27, and cameo appearances from local celebs and hockey all-stars are being lined up. The event runs from 3 to 9 p.m., and admission is a $5 donation.
April 27 – Medical Mayhem at the Ganny
This celebration of Prairie Nurse is a night of improv comedy at 6 p.m. at the Ganraska Hotel (30 Ontario St.). Second City alumna Christy Bruce is your host for a night of comedy and beer that will have you in stitches. Admission is a $25.
April 28 – A Hungry Garden Party at the Beamish
In anticipation of Little Shop of Horrors, enjoy a hungry garden party and a screening of the original film that inspired if all on the patio of the Beamish House (27 John St) at 6 p.m. A $10 donation is your passport to enjoy dinner on the deck and a classic film projected onto the building next door, with food and drinks available for purchase.
April 29 – Red Carpet Gala Celebration at the Capitol
A night of glitz and glamour Capitol-style begins at 6 p.m. The event includes on-stage entertainment, some special guests and a live auction. Hosted by Layne the Auctionista, the evening's performances include turns by comedian Sea Cullen and dynamic musical duo Natalie MacMaster and Donnell Leahy. Have a red-carpet photo snapped, grab a glass of bubbly, explore some of the newly renovated backstage locations at the theatre (20 Queen St.) and have a great time. Tickets are $100.
Tickets for all live events are now available at capitoltheatre.com, in person at the box office or by calling 905-885-1071.
Managing Director Erin Peirce said the hope was "to create an accessible series of events that allows everyone in the community the opportunity to help support the Capitol and our local economy.
"Whether you join us for one event or all week long, you'll not only be helping to support this organization, but also the economic development of our entire community."
Emerging from the financial impacts of the COVID-19 pandemic, the Capitol has put new energy into diversifying its revenue streams, while also keeping in mind the needs of the community.
While the fundraising aspects of these events are important, Artistic Director Rob Kempson said they also are about "gathering our community around this institution, having a great time, and celebrating the locally made theatre that is at the centre of what we do."