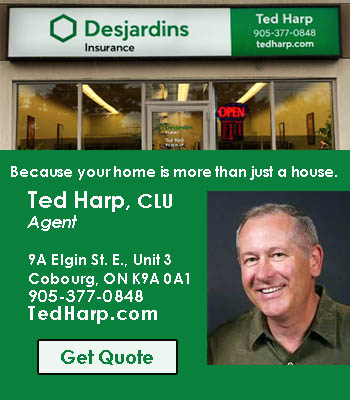 (Today's Northumberland file photo)
By Cecilia Nasmith/Today's Northumberland
Deborah Black appeared at Cobourg council Monday with a sizeable contingent of Cobourg Garden Club members and other supporters to ask that the tree-planting budget slashed in this year's budget process be restored.
"We believe the budget for tree planting in Cobourg for the coming fiscal year should be increased potentially, or at the very least maintain it at the 2022 level of $120,000," Black said.
She pointed out that $85,000 less is planned this year for tree planting, coming after heavy recent losses of trees to wind, old age and disease.
They say money doesn't grow on trees, but Black maintained that – in terms of benefits – it does, in a manner of speaking.
Energy savings is one way, reducing heating bills by as much as 25% and, by providing shade in the summer, serving as the equivalent of 10 room-size air conditioners.
They provide flood protection for a town on the flood plain of seven different creeks as well as Lake Ontario. Trees intercept rainfall, help prevent erosion and help reduce the severity of run-off.
They add to property value, enrich neighbourhoods and attract prospective home buyers. They make possible the kind of outdoor gatherings that build community and help reduce crime, "because green spaces are known to have a calming effect." This also is a help in reducing stress and increasing the well-being of body and soul.
They serve as a wind break, give us oxygen and absorb the carbon dioxide we inhale.
They produce fruit, flowers and nuts, while adding to wildlife habitat.
They also increase the capacity of the land to adapt to climate change.
"Cobourg council wisely passed a declaration of climate change in 2019. We are now experiencing the dangers and severe weather of earlier predictions, with the expectation of it getting worse," Black said, referring to Saturday's 21-degree variance of the weather between morning and evening.
In Cobourg, greenhouse gas emissions will be harder to get under control with the growing population, more homes (with more chimneys), more vehicles and more factories going full-tilt.
At the time of the climate declaration, Cobourg's tree canopy was 29%, with a target of getting to 35% within 20 years.
"The remediation work done by trees is every bit as important as other municipal infrastructure services such as fire, ambulance and hospital services," Black declared.
She cited York Region's designation of trees as living assets and made her request – that the Town of Cobourg allocate "$120,000 and more to the 2023 tree-planting budget."
Councillor Brian Darling acknowledged the difficulties council has faced with this year's budget.
"Everybody wants something – in this case $120,000," Darling said.
"This town only has one arbourist so, along with that, that would be another $100,000 to hire another arbourist, because of the amount of work in maintaining our trees.
"We are probably talking $200,000 or $250,000 added to the budget," he estimated.
In the end, council made a motion to accept the presentation and refer it to the budget deliberations.