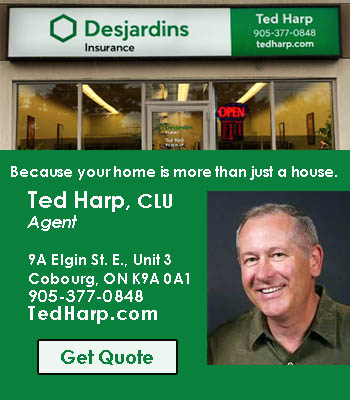 It was announced on Friday, December 2, 2022 that Allison Funeral Home is the 2022 Port Hope Christmas Tile.
Each year a local artist sketches a private home, public building, monument or an event and it is then silk screen onto a six inch ceramic tile to create the "annual Christmas tile said Karen O'Hara who has been carrying on the tradition on her own for a decade.
The tradition has been happening in Port Hope since 1973.
O'Hara presented the first tile to Jane Dukes who sketched the Allison Funeral Home.
Dukes is the grand daughter of the original owners of the Funeral Home, Don and Norma Allison.
Tiles were also presented to Kevin and Scott Allison along with third generation Melissa Allison and Leslie Allison-Dukes.
John Spaulding, a very prosperous brewer of Port Hope had his home built at 103 Mill Street North, circa 1861, as a testament to his success.
The mason-builder, whose identify remains unknown, built a standing solidly brick home, enhanced by generous windows, each topped by a massive stone lintel, with unusually wide eaves. The second storey sunroom adds a delicate touch to the strong architectural lines. This stately home is perched on a corner enroute to the Port Hope Downtown Heritage District.
Over a span of many years, the home was sold to William Williamson and family naming it "The Willows."
In the early 1900's, Walker Funeral Home, located on Ontario Street was sold to Jex and Smith in 1927, then in 1950 Ralph Carey took ownership and moved the funeral business to 103 Mill Street North.
Donald Eastwood Allison, from Port Hope, a working salesman of funeral supplies, purchased the funeral home in 1965, renaming it the D.E. Allison Funeral Home Limited.
Today, the Allison Funeral Home remains in the family, now with the third generation of Funeral Directors, and still maintain records that date back to 1917.
Amidst the beautiful grounds, sits a Ginkgo Tree on the front lawn, whose leaf has been embossed in the Allison Funeral Home sign…a sign of peace.
Since 1973, many famous and important areas of Port Hope have been honoured with a time including, the Port Hope Post Office, Bank of Upper Canada, The Carriage House, Capitol Theatre, Rotary Bridge and the 75th Anniversary of HMCS Skeena.
The tiles are $20.00 and are for sale starting Friday morning at Holton Flowers, 62 Walton Street and at The Port Hope and District Chamber of Commerce, 58 Queen Street.