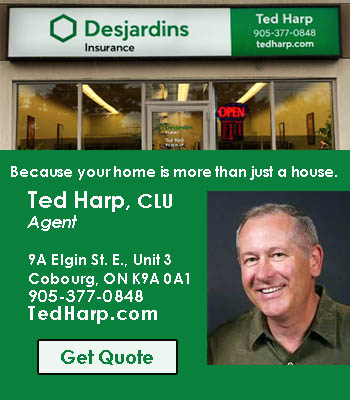 By Cecilia Nasmith/Today's Northumberland
The Town of Cobourg invites residents and visitors to a Truth and Reconciliation Sharing Circle on Friday, Sept. 30.
The location will be around the fountain at the Rotary Harbourfront Park, adjacent to the Seven Feathers Crosswalk on Albert Street that was installed earlier in the summer.
The town's announcement says the Sharing Circle is part of a many-faceted recognition of the National Day for Truth and Reconciliation. Prompts will be located around the fountain to promote critical thinking about past and current issues, and to foster health conversations to pursue with friends, family members and with others you may meet at the circle.
The National Day for Truth and Reconciliation was declared as a time to reflect on the history of Indigenous people, to remember the thousands of children forced to attend residential schools, to explore how we – as allies – can help create a better future.
"I encourage all Cobourg residents to take the extra step on this very important day to do their part in reconciliation by educating themselves on the history of the land we live in," Accessibility and Equity, Diversity and Inclusion Co-ordinator Yasmyn Belle said in the announcement.
"Reconciliation starts with you. Reconciliation means having the care and respect to have important conversations with your friends and family members. It is intended to achieve systemic and generational change, inspiring us all to think about what we can do today that can aid in the healing process for ao many," Belle continued.
"If you don't know where to start, I encourage you to start at the circle or by visiting a local Indigenous community to learn more."
Sept. 30 is also Orange Shirt Day, an Indigenous-led grassroots commemorative day to raise awareness of the impacts of residential schools. On this day, Canadians are encouraged to wear orange that day to honour the thousands of survivors of this system.
The visual impact of the Seven Feathers Crosswalk will be part of the impact of the Truth and Reconciliation Sharing Circle, each feather representing one of the seven guiding principles adopted by many Indigenous communities and organizations – love, respect, courage, honesty, humility, truth and wisdom.
And the prompts and conversational pieces will be on display from 9 a.m. to 4:30 p.m., with everyone invited to come and go throughout the day. For more details, visit https://www.cobourg.ca/truthandreconciliation/
Elsewhere around town, there will be other observances, such as the Town of Cobourg flags lowered to half-staff, with the addition of Every Child Matters flags.
The town has partnered with the Cobourg Public Library in providing a list of books on Indigenous history and culture. The town will be sharing these book titles (and more information) across its social-media channels throughout the week of Sept. 26.
Internally, the town has committed to providing Indigenous awareness training to all council and senior staff members through Indigenous Awareness Canada, a process that began in March 2021.
As well, through the implementation of the town's Accessibility, Equity, Diversion and Inclusion Co-ordinator, the work continues to build stronger relationships and greater collaboration with members of our Indigenous community. And the town's four-year EDI Strategy provides a framework to allow municipal staff better avenues to understand, engage, serve and respond to the needs of an increasingly diverse community.
As an opportunity to develop cultural awareness and greater understanding, the town and the EDI Co-ordinator will host a series of Lunch and Learn sessions for both staff members and members of the public. The series began in June, with staff learning about Indigenous History Month and the Truth and Reconciliation Calls to Action. The second session, tentatively scheduled for October, will be open to any interested members of the public.
For more information about the town's Equity, Diversity and Inclusion program, visit https://www.cobourg.ca/en/diversity-and-inclusion.aspx
The town's announcement included new of two other observances.
One is a Sept. 29 presentation by Northumberland Learning Connection in honour of the National Day for Truth and Reconciliation features Dr. David MacDonald (author of The Sleeping Giant Awakens) with his presentation The TRC Seven Years Later: Settlers and Conciliation with Indigenous Peoples. It takes place from 7:30 to 9:30 p.m. at the Victoria Hall Concert Hall. For more information, visit https://bit.ly/3Usr0J3
And at the Victoria Park bandshell Sept. 30, a 1 p.m. presentation will be offered by Northumberland Christian School, Church on the Hill, Northumberland Youth Unlimited and Grace Christian Reformed Church. It's an all-ages gathering in solidarity with members of the First Nations communities, featuring Jonathan Maracle. The Mohawk-Scot musician (and founder of Broken Walls) will share is vision of seeing people from cultural minorities restored and walking in their true destiny, realizing and able to share their unique gifts and abilities with the world around them. All ages are welcome (and urged to wear orange to observe Orange Shirt Day), and organizers suggest a donation of $2 to $5.