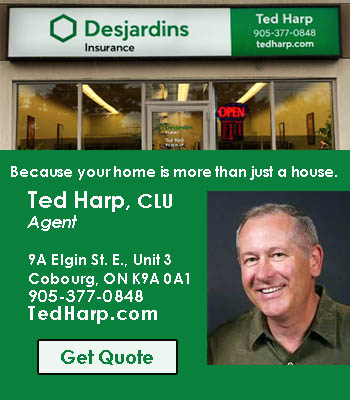 A vigil was held outside a storefront in downtown Cobourg on Sunday evening to remember a man who was murdered last month.
Thirty-seven-year-old Rohan Pyne was gunned down at his business, "The Jamaican Patty House" located at 12 King Street East in Cobourg on June 27, 2022.
Shots rang out inside the business around 10 a.m. Frantic efforts were made to save Pyne's life rushing him to the hospital – but he did not survive.
Approximately 50 people were in attendance at the vigil on Sunday, July 17, 2022 including Pyne's wife and five daughters ranging in age from 18-years-old to three-months old.
Pyne's wife thanked the people for coming and the support from the community of Cobourg.
"It means so much to us," she said with her arms wrapped around her tearful daughter.
"I thank you so much for showing our kids how much he touched your lives."
"His legacy will definitely live on with all of us and his outlook on life."
"Fly high my King. Fly, fly high. Watch over us."
Cobourg Mayor John Henderson and a number of councillors were at the vigil offering their support to the family.
"There is no doubt this is a tragic moment for the family, friends or significant others and certainly for our community."
Henderson said while heading to the vigil three words came to him, "love, and the warmth and and the embrace of the family."
"I have to believe for this family, part of a rainbow will start to build tomorrow. I have to believe that a rainbow will be built that will bring hope and promise for a better tomorrow."
"I have to believe that something good is going come out of this not so good moment."
Organizer of the event, Maria Papaioannoy said as a customer said one day when she was at the Jamaican Patty House picking up food for her husband she had a conversation with Pyne.
Pyne was talking about the future and building a dream house. When Papaioannoy asked where he was going to have the house Pyne said, "that's none of your business," but added, "all you need to know is I'm building it and I'm building it for my family."
It was from that moment on that Papaioannoy knew he had a special bond with his children.
"And that bond will never go away – remember that," she said looking at the children.
Another person said, "with Rohan it would be like – live, laugh and love. That's what he'd tell me."
Angela Grohan only met Pyne once but had a meaningful conversation and promised him that she would be back next Friday to carry on the conversation.
"The message I want to say is we aren't promised tomorrow. We are only promised now. It broke my heart when I saw that somebody was shot in Cobourg. But I was totally devastated when I found out it was him."
"More so because we had a plan to meet and it will never happen. Let us remember that we are only promised today."