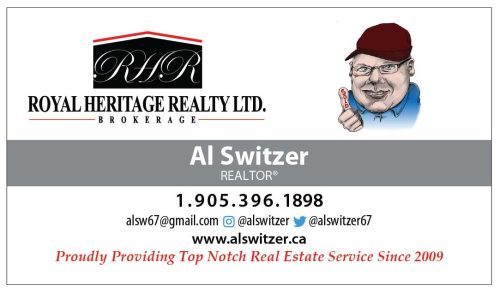 By Cecilia Nasmith/Today's Northumberland
Soon to turn 83, Rod Baker has decided it's time to retire after 38 years of running Baker Cleaners.
The doors of the business at 12 Elgin St. E., Cobourg, will remain open with new owners taking over.
Baker Cleaners got its start around the corner from its present location, in the Division Street plaza where the old Fisher's grocery store was (before it became Foodland).
You could say Rod Baker and Cobourg go way back – he came to town with his mother at the age of four. It was in the days before Highway 401 was built, he recalls, and every Sunday would bring heavy traffic right through town.
He would make it work for him by leaving his Walton Street home to sit by the side of the busy road holding a jar. Passers-by would spot the little boy and obligingly drop a few coins in the jar – which, at the end of the day, allowed his mother to take him for ice cream.
Baker would go on to become the proud father of three, spending lots of time volunteering with the Cub Scouts when sons Colin and Robbie were young. They are grown up now and pursuing careers of their own, while their sister Sherry recently retired from her career at Hydro One.
He entered the wonderful world of entrepreneurship in a little building on Second Street, across from the Market Building that has since been demolished. That's where he ran Baker Tires for five years.
He made the switch to dry cleaning, he said, because he thought there would be a need. And in the years since then, Cobourg has lost both Gleem Cleaners on King Street and Dunn Cleaners on Queen Street.
Baker Cleaners thrived, and its owner gave it the personal touch with his in-person pick-ups and deliveries. When he made stops at such facilities as long-term-care homes, he would always make a point of turning it into a bit of a visit with whomever might be around.
"I have been told I am the only dry cleaner they know of that does that. The rest of them say, 'bring it to me,'" he said.
That gregariousness is something else Baker is known for – the way he walks around with eyes peeled for the chance to say hi to someone and take a moment from a friendly conversation wherever he goes.
Keeping his eyes open has also led to some interesting opportunities, such as Coats For Kids, the annual campaign that distributes an average of 1,000 coats per season to the children who needed them. And if donated coats came in needing to be cleaned, Baker Cleaners took care of it at no charge.
"Coats For Kids – that's something we'll miss," he said.
It has been running at least 25 seasons now, begun by a Three Musketeers trio consisting of Baker, former McDonald's manager Kim Harvey and retired Salvation Army Family and Children's Services head Dave Alexander.
But Baker is the one who originally had the idea, which he got one morning as he drove to McDonald's and happened to pass St. Michael's Elementary School. Spotting two little girls with only light fall jackets on a bitter winter's day hit him hard.
"Two girls, standing there waiting to go in, cold as ever, very little on. No winter coats," he recalled.
"I was quite concerned."
He proceeded to McDonald's for his breakfast. Harvey dropped by his table and wondered why his friend seemed so sad. Baker shared the story and, the next day, they approached the Salvation Army and brought Alexander into the fold.
The three cooked up the program that called for donations of good used coats each fall, with a McDonald's coupon given as a reward. Baker would ensure they were all clean and in good condition, and the Salvation Army would see to their distribution.
Now each year, children in Cobourg, Port Hope, Bewdley, Colborne – in fact, as far east as Brighton and as far north as Trent Hills – don't have to face the winter without a proper coat. And the campaign has grown over the years to include boots, scarves, hats and mitts.
For Baker, the best thank-you came only recently, when he was parked across the street from his business at a drugstore. A car in the parking lot honked at him, and the driver asked to meet him at Baker Cleaners.
"I was coming here anyway," he said.
"He got out and said, 'I want to thank you for looking after my two boys with Coats For Kids. It was a while back, and I've always wanted to say thank you.'"
Baker Cleaners has been good to him, and good to the community, and his hope is that it will continue – not least because it is the only dry cleaner in an area bounded by Oshawa, Peterborough and Belleville.
"And Peterborough only has two left instead of three," he added.
It would be a good investment for the right buyer, he continued – it comes with all the equipment and some bonuses like easy access and free parking (something Northumberland County businesses frequently offer, but a novelty for, say, a potential purchaser from the GTA).
"I want to thank all the awesome customers for their support, and a big thank-you to the staff – I've had some good ones," he said.
"It was a hard decision. I'm happy it's happening, and I'm said it's happening, and I'm hoping I don't have to to away with all this equipment."
While he's waiting and hoping, Baker will look forward to more time to take life easier with his wife Flo. They were married six years ago, at a time when Baker was a widower who had lost his wife Anne after "53 years less two weeks of marriage." Flo was a friend of theirs who lost her husband to a heart attack 18 years ago. Now they look after each other.
You can count on still seeing Baker around. He's kept his membership in the Rotary Club of Cobourg and will be working at the Waterfront Festival.
And he'll still keep his eyes open for the chance of a friendly conversation while he's out and about.