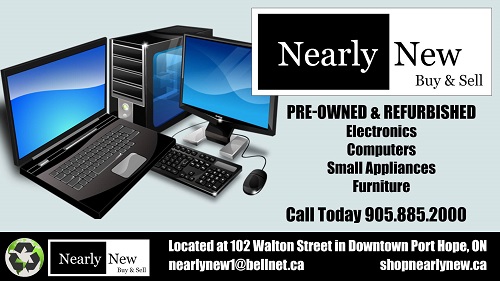 In a short ceremony today, with representatives from the EV Society — Northumberland Chapter and Sustainable Cobourg, the Cobourg Police Service (CPS) unveiled the newest addition to the Service's fleet – an all-electric 2022 Ford Mustang Mach-E. This fully electric vehicle is CPS's new community cruiser. Community members will start to see the anti-bullying themed cruiser around the Town of Cobourg.
The Cobourg Police Services Board (CPSB) and CPS continue to look for innovative ways to bring efficiencies and cost savings to the Service's operations. CPS currently has a hybrid Chevrolet Volt in the administrative fleet. The addition of the Mach-E is part of the CPSB and CPS's long-term goal to explore efficient and environmental vehicle options for the Service. The Mach-E will allow CPS to learn more about cost savings and reduced emissions through a fully electric vehicle.
"In November, the Cobourg Police Services Board approved the purchase of the Ford Mustang Mach-E. We were pleased to have members of the EV Society and Sustainable Cobourg present to help us celebrate the unveiling," said Chief Paul VandeGraaf, Cobourg Police Service. "Adding this fully electric community cruiser to our fleet allows us to increase our visibility and approachability. We can start examining the requirements and feasibility of expanding electric vehicles throughout our fleet."
"I am happy to see the police service include hybrid and electric vehicles in their fleet," said David Kuhnke, Chapter Lead, EV Society – Northumberland. "The new Mach-E will be at this weekend's EV and Sustainability event. The focus of the event is how electrification of the transportation system and other sustainable activities can help reduce our impact on climate change."
There is currently no fully electric vehicle authorized for front-line policing in Ontario. The CPSB approved a Hybrid Ford Interceptor for the Service. The Interceptor is the only hybrid vehicle approved for front-line policing. The Interceptor is set to arrive soon. It is anticipated that there will be an increased saving on maintenance and gas.
CPS's new Mach-E community cruiser and the hybrid Volt will be at the Electric Vehicle & Sustainability Event at Northumberland Mall on Saturday, May 28. Hosted by the EV Society — Northumberland Chapter and Sustainable Cobourg, the event runs from 10:00 a.m. until 4:00 p.m.