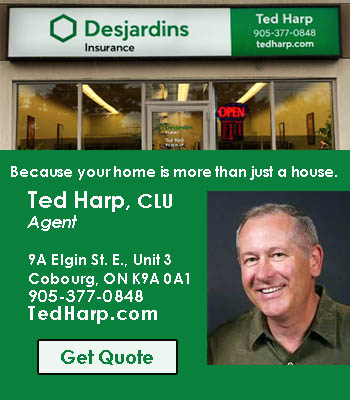 Cecilia Nasmith/Today's Northumberland
When you talk about Ross David Quigley – and everyone agrees it was always such a pleasure to talk to him and about him – only good things seem to be said.
Many memories are being shared on the occasion of his passing on Sunday at the Ed's House hospice centre at the age of 77, and the stories always seem to end in Quigley making a positive difference for someone.
Or for the Town of Cobourg itself, former mayor Gil Brocanier said.
A full-time Cobourg boy, start to finish, is the way Brocanier described his long-time friend, from their hockey-teammate days at age 12 to their golf outings in later years.
"He was such a gentleman, and he was so good at recognizing people. He was a real people person, and he was a Cobourg guy," he said.
"Family always came first to Ross but, at the same time, he did everything he could to promote the community of Cobourg. He was just so proud, he did everything he could to make it a great place to live.
"Whatever he could do to help in the Town of Cobourg, he did it. And he never asked for anything in return. He seldom took credit, but he gave it to everyone else."
There is a YouTube video of Quigley narrating his tale of growing up in Cobourg with wonderful archival photos that, in many cases, have personal meaning for him.
As a young person, he was skilled at baseball and hockey. He would go on to coach and ref on the hockey side, and also hold most positions with Cobourg Legion Minor Baseball over 15 years.
Early jobs include work downtown at Sommerville's Sporting Goods. Dave Sommerville recalls that his father Clarke – one of the most recent inductees into the Cobourg and District Sports Hall of Fame for his own achievements – hired young Ross to work in the store while he was in high school.
He also worked at the old Ontario Hospital Cobourg facility for the developmentally challenged (in the Victoria College building), where he met a lot of treasured life-long fishing buddies whose stories can be found on the Cobourg and District Sports Hall of Fame website.
Then he moved on to the electrical trade and became general manager of Cobourg's Public Utilities Commission (forerunner to Lakefront Utilities).
He left that post to open Quigley Pro Hardware in the vacated Loblaw's building downtown, which he ran for 14 years with wife Joan and daughter Amy.
When the store closed, he became building maintenance supervisor for YMCA Northumberland.
And in retirement, he pursued his passion to create a Cobourg and District Sports Hall of Fame, which just held its second induction banquet last month.
"He was a wonderful leader, a wonderful mentor, a guy who truly believed in giving back to his community," Lynda Kay recalled.
Kay met him in 1989 when, as a relatively new arrival to the community, she took the helm of Northumberland United Way.
"Ross was my very first campaign chair," she said.
"I used to go to his office, and he used to give me lots of info about Cobourg.
"Our paths kept crossing."
Quigley would prove invaluable to the United Way again in 1999, when the annual Day of Caring began – when local companies and plants would deploy their workers for a day of volunteer time to build onto, refurbish and clean up public amenities (and occasionally the homes of seniors, referred by designated agencies, who could not otherwise afford such work).
Supplies for these wonderful initiatives came from Quigley Pro Hardware, Kay said, and he was a key member of the Day of Caring Team.
"He would go out with the team to assess all the jobs we were going to do. He knew down to the last nut and bolt what we needed for every job."
She also recalls how frequently he would talk to an elderly home owner or the CEO of a strapped nonprofit to see if they could maybe do something else for them as long as the work crew was there.
"Then our paths crossed again with Ed's House, because he was a member of the building committee," Kay added.
"His expertise was valued in everything that he did."
Anyone could go into Quigley Pro Hardware and ask him anything. And often, she has heard, the result would be a half-hour conversation about anything else of interest.
"He knew so much about the history of the Town of Cobourg and was so involved – there are so many people he touched in this community."
Kay has heard about the YouTube video, and was surprised to see Quigley playing the role of Santa Claus in photos posted on the Cobourg Yesteryear site.
"He's going to be a very hard person to replace. He cared passionately about Cobourg, about the people of Cobourg, about the history of Cobourg. He knows his history of Cobourg, not only about sports but about Cobourg – that's what a lot of people don't realize," Sommerville noted.
"He is kind of a library unto himself, or an encyclopedia. And I think he enjoyed learning from everybody as much as he enjoyed people learning from him. He's something of an historical sponge just because of what he knows and what he remembers and what he retains.
"And on top of all the things he has done and all the things he knew, he was just a great guy. He had time for everybody, he made time for everybody."
"He contributed to the community in so many ways, I don't know if there is a way to capture them all," Kay said.
Fellow Rotarian Don Conway mentioned Quigley's year as president of the Rotary Club of Cobourg (1991-1992) and their work together on the Canada 150 Committee. Conway recalled that he and Quigley were delighted to discover they shared the same sarcastic sense of humour.
"We took no prisoners when we went back and forth with each other," he said.
One of countless Quigley stories is the care he showed for his old friend Ernie Outwin – when Outwin died and there was no one to set up, display, take down and preserve the massive hand-crafted motorized Christmas tableau he had made for his wife Gretchen and displayed in the window of their King Street home each year, starting in 1953.
Ross and his son Rory saw to it that the community continued to enjoy it, setting it up in the display windows at the PUC and later at Quigley Pro Hardware. It was also set up, over the years, at Northumberland Mall and at the Y.
Brocanier recalls that the Canada 150 Committee was set up by the town to plan for a wide-ranging celebration of the country's 150th birthday in 2017.
"The Sifton-Cook Heritage Centre asked him to put together some interesting stories about sports history, and they made great big displays out of his work. They sit today at the Cobourg Community Centre by the walking track," Brocanier said.
"We wanted every activity in the Town of Cobourg to be represented, and Ross was a natural for the sports committee. But prior to that, he was a collector.
"He would cut out sports clippings from way back when Layton Dodge was still writing for the paper. If you went into his basement, he had a mini-hall of fame with all the sports memorabilia he collected," he recalled.
"It was a natural progression to start thinking about our Cobourg and District Sports Hall of Fame, and he was definitely a driving force."
Upon getting a diagnosis of prostate cancer, Quigley approached his good friend to succeed him as president of the organization – to which Brocanier sadly agreed.
Unable to attend last month's banquet, Quigley sent a taped greeting.
It was also the occasion for Brocanier to announce that the Ross Quigley Youth In Sports Award will be given out every year to a young person who has made a significant contribution to sports.
"I think this is something that will deservedly keep Ross's legacy going many years into the future," he said on that occasion.
Looking back, Brocanier speaks of his tremendous respect for his friend.
"I never met anyone who had a bad word to say about Ross," he said. "Everyone who had anything to do with him had great things to say about him."
Gord Kelly agrees, having known him since the age of eight and – with Kelly's Homelike Inn – having once run neighbouring businesses downtown.
"You couldn't beat him," he declared.
"Ross was up every day, never down, always a smile on his face. Every place he went, he lit the room up."
Kelly also remembers his generosity, when young Quigley offered him his job at Sommerville's when he would be away. As a result, Kelly had a job for eight or nine years.
Now, as one who has attended both Cobourg and District Sports Hall of Fame induction banquets, Kelly is grateful to hear amazing stories that might never have been told if not for Quigley's determination to preserve them.
Sommerville described Quigley as "one of a kind.
"He epitomizes what good is. He epitomizes greatness – a great person, a great father, a great community citizen, a great volunteer.
"He always met you with that smile of his, always said, 'How you doing, kid' in an affectionate way. He epitomizes everything that is good about someone. He's Ross. He's going to truly be missed in the town, just because it's Ross.
"He has left an amazing legacy so he will never be forgotten, not only with the sports hall of fame but all the other things he has been involved in and volunteered to do and the people he has helped out. His legacy will always probably be at the forefront of the history of Cobourg."
MacCoubrey Funeral Home in Cobourg will host a visitation Sunday, Dec. 12, from 1 to 5 p.m., where proof of full vaccination will be required and masking, contact tracing and capacity-limitation protocols will be observed.
A memorial service will follow on Monday at the Best Western Plus Cobourg Inn and Convention Centre at 2 p.m.
Those wishing to make a memorial donation may support the Cobourg and District Sports Hall of Fame, Ed's House Northumberland Hospice of a charity of their choice.