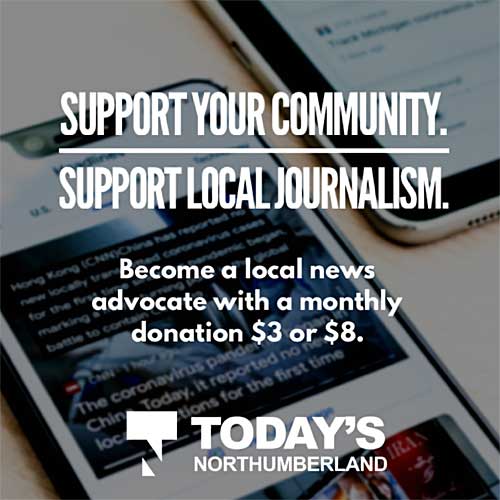 By Cecilia Nasmith/Today's Northumberland
Bad news – the Delta variant is in the Haliburton Kawartha Pine Ridge District Health Unit, Chief Medical Officer of Health Dr. Natalie Bocking said at this week's media scrum.
"A handful of cases, some linked to contact outside the jurisdiction, which is not surprising," Dr. Bocking said, adding that almost 70% of cases tested these days are the Alpha variant.
Fortunately, she had good numbers to report as well.
Of 2,132 confirmed cases in the region, 18 cases are considered active – only six of them in Northumberland County.
The seven-day rolling incidence rate per 100,000 population is 10.6 – "very, very promising trends as we continue to see the case counts across the province go down," Dr. Bocking stated.
Both outbreaks have had no new cases in the past week so their outbreak status should soon expire.
About 70% of confirmed cases since April 1 have been variants of concern, largely the Alpha variant once known as the B117 variant that was first identified in the UK.
In the last 14 days, the highest percentage of cases (30%) are in those aged 20 and under. The next highest age group, 20-29, accounts for almost 19%. As for how they were transmitted, no source could be pinpointed in about 29% of cases, while 33% came as the result of a close contact with an existing case.
The test positivity rate as of June 8 is 1.4%.
"Everyone continues to be very busy with giving out vaccinations or coming to receive vaccinations," Dr. Bocking added.
Some 121,575 HKPR residents have at least one dose, which is 70.9% of those aged 12 and over. That rises to 72.9% if you look at those aged 18 and over – and out of that group 12.9% have both doses.
"Those are really promising and exciting numbers," she declared.
"As we continue to see more vaccine come to the region, as well as expanded eligibility, we are seeing the numbers increase with the goal of the highest proportion of people receiving two doses as possible.
"Pfizer continues to be the most stable supply, approximately 9,300 doses per week for all three regions."
Though reports indicate a big increase in Moderna is expected, such reports have not always been reliable. Indications are that there could be 7,000 doses coming into the region, but it's wise to wait until closer to arrival time to count on it.
Increasing numbers are making it possible to flow additional vaccine doses to hospitals to operate clinics on-site or in some of the smaller communities they serve, as well as supply some pop-up clinics.
"Some of these have been part of an initiative through the Ontario Health Team-Northumberland," Dr. Bocking explained.
"Pharmacies are receiving more vaccines, Pfizer and Moderna. Many primary-care teams are hosting their own clinics or participating in join clinics to expand the number of appointments available.
"If these shipments of Moderna do arrive, the next two or three weeks are going to see the most vaccine we have had in the region to date, which I think is quite exciting.
"Really, all the partners and community organizations continue to step up and do more so that vaccine gets out into arms as fast as possible. They do continue to have excellent uptake at the mass-immunization clinics, and there certain continues to be high demand for vaccine in the region," Dr. Bocking said.
"We know there's some frustrations as people aren't able to get through the provincial booking system. We have heard in some cases pharmacies have appointments that aren't getting filled, so we urge people to look at all the options available – double check with the primary-care providers in your region to see if they have any clinics."
Getting the vaccine that is available continues to be their advice, she said.
"When you get a shot for hepatitis A, you don't ask what the vaccine is. We really encourage people to get the first vaccine you are able to get," she said.
With AstraZeneca, she added, the province had originally set a 12-week interval between doses, noting that initial data showed the body has a better immune response with this extended period.
"However, because we know there continue to be new variants circulating, such as the Delta variant, there is a sense of urgency around getting second doses sooner rather than later.
"A reminder about youth vaccinations – youth-specific clinics have opened. We are seeing a good uptake among that population in our mass-immunization clinics, and we encourage youth and families to look at what options are available to access vaccine. Similar to the adult population, the more youth are vaccinated, the better coverage we have, the less opportunity the COVID-19 virus has to circulate and the faster we can get back to enjoying some of the activities we used to enjoy," Dr. Bocking pointed out.
"Continue to distance with individuals outside your household. We are slowly starting to see reopenings of stores, some opportunities to meet outdoors with people outside your household. Don't forget to bring your mask. Don't forget to distance. Wash your hands. If you are feeling sick, stay home and get tested.
"We are learning daily about some jurisdictions that have come out of lockdown and have seen resurgences. At this time, I think all of us are ready for some normalization of our activities and a chance to enjoy the summer. Be kind to each other, your families and communities as we continue to be patient with each other."
As the Delta variant increases throughout the province, she continued, "we will see that eventually that will become the dominant strain. I think the key piece we are trying to prevent is that strain resulting in large numbers of cases and hospitalizations. With the Alpha variant, we didn't have vaccines available then. With the Delta variant, we do. We hope we can prevent it having the same impact the Alpha variant did."
At this time, her recommendation is no hugfests for the double-vaccinated yet.
"Current guidance from the province is to still practice all the same public-health measures that you were before, including masking, distancing, limiting indoor gatherings, having very small outdoor gatherings according to the reopening plan.
"I do know most of the public health agencies in Canada and the province of Ontario will look at more specific guidance about what things will eased once we have a higher coverage of second doses, but we have a little ways to go until a much higher proportion of the population have received two doses of vaccines. Fingers crossed – by the end of summer we will be seeing that change."