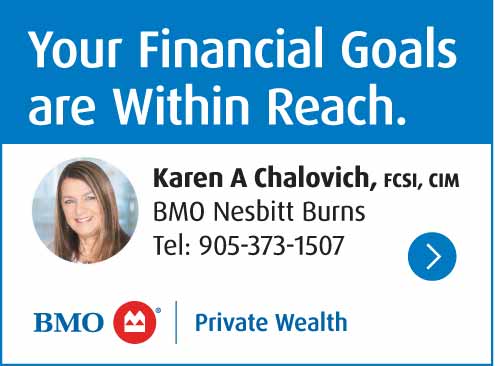 To view photos from Sunday, January 5, 2020 click here
Story by Jeff Gard/Today's Northumberland
The cameras rolled for the live broadcast of Rogers Hometown Hockey on Sunday night in Cobourg at the west harbour.
A large contingent of local athletes and teams turned out for the Parade of Champions, which kicked off the pre-game show on Sportsnet.
Those athletes were then in the crowd behind hosts Ron MacLean and Tara Slone, who guided the show from inside the mobile studio.
The main show featured an NHL game between the Calgary Flames and Minnesota Wild from St. Paul, Minnesota, but it also featured local content for Cobourg as did the pre-show.
Interview guests in the mobile studio included NHL analyst and Cobourg native Chris Johnston, play-by-play broadcaster Jim Hughson, who has ties to this area, and former NHLer and Cobourg native Steve Smith, who won the Stanley Cup three times with the Edmonton Oilers and is currently an assistant coach with the Buffalo Sabres.
MacLean and Slone also went into the crowd to interview members of the Cobourg Cougars, including 2017 RBC Cup champion Josh Maguire, who had the national junior A championship trophy in tow, as well as current general manager Adam Yahn and current players Mac Lowry and Erik MacNeil.
Slone shared video of her dropping the puck during the ceremonial faceoff at Saturday night's Ontario Junior Hockey League game between the Cougars and Trenton Golden Hawks. She was joined for that puck drop by young Jack Bradimore who is recovering from cancer as well as the family of the late Grace Bowen, who was featured in the opening video essay.
Victoria Hall, the Concert Band of Cobourg and Marie Dressler were among the other local features early in the broadcast while Cobourg native and three-time Stanley Cup champion Justin Williams was profiled during the second intermission.
While the first period from Minnesota was airing, MacLean signed autographs and took photos with a long line of fans.
During the second period of play, MacLean and Slone welcomed Today's Northumberland into the mobile studio. Both hosts were interviewed earlier this week prior to coming to town, but were eager this time to share their experiences of their visit to Cobourg.
"We're always packing so much in," Slone, who arrived Friday, said. "My biggest takeaway really, aside from learning about the nuts and bolts of Victoria Hall and the Concert Band and the Cougars" were the stories of Grace Bowen and Jack Bradimore.
"I heard it both from Grace's and Jack's parents, when they needed help this community came and there were no questions asked," Slone said. "This is a very warm community. People thank us for being here, but we are so grateful. We come to places like Cobourg and we are welcomed with such grace, so it's really us who feel the honour."
MacLean echoed the sentiment, noting "everybody has gone that extra mile to provide us" with a great experience. "The pride in Cobourg is off the charts. John Henderson, the mayor, gave me a gorgeous letter and card, but he wasn't able to make the meet-and-greet so Adam Bureau, a councillor, did the opening remarks and he was shaking like a leaf and he had put tons of thought into what he wanted to say and it was so kind and so magnificent. I just felt that love from everybody."
"And we're going to move here," Slone quipped.
The hosts agreed that Cobourg stacked up as good as any Hometown Hockey location for the show that began airing in 2014.
"I liken it to Grand Falls-Windsor, Newfoundland in the sense of the willingness of everyone to share hockey stories, the pride in hockey. The only place out of the 130-plus we've visited where I remember being as gobsmacked," MacLean said.
"They had a play-by-play announcer out there named George Scott," he noted, with Slone saying the name in agreement, "and they made sure we knew everything about everybody that had ever played hockey in that town. It's the same here in Cobourg. The love of the game, they turned the dial up to 11. The joy of everybody's companionship was really welcoming."
Each week the Hometown Hockey broadcast concludes with two minor hockey players joining MacLean and Slone for an interview and to help read the three stars of the NHL game that was just aired. This week the local representatives were Jordyn Mackey from the West Northumberland Wild girls bantam B team and Oscar Brown from the Northumberland Nighthawks minor midget AA team.
The weekend featured more than just the live Hometown Hockey broadcast, though, as there was a festival on-site Saturday and Sunday.
There was live music and entertainment, autograph signings with NHL alumni and meet-and-greets with other hockey personalities, as well as games and skill competitions.
Earlier in the day before joining the Hometown Hockey broadcast, Chris Johnston and Jim Hughson were together for one of the meet-and-greet opportunities.
"I'm brimming, my heart's overflowing," Johnston said of the opportunity to be back in his hometown. "I saw an old teacher of mine, Linda Darling, who taught at Cobourg West when I was there, a few guys I used to play hockey with and some people I hadn't seen in 20 years. It's just awesome to be here. My dad's here, my aunts are here and believe it or not someone wants my autograph."
Hughson, meanwhile, also has ties to the area and even lived around Cobourg for awhile.
"My wife (Denise) is a member of the Wootton family they are long-time Port Hope residents," he said. "Many of her family still live there.
While I was a broadcaster and we met in Toronto, we chose to live outside of the city so I lived just outside of Cobourg for years and our son learned to skate on Pad 2 (the Jack Heenan Arena) and I played in the Baltimore men's league. I still have a lot of friends in the area and we still come back."
Sometimes Hughson will pop into Kelly's Homelike Inn where a picture hangs of two of his friends so he'll find a table close by.
"In Kelly's there's always been a picture of Steve Smith and Craig Simpson with the Stanley Cup and because I know both of them and Craig's my (broadcast) partner, if I'm going to come to town we always go over there to have a beer."
Gord Brooks, Cobourg's first NHL player, made the trip from his current home of London, Ontario.
"There's some people I probably haven't seen in probably 60 years, some of them knew me when I was playing peewee hockey," he said. "I met a lot of people I hadn't seen in years, so it was a lot of fun. "I'm very happy to be here in Cobourg. It was a great place to play my minor hockey. I still love Cobourg."
Two other NHL alumni members proved to be popular at the autograph tents as Darcy Tucker and Shayne Corson made the trip to Cobourg for the event.
"It's been amazing. Cobourg is a great stop on the Rogers Hometown tour and I'm proud to be here with Scotiabank," Tucker said. "We've got a lot done throughout the communities across Canada and Cobourg's no different. They've been a pleasure to be around, a lot of great people in this community."
Corson said he enjoys coming to the smaller communities like Cobourg and he certainly remembers stopping here several times to grab coffee or whatever else needed on trips to Belleville to watch his son play for the Bulls when they were still an OHL team.
"Coming to the small communities is just incredible. The people are so friendly, the kids are so polite and it's enjoyable for me to come to these communities and meet the real fans and just be a part of the community for a couple of days," Corson said.
"For me it's just about giving back to these communities. They supported me throughout my hockey career and to come here and give something back is very important for me and makes me feel good and I enjoy meeting the people. The biggest thing is they are such nice people. It's a great experience for me."
Ron MacLean Shares Cobourg Memories Ahead of Hometown Hockey Broadcast