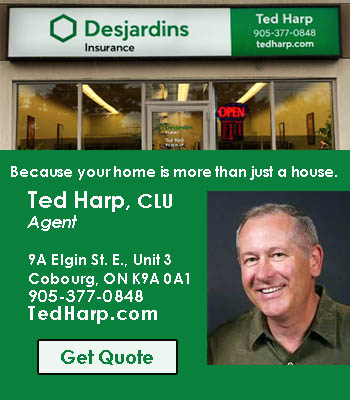 Jeff Gard/Today's Northumberland
Growing up at his family's home in Cobourg, Chris Johnston never missed a moment of Hockey Night in Canada on Saturday evenings.
Aside from the weekly game itself, he would be glued to the television in his living room for the pre-game coverage as well as intermission features like Coach's Corner and the Satellite Hot Stove (a segment that included host Ron MacLean and a panel of journalists discussing news from around the NHL).
Fast forward all these years later and Johnston, now 38-years-old, finds himself sitting beside MacLean at the desk for the Hockey Night in Canada second-intermission feature Saturday Headlines, today's equivalent to the Hot Stove.
"It still feels a little bit like I'm living someone else's life, just being on TV a few minutes each week with Ron MacLean who was in my living room all those years back in Cobourg when I was growing up watching hockey," Johnston says.
"You almost want to pinch yourself and wonder where you're at. I remember my very first show, he didn't tell me he was going to do it, but when he introduced me on the panel he actually gave Cobourg a shout-out and I always thought that was pretty cool. I have a lot of pride being from there."
Johnston will return home Sunday, January 5 for the Sportsnet broadcast of Rogers Hometown Hockey, which is hosted by Ron MacLean and Tara Slone.
That gesture by MacLean also meant a lot to Ian Johnston as Chris noted his dad "doesn't miss anything I do."
Chris Johnston says his dad immigrated to Canada from Scotland and settled right in Cobourg so the town "has been a special place to him and he was happy to raise his family there."
While hockey was his favourite sport, Johnston said he also golfed at the Ashbrook and Dalewood courses and played some baseball and basketball. He enjoyed spending time outside with friends, even if it was just riding his bicycle around town.
"Honestly, my closest friends to this day are people I know from Cobourg," he says. "A lot of them live elsewhere these days, but my network of friends from there is still strong and I always go back and see my dad and spend time in the town to this day."
Johnston, who had aspirations from a young age to become a sportswriter, attended Burnham Public School for most of his elementary years and Terry Fox Public School for Grade 8 before graduating high school from the former Cobourg District Collegiate Institute West.
"I was always crazy about hockey as a young kid, played minor hockey in Cobourg and played with my buddies on the street all the time," he says. "At some point when I was five or six years old I started saying I was going to be a hockey journalist. I don't know where that idea came from when I was so young, but it never left my mind."
It was Johnston's late mother Linda, who passed away three years ago, who encouraged him to attend Ryerson University in Toronto if he was serious about a career in journalism.
That's exactly what he did when he was 18 and within his first year at Ryerson had a part-time job with The Canadian Press working mostly Friday and Saturday nights updating league standings for junior hockey, such as the Ontario Hockey League, and writing briefs from the game results.
"At that time, sometimes people would call (results) in, it wasn't even all available online," he recalls. "I got my foot in the door there when I was pretty young and I kind of stuck with it right through."
Following university, Johnston moved to London, England and picked up a job with The Associated Press covering news, which "wasn't part of the plan," he says. "I was just young and wanted to travel."
When he returned to Canada, those contacts he made with The Canadian Press early on proved to be beneficial as he was hired back there and became the No. 2 hockey writer behind Pierre LeBrun.
"That was my first big break in a sense because I got to start covering the NHL more and travelling a little bit and working with Pierre who was my mentor as a young journalist coming up," Johnston says.
The biggest highlight for Johnston while working for The Canadian Press was covering his first Olympics when the Winter Games were held in Vancouver in 2010.
One of his first memorable story assignments, though, brought him back to this area in 2006 when Cobourg native Justin Williams won his first Stanley Cup with the Carolina Hurricanes. Johnston says he played minor hockey against Williams at a very young age. The 2006 event included an opportunity for the public to see the Stanley Cup at Dalewood Golf Club – it poured rain that day which dampened the event – and a private gathering for Williams' family and friends in Cobourg.
"I remember being in Pad 1 (Memorial Arena) when they were playing road hockey and writing about that," Johnston says, noting it was a great experience since he's "known Justin for a long, long time."
Johnston left The Canadian Press in 2013 when he took a job with Sportsnet as the most recent NHL lockout ended. He was hired to cover the NHL and write for the website and he started making some on-camera appearances during Toronto Maple Leafs broadcasts.
Part of any good story is timing, Johnston says, noting he got hired right before Sportsnet secured the NHL broadcasting rights in Canada and that created more opportunities at the network.
Joining the Headlines panel on Hockey Night in Canada was a surprise, but he enjoys working with MacLean and Elliotte Friedman and previously Nick Kypreos as well.
"That was unexpected and not really part of the plan at any point, for me anyway. I hadn't set my mind there," he says. "They asked if I would try it three seasons ago and it has been awesome. I'm living my dream. I can't believe I'm part of the show and I'm just happy to do what I do.
It's weird, I always imagined being a hockey writer but I never thought they would put me on TV. It was never part of my plan."
It's not surprising Johnston developed into an NHL "insider" and analyst as the job, in a sense, brings him back to his roots.
"What drew me to journalism is I always wanted to know how things work and that's still the same way. I love trying to understand how decisions are made or how teams manage their player decisions. I've always been naturally intrigued by that," he says.
"I think when it comes to breaking trades or the business stuff that I cover, a lot of it is just relationships. I was lucky to have a dream and know what I wanted to do so even though I'm 38 now, more than half my life has been spent being a hockey writer."
That time working has enabled Johnston to build relationships with players, agents and general managers and he notes the importance of adding more contacts with each passing year.
"It just takes time. It's still an ongoing process for me, but I love knowing the story behind the story and that's just naturally led me to this job," he says. "There's no substitute for time, though. If I could tell my younger self anything, it would be a little more patient along the way' because it really does take time to figure out what you're doing professionally and make all the relationships you need to make."
There is a lot of trust required on both sides between Johnston and his sources and NHL contacts.
"You try to be fair to people. I try to be very upfront with what I'm doing. I think a lot of people understand the business," he says. "The truth is, doing what I do is not always pleasant. Sometimes, for a whole variety of reasons, a team or general manager might want to keep a piece of information out of the public eye, out of the media, and it's my job to try to uncover some of those things.
"We're not solving cancer or anything. I do understand at the end of the day it's an entertainment business, but it does affect people's lives and occasionally you find yourself in difficult spots when it comes to stories you find out about or people aren't happy with you, but that kind of goes with it."
Johnston likens his job to growing up in a small community like Cobourg.
"The NHL world, although it may not seem like it, is really a small town in itself," he says. "Everyone knows each other and talks to each other and I think your reputation and how you act matters and ultimately leads to your success or failure."
Johnston keeps a busy schedule during the hockey season and credits having "a very understanding wife," Krista Coughlin, noting "that's the only way the whole thing works."
His schedule can be hectic. In addition to appearing weekly on Hockey Night in Canada, "I travel to every Leafs game that isn't played on Saturday and go to the home games as well. I'm on the road a fair bit during the season. Really there's no off-night."
When he's not at games in-person or at the studio, Johnston is regularly watching NHL games at home and touching base with his contacts.
"You always have to be tuned into what's happening around the league and obviously I'm going to spend a fair amount of time on my phone," he says.
"It's chaos, but if you're doing what you love it doesn't feel like work. I'm not looking for any sympathy, but it's 24/7 during the season and then once we get through free agency the first week of July I'm able to usually get six or seven weeks where I might work a little bit, but it grinds pretty slow and you recharge the batteries."
The work to stay ahead of information is especially important as Johnston is just one person in a competitive field of NHL insiders and analysts.
"You try to always be a bit ahead. I think you get a feel for stories when you're doing what I'm doing and sometimes you have a sense where it's going to go to next," he says. "The people I have really strong relationships with I try to touch base with them as much as possible and just have an ongoing conversation. Someone hears something and they pass it along.
"Obviously no one is going to get every story, but you've got to get enough to justify your spot. I always pay attention to what (others are) doing, but you've got to be in your own lane too and focusing on finding your own news."
Johnston is thrilled to be joining the broadcast of Hometown Hockey on January 5.
The two-day festival, which will be held at the Cobourg West Harbour, begins with a lineup of activities on Saturday, January 4 and continues the following day.
Special guests also include NHL alumni such as Cobourg natives Steve Smith and Gord Brooks as well as Darcy Tucker and Shayne Corson. Broadcaster Jim Hughson will also be making an appearance.
On the Saturday night, the Cobourg Cougars will host the Trenton Golden Hawks in an Ontario Junior Hockey League match-up at 7 p.m. at the Cobourg Community Centre. $2 from every ticket sold will be donated to Jack Bradimore and the Grace Bowen Tribute Fund.
On the Sunday leading up to the outdoor viewing party of the NHL game between the Calgary Flames and Minnesota Wild, there will be a Parade of Champions at 6 p.m. Community groups and individuals are encouraged to participate. Wear your favourite jersey and purchase a Cobourg toque which are on sale at Victoria Hall with proceeds directed to KidSport Northumberland.
Visit www.cobourg.ca for the full details and schedule of events.
Cobourg is one of 25 stops across Canada on the Hometown Hockey schedule this year and Johnston believes "it's about time."
"I've been bugging them for a couple years now to bring it there," he adds. "I'm certainly not taking any credit for it…but I just think it makes a lot of sense with the proximity to Toronto, how central I think hockey is in the community, the fact you have the nice new arena there now, I just think it's a great spot.
"I just think there's a lot of love for hockey and community there and that's what Hometown Hockey is about, celebrating the people that make hockey go in this community," he continues. "I'm super-pumped I get to come down and be a part of it and buy my Cobourg toque and maybe get out for a skate sometime while I'm there."