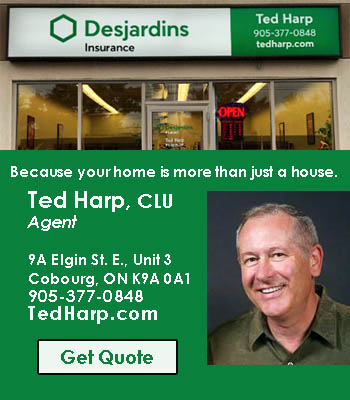 Cobourg, ON – Learning to move is as important as reading and writing skills, and the ability to work with numbers. This is the basis of a free seminar that physical literacy expert Dr. Dean Kriellaars will deliver to local parents on Friday, May 4, at Cobourg Collegiate Institute. This interactive event, open to all local families, is being organized by the
Northumberland Sports Council in collaboration with Northumberland County and community partners to help parents build more confident, competent and physically active children.
"Through our EarlyON Child & Family Centre programming, a priority for the County is supporting parents to actively engage in their child's physical and mental well-being and learning," states Lesley Patterson, early years services manager for Northumberland County. "Parents are the first and most important educator, with family being the most critical contributor to a child's sense of belonging and well-being, as well as their ability to express  themselves. Partnering with the Sports Council to bring this interactive event to local families is a perfect fit with these efforts, as we encourage families to focus on their collective well-being and get moving, together."
Children are invited to join their parents at this event, where they will  participate in fun activities (designed for ages 3 and up) while their parents listen to Dr. Kriellaars. Parents will then join their children in these activities, with each family leaving with a play bin to continue the fun at home.
A second session focused on educators, coaches and other interested  community members will take place on Saturday, May 5th from 9:00 a.m. to 2:30 p.m. at CCI. Dr. Kriellaars will expand on the concepts presented on May 4th, discussing the importance of ensuring that all children are given equal opportunities in multiple environments to develop the confidence and competence needed to stay active for life. Dr. Kriellaars will present the research as well as practical tips to implement physical literacy activities in all environments. Participants will then have the opportunity to attend two out of over 20 different break-out sessions to further their learning.
"The Northumberland Sports Council has been an advocate of sport and recreation programs for some time," indicates Heather Grundy, vice president of the Northumberland Sports Council and health promoter with the HKPR District Health Unit. "The members understand the importance of physical activity and the need for residents of all ages to participate in active and beneficial endeavours. This event is exciting, as the County promotes the value of physical activity in an effort to help residents with their journey to
become more physically literate."
Event details:   Northumberland Families on the Move
Location:            Cobourg Collegiate Institute
335 King Street East
Cobourg ON  K9A 1M2
Parents and caregivers
Date:                    Friday, May 4, 2018
Time:                    7:00—9:00 p.m.
Educators, coaches, interested community members
Date:                    Saturday, May 5, 2018
Time:                    9:00 a.m. — 2:30 p.m.
For more information, and to register for this free event, visit www.NorthumberlandSportsCouncil.ca/training.