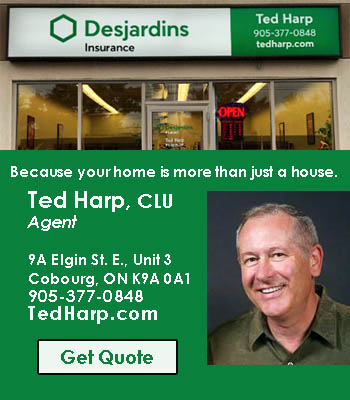 March 22nd, 2018 (Campbellford)
Community Care Northumberland (CCN) is pleased to announce its participation in the North American 2018 March for Meals Initiative in Campbellford and their partnership with the Trent Hills Fire Department who will be checking fire alarms for its Meals on Wheels clients.
Members from the Trent Hills Fire Department volunteered delivering meals and checking smoke alarms under their 'Armed and Ready' Seniors Smoke Alarm Program.  Between the years of 2004 to 2013, 41% of all fatal fires in Ontario involved persons 60 years of age and older. These statistics show when it comes to fire, adults over age 60 are at greater risk than any other group. As most fire deaths occur in the home, it is important that seniors know how to protect themselves with a working smoke alarm.  The 'Alarmed and Ready' Senior's Smoke Alarm Program will assist people who because of age, physical or mental limitations or financial reasons are not able to install or maintain a smoke alarm in their home.  To participate in this program, simply call the Trent Hills Fire Department and they will come to your home and provide and install the required number of smoke alarms and/or batteries.
"We are hoping this partnership with bring attention to our hot Meals on Wheels service available in Campbellford." said Trish Baird – Executive Director of Community Care Northumberland.  "Working with the local firefighters, our delivery today was truly more than meal; it's also a security check on a loved one."
Community Care Northumberland's hot meals provider in Campbellford is Sharpe's Food Market located at 85 Front Street North.  The Meals on Wheels program is available to seniors and adults with disabilities who cannot cook for themselves or easily shop for groceries for $6.00 per meal.  Local volunteers pick up the packed meals at Sharpe's and deliver them directly to client's home.  The service operates on Mondays – Fridays and a hot meal includes soup or salad, an entrée, roll and a dessert. These deliveries take place between 11am – 12noon and clients are billed at the end of each month.
"The Meals on Wheels program allows people to live in the home where they have spent their adult lives creating memories," said Baird.  "It takes some of the stress off of the shoulders of loved ones and caregivers and it provides relief and comfort.
Do you know someone in the Campbellford area who could benefit from the Meals on Wheels program?  Would you like to volunteer as a Meals driver?  Call Community Care Northumberland at (705)653-1411.
For more information about the Meals on Wheels visit www.commcare.ca/mow.html
Pictured (l-r) Members of the Trent Hills Fire Department: Tony, Zoe, Allison and Sean
Pictured: Cathy from Sharpe's Food Market packaging up a meal