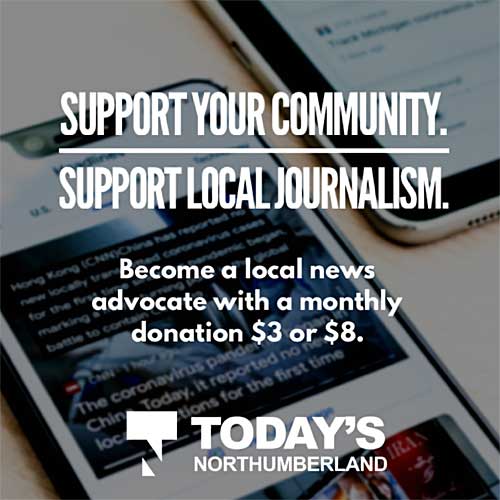 Jenny Duda was putting the finishing touches on the mural in the Spiritual Room of Ed's House on Friday, July 23, 2021.
Ed's House opened in September 2020 at 1301 Ontario Street and is a specialized form of healthcare, hospice palliative care which aims to relieve suffering and improve the quality of life for those living with a life limiting illness, as well as their families.
The mural is called Life and Death: River and Sea and is approximately 21′ x 8′ and is located in the Spiritual Room.
At the entrance of the room there is a plaque that says "For life and death are one, even as the river and sea are one," by Kahil Gibran.
Duda says the mural is interactive.
"In this room it's nice to instill the idea of some calm in the event of someone's passing. I tried to make a interactive mural that will hopefully give people an idea of nature and finding peace."
Commissioned by Ed's House one of the only stipulations for Duda was to create a tree where people can put their names of loved ones on the leaves.
"It will be an evolving art piece that will change from year to year."
Showing her love for where she grew up, Duda included the rolling hills of Northumberland County as part of the background.
A river runs through the painting with the seasons changing and into Lake Ontario.
Duda's 93-year-old mother told her, "everyday I wake up, I'm grateful for the day."
So Duda wanted to make the mural look like a new day through the seasons.
First Nation people are represented with the eagle soaring by the sun and four deer grazing in a corn field.
"Four is really an important number in First Nation culture" and the deer represent north, south, east and west.
A Cardinal is resting on a branch in the tree is a sign of the person that has passed is at peace.
There are butterflies, caterpillar, chipmunk and squirrel also in the mural.
The project took approximately 120 hours and Duda said the project evolved as she was painting it, but is very happy with the results.