A GoFundMe has been started for the families of two men involved in a ATV collision on Saturday, August 15, 2020.
Shortly before 5:30 p.m. an ATV was heading north on Harwood Road when it turned left onto Old School House Road and struck a hydro pole head-on. The force of the collision snapped the pole.
One of the riders, Kevin Higney of Hamilton Township died at the scene. Forty-year-old Wesley Walsh, also of Hamilton Township was taken to Northumberland Hills Hospital then transferred to a Sunnbrook Hospital in critical condition.
A memorial was created the following day at the site of the collision.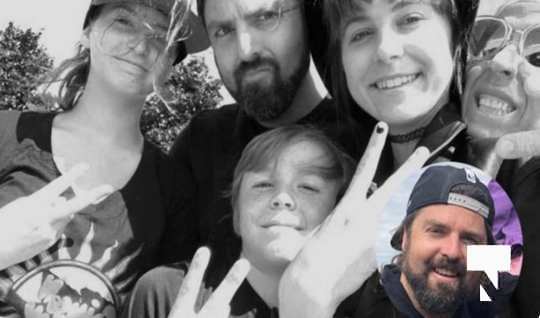 Christopher Higney is the brother of Kevin and started a GoFundMe for his brother's family.
Higney leaves behind his wife, Lisa and three children, Emma 17, Sarah 14 and Owen 11.
"Kevin was a well respected Registered Nurse in the Cobourg and Oshawa area. His caring nature and compassion helped so many patients and their families."
"I have watched Kevin grow into a loving and devoted father and husband. He always helped people no matter who it was. Kevin touched the hearts of many and lived each day to the fullest," wrote his brother.
Stating his brother had positive energy and a lust for life, "Kevin will be sadly missed."
"As a testament to the life that Kevin led caring for others, it is now our turn to make sure his family is taken care of."
Funds raised will go towards expenses.
"The money will also be used to protect the future that Kevin had envisioned for his family."
https://www.gofundme.com/f/support-for-family-for-kevin-higney?utm_source=facebook&utm_medium=social&utm_campaign=m_pd%20share-sheet&fbclid=IwAR2O-NO42fGdrC4oQliCXdvYpxroKj0OpVbzoCMgEpDxbyUJG6dGyFQsKTs

A GoFundMe has also been started for Wesley Walsh by a good friend of the family, Lindsay Sandercock.
Walsh remains in critical condition at Sunnybrook Trauma Centre in Toronto with multiple fractures and at this point has had multiple surgeries.
Walsh's wife, Britney wrote a post on social media describing what the past several days have been like for her and the couples two children ages five and seven-years-old.
"On Saturday my entire world crumbled when my husband Wesley was in an ATV accident."
"Wesley is strong and feisty. He has been making it through all they throw at him but still has quite a road ahead of him. There are still many unknowns at this time. So please keep
your prayers going as they mean so much to us."
Britney said she is extremely grateful for the outpouring of support over the last several days from people, "near and far, and even some we have fallen out of touch with have reached out. I may not be able to reply to all of you, but please know every message is appreciated."
Sandercock states in the GoFundMe link that, "Wes is a son, brother, husband, devoted father & friend and he is well known for his hardworking nature. In addition to his strength and perseverance, he will need positive thoughts from everyone."
"Wes and Britney have always been eager to offer a helping hand and now we need to return the favour!"
https://www.gofundme.com/f/support-for-the-walsh-family?utm_source=facebook&fbclid=IwAR1-rR7A4ZjbB757mhduYT3dDaXsMrd8bKoKKSsf9gBE70zN-zvH7Z0fN88