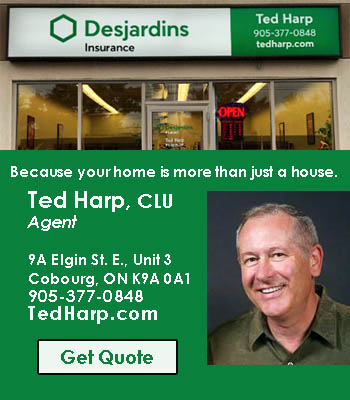 June is the month of Pride which kicked off on Thursday, June 1, 2023 at two ceremonies in downtown Cobourg.
The first ceremony was the raising of the flag in front of Victoria Hall.
Cobourg Mayor Lucas Cleveland along with Ashley Bouman who is PFLAG Cobourg Chapter Leader amd Yasmyn Belle who is the Accessibility and Equity, Diversity and Inclusion Coordinator with the town of Cobourg spoke at the event.
Below is Mayor Cleveland's speech.
Two-Spirit individuals are a diverse and integral part of many Indigenous cultures around the world. The term "Two-Spirit" encompasses a range of gender identities and expressions that often transcend traditional binary concepts of male and female.
These individuals hold a unique and honored place in their communities, often fulfilling roles as healers, spiritual leaders, and cultural guardians. It is important to note that each Indigenous culture has its own specific understanding and language surrounding gender diversity. Today, there is a growing movement to reclaim, celebrate, and support Two Spirt individuals, challenging harmful stereotypes and promoting acceptance and inclusion for all gender Identities.
Today, I stand before you as your mayor, but more importantly, as an advocate for inclusivity, acceptance, and equality.
Pride is a powerful force that transcends boundaries, challenges prejudice, and celebrates the diversity that makes us who we are. It is a celebration of love, courage, and authenticity, and it is an integral part of our community's fabric. Today, we come together to honour and uplift our LGBTQ2S+ neighbors, friends, and family members, and to affirm our unwavering support for their rights and well-being.
In a world that often seeks to categorize and confine, pride serves as a beacon of hope and a rallying cry for change. It is a reminder that no matter who you are or whom you love, you deserve to be treated with respect, dignity, and fairness. It is a call to action, urging us to dismantle the barriers that stand in the way of true equality and to create a society where everyone can thrive.
We have come a long way in our journey toward LGBTO2S+ equality, but there is still work to be done.
Together, we must strive for a community where no one is marginalized or discriminated against because of their sexual orientation, gender identity, or expression. We must challenge the prejudices that still linger, educate ourselves and others, and foster a culture of acceptance and understanding. pride is not just a month on the calendar; it is a mindset, a commitment to embracing diversity in all its forms.
As your mayor, I am dedicated to ensuring that our community is a safe and inclusive space for everyone. I pledge to support initiatives that promote LGBTQ2S+ rights, to advocate for comprehensive policies that protect against discrimination, and to create opportunities for dialogue and celebration.
But let us not forget that pride is not just about the LGBTQ2S+ community; it is about all of us. It is about recognizing that when we uplift and empower marginalized communities, we strengthen the entire fabric of our society.
Let us embrace the rainbow that colours our community, for it is a symbol of hope, love, and pride. Together, let us build a community where everyone, regardless of sexual orientation or gender identity, can live authentically, free from fear or discrimination.
I wish everyone the best for this Cobourg Pride."