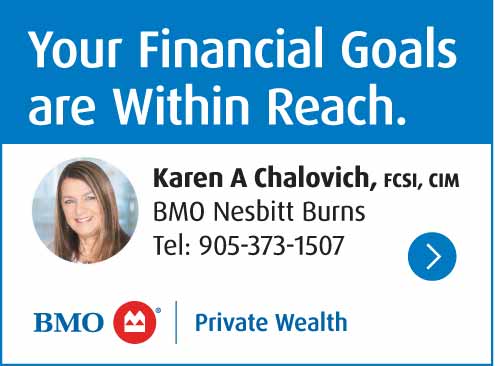 A special dedication took place on Sunday, April 16, 2023 at St. Peter's Anglican Church on King Street in Cobourg.
After the Sunday service, the parish dedicated their restored Exterior Cross in memory of Patricia Perkin who was very active in the church, was past Rector's Warden and Campaign Chair of the roof restoration.
Patricia (Pat) died on January 8, 2023 after a brief illness.
After  the Sunday morning service, members of her family, including her husband Mark gathered outside the church as the cross was lifted into place after being carried out of the church, up the stairs and onto the roof.
Restoration was done by Scott Theriault in March who said the cross was "pretty beat up" after being on the roof for nearly 200 years.
There were pieces missing of the cross and parts that had to be re-built and then came seven coats of gold spray paint followed by carefully putting small gold sheets over top of the cross that were imported from Italy.
Father Matthew McMillan said with the work being nearly completed on the church roof, one of the final projects was the cross.
"One of the major things we were able to do was go beyond the original scope of our restoration."
The cross was installed on October 14, 1854 when the original small white, clapboard church was opened. Later, the much larger church was built over the original.
Over the course of nearly 200 years, the cross had been painted over and touched up numerous times, but when the cross was sanded down as part of the roof restoration, they found that gold leaf was the original covering.
With Patricia Perkin being such a leader in the church, Father McMillan said, "we wanted to dedicate this in her memory.
"Today we blessed it, and put it back on the roof and have it shining brightly for all to see."
"One of the things that is most meaningful – is when we're in the church we don't see it – it's a sign for the community. So other people can look to that and part of our message is that God is for all people and that God walks with us all and that you don't need here inside on Sunday morning for God to be in your life to be doing good things."
Looking up at the cross being installed Mark Perkins said, "the cross is up there now, the sun is shining – glowing right on it."
"It's lighting it up, like it's lit from within."
"This is for Patricia – in her memory and will be around for a long time."
With Sunday, April 16, 2023 marking Greek Easter, Mark said his wife would have said, "Christos Anesti which means Christ has risen – today – it has," as he points to the gold cross on top of the church in honour of his late wife.