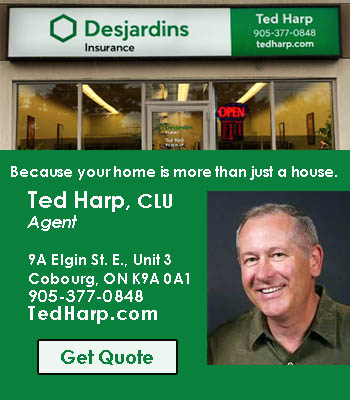 A Cobourg man is one of 27 people arrested following a 13-month joint police forces investigation known as Project Coyote.
Twenty-eight-year-old Dylan Kearley from Cobourg is facing several charges including, Conspiracy to Commit an Indictable Offence, contrary to section 465(1)(c) of
the Criminal Code, Possession for the Purpose of Trafficking – Schedule I Substance to wit, Cocaine – contrary to Section 5(2) of the Controlled Drugs and Substances Act, Possession of Property Obtained by Crime under $5000 – contrary to Section 354(1)(a) of the Criminal Code and Today's Northumberland has learned that Kearley was also charged with possession for the purposes of trafficking last week in the Trenton/Belleville area.
Kearley was arrested at a home in Cobourg where two search warrants were executed.  One on King Street West and another on Marion Street, just a few houses away from Burnham Public School.
In January 2022, the Ontario Provincial Police's (OPP) Organized Crime Enforcement Bureau (OCEB), Provincial Operations Intelligence Bureau (POIB) and the Toronto (TPS) and Belleville Police Services (BPS) began an investigation into the trafficking of controlled substances and firearms by Greater Toronto Area (GTA ) drug traffickers and members of the Hells Angels Motorcycle Club.
Nine high-risk warrants executed in the GTA on January 18, 2023, resulted in the arrest of 12 individuals. Additional warrants were executed and 15 arrests were made on February 22, 2023. This included 3 members of the Hells Angels and 3 members of the Red Devils Motorcycle Club.
The results of this investigation include the seizure/restraint of significant amounts of cash, firearms, weapons, and other items including to date:
One Glock P80 3D printed handgun
One Ruger 357 (stolen) handgun
One Taurus 9mm handgun
One Sig Sauer 380-calibre prohibited handgun
One SCCY CPX-2 9mm restricted handgun
Three prohibited sawed-off shotguns
Three replica handguns
Two stun guns
Live ammunition
Jewelry including two Rolex watches, gold chains and rings with an approximate value of $150,000.00; miscellaneous O utlaw Motorcycle Gang (OMG) jewelry
Miscellaneous Hells Angels (HA) vests, signage, member list and photos
Hard and soft body armour
10 vehicles
More than $370,000 in Canadian currency
Controlled substances in excess of:
16 kilograms of cocaine
1.5 kilograms of Fentanyl
6 kilograms of crystal methamphetamine, and an additional 400 crystal methamphetamine pills
20 lbs of cannabis, as well as 500 packages of Cannabis edibles and 700 Cannabis edibles
500 vape pens and cartridges
8 lbs of hashish
7 grams of Psilocybin
Note that that as evidence collection and the investigation are ongoing, the above totals are subject to change.
The investigation was supported by federal and international partners including Canada Border Services Agency and the US Drug Enforcement Administration. The OPP expresses its appreciation to all of its participating members, both uniform and specialty support units, for their assistance with this investigation.
"Street gangs, Outlaw Motorcycle Gangs and other organized crime groups undermine peace and security across our communities. They deal in violence and conflict. They launder money. They traffic firearms and people. They hurt our communities. Joint investigations, such as the OPP, Toronto Police Service and Belleville Police Service's Proj ect Coyote, are critical in dismantling these criminal operations."
Chief Superintendent Paul Mackey, OCEB, OPP
"Criminals and their organizations don't pay attention to boundaries – so neither should police services. It's important that investigators work in concert to conduct such investigations to keep our communities safe – no matter what patch we wear on our shirts. The Toronto Police Service was proud to work with the OPP and Belleville Police Service to hold these people accountable, and keep all our communities safer."
– Staff Superintendent Paul MacIntyre, Detective Services, Toronto Police Service
"The harm inflicted by organized crime in our communities knows no boundaries. These organizations prey on our most vulnerable citizens through violence and intimidation and profit from inflicted harm. Collaborative investigations such as Project Coyote send a very powerful message to criminals that they will fac e the combined resources of the entire law enforcement community in order to hold them accountable for their actions."
– Deputy Chief Chris Barry, Belleville Police Service
Adam COX 34 Etobicoke
1. Conspiracy to Commit an Indictable Offence, contrary to section 465(1)(c) of the Criminal Code x 4
2. Participation in a Criminal Organization, contrary to Section 467.11(1) of the Criminal Code
3. Commission of offence for a Criminal Organization, contrary Section 467.12(1) of the Criminal Code
4. Possession for the Purpose of Trafficking – Schedule I Substance to wit, Fentanyl – contrary to Section 5(2) of the Controlled Drugs and Substances Act x2
5. Possession for the Purpose of Trafficking – Schedule I Substance to wit, Cocaine – contrary to Section 5(2) of the Controlled Drugs and Substances Act x2
6. Possession for the Purpose of Trafficking – Schedule I Substance to wit, Oxycodone – contrary to Section 5(2) of the Controlled Drugs and Substances Act
7. Possession for the Purpose of Trafficking – Schedule I Substance to wit, Methamphetamine – contrary to Section 5(2) of the Controlled Drugs and Substances Act x2
8. Possession for the Purpose of Trafficking – Schedule I Substance to wit, Heroin – contrary to Section 5(2) of the Controlled Drugs and Substances Act
9. Possession for the Purpose of Trafficking – Schedule I Substance to wit, benzimidazole – contrary to Section 5(2) of the Controlled Drugs and Substances Act
10. Possession of Property Obtained by Crime over $5000 – contrary to Section 354(1)(a) of the Criminal Code x2
11. Careless Storage of Ammunition – contrary to Section 86(1) of the Criminal Code
12. Unauthorized Possession of Firearm – contrary to Section 91(1) of the Criminal Code x7
13. Possesssion of Firearm knowing its Possession is Unauthorized – contrary to Section 92(1) of the Criminal Code x5
14. Possession of a Loaded Prohibited Firearm – contrary to Section 95(a) of the Criminal Code x4
15. Possession of a Firearm contrary to a Prohibition Order – contrary to Section 117.01(1) of the Criminal Code x2
16. Firearm Trafficking – contrary to Section 99 of the Criminal Code
Devon JOHNSON-GARCIA 29 Etobicoke
1. Conspiracy to Commit an Indictable Offence, contrary to section 465(1)(c) of the Criminal Code x 4
2. Participation in a Criminal Organization, contrary to Section 467.11(1) of the Criminal Code
3. Commission of offence for a Criminal Organization, contrary Section 467.12(1) of the Criminal Code
4. Possession for the Purpose of Trafficking – Schedule I Substance to wit, Cocaine – contrary to Section 5(2) of the Controlled Drugs and Substances Act
5. Possession of Property Obtained by Crime over $5000 – contrary to Section 354(1)(a) of the Criminal Code
6. Fail to Comply with Release Order – contrary to Section 145(5)(a) of the Criminal Code x3
Allan COX 37 Etobicoke
1. Conspiracy to Commit an Indictable Offence, contrary to section 465(1)(c) of the Criminal Code x3
2. Participation in a Criminal Organization, contrary to Section 467.11(1) of the Criminal Code
3. Commission of offence for a Criminal Organization, contrary Section 467.12(1) of the Criminal Code
4. Possession for the Purpose of Trafficking – Schedule I Substance to wit, Fentanyl – contrary to Section 5(2) of the Controlled Drugs and Substances Act
5. Possession for the Purpose of Trafficking – Schedule I Substance to wit, Cocaine – contrary to Section 5(2) of the Controlled Drugs and Substances Act
6. Possession of Property Obtained by Crime under $5000 – contrary to Section 354(1)(a) of the Criminal Code
Al COX 43 Etobicoke
1. Conspiracy to Commit an Indictable Offence, contrary to section 465(1)(c) of the Criminal Code x2
2. Participation in a Criminal Organization, contrary to Section 467.11(1) of the Criminal Code
3. Commission of offence for a Criminal Organization, contrary Section 467.12(1) of the Criminal Code
4. Possession for the Purpose of Trafficking – Schedule I Substance to wit, Cocaine – contrary to Section 5(2) of the Controlled Drugs and Substances Act
5.Possession of Property Obtained by Crime under $5000 – contrary to Section 354(1)(a) of the Criminal Code
Jade PARKER 29 Etobicoke
1. Conspiracy to Commit an Indictable Offence, contrary to section 465(1)(c) of the Criminal Code x 2
2. Participation in a Criminal Organization, contrary to Section 467.11(1) of the Criminal Code
3. Commission of offence for a Criminal Organization, contrary Section 467.12(1) of the Criminal Code
4. Possession for the Purpose of Trafficking – Schedule I Substance to wit, Fentanyl – contrary to Section 5(2) of the Controlled Drugs and Substances Act
5. Possession for the Purpose of Trafficking – Schedule I Substance to wit, Cocaine – contrary to Section 5(2) of the Controlled Drugs and Substances Act
6. Possession for the Purpose of Trafficking – Schedule I Substance to wit, Methamphetamine – contrary to Section 5(2) of the Controlled Drugs and Substances Act
7. Possession for the Purpose of Trafficking – Schedule I Substance to wit, Heroin – contrary to Section 5(2) of the Controlled Drugs and Substances Act
8. Possession for the Purpose of Trafficking – Schedule I Substance to wit, benzimidazole – contrary to Section 5(2) of the Controlled Drugs and Substances Act
9. Possession of Property Obtained by Crime over $5000 – contrary to Section 354(1)(a) of the Criminal Code
10. Careless Storage of Ammunition – contrary to Section 86(1) of the Criminal Code
11. Unauthorized Possession of Firearm – contrary to Section 91(1) of the Criminal Code x3
12. Possession of Firearm knowing its Possession is Unauthorized – contrary to Section 92(1) of the Criminal Code x3
13. Possession of a Loaded Prohibited Firearm – contrary to Section 95(a) of the Criminal Code x3
Erika BLAKE-BROWN 27 Etobicoke
1. Possession for the Purpose of Trafficking – Schedule I Substance to wit, Fentanyl – contrary to Section 5(2) of the Controlled Drugs and Substances Act
2. Possession for the Purpose of Trafficking – Schedule I Substance to wit, Cocaine – contrary to Section 5(2) of the Controlled Drugs and Substances Act
3. Possession for the Purpose of Trafficking – Schedule I Substance to wit, Oxycodone – contrary to Section 5(2) of the Controlled Drugs and Substances Act
4. Possession for the Purpose of Trafficking – Schedule I Substance to wit, Methamphetamine – contrary to Section 5(2) of the Controlled Drugs and Substances Act
5. Possession of Property Obtained by Crime over $5000 – contrary to Section 354(1)(a) of the Criminal Code
6. Possession of a loaded Prohibited or Restricted Firearms with Ammunition – contrary to Section 95(a) of the Criminal Code of Canada x2
7. Unauthorized Possession of Firearm – contrary to Section 91(1) of the Criminal Code x2
8. Possesssion of Firearm knowing its Possession is Unauthorized – contrary to Section 92(1) of the Criminal Code x2
Anh Ngoc TRAN 30 Etobicoke
1. Possession for the Purpose of Trafficking – Schedule I Substance to wit, Fentanyl – contrary to Section 5(2) of the Controlled Drugs and Substances Act
2. Possession for the Purpose of Trafficking – Schedule I Substance to wit, Cocaine – contrary to Section 5(2) of the Controlled Drugs and Substances Act
3. Possession for the Purpose of Trafficking – Schedule I Substance to wit, Methamphetamine – contrary to Section 5(2) of the Controlled Drugs and Substances Act
4. Possession for the Purpose of Trafficking – Schedule I Substance to wit, Heroin – contrary to Section 5(2) of the Controlled Drugs and Substances Act
5. Possession for the Purpose of Trafficking – Schedule I Substance to wit, benzimidazole – contrary to Section 5(2) of the Controlled Drugs and Substances Act
6. Possession of Property Obtained by Crime over $5000 – contrary to Section 354(1)(a) of the Criminal Code
7. Careless Storage of Ammunition – contrary to Section 86(1) of the Criminal Code
8. Unauthorized Possession of Firearm – contrary to Section 91(1) of the Criminal Code x3
9. Possession of Firearm knowing its Possession is Unauthorized – contrary to Section 92(1) of the Criminal Code x3
10. Possession of a Loaded Prohibited Firearm – contrary to Section 95(a) of the Criminal Code x3
Kayla MURRAY 31 Etobicoke
1. Possession of Property Obtained by Crime over $5000 – contrary to Section 354(1)(a) of the Criminal Code
Kameisha GIBBS 35 Mississauga
1. Possession for the Purpose of Trafficking – Schedule I Substance to wit, Fentanyl – contrary to Section 5(2) of the Controlled Drugs and Substances Act
Nicholas RUNNALLS 43 Trenton
1. Conspiracy to Commit an Indictable Offence, contrary to section 465(1)(c) of the Criminal Code
2. Participation in a Criminal Organization, contrary to Section 467.11(1) of the Criminal Code
3. Commission of offence for a Criminal Organization, contrary Section 467.12(1) of the Criminal Code
4. Instruction in a Criminal Organization, contrary to Section 467.13(1) of the Criminal Code x2
Jean-Francois LABONTE 43 Belleville
1. Conspiracy to Commit an Indictable Offence, contrary to section 465(1)(c) of the Criminal Code
2. Participation in a Criminal Organization, contrary to Section 467.11(1) of the Criminal Code
3. Commission of offence for a Criminal Organization, contrary Section 467.12(1) of the Criminal Code
4. Firearm Trafficking – contrary to Section 99 of the Criminal Code
5. Trafficking – Schedule I Substance to wit, Cocaine – contrary to Section 5(1) of the Controlled Drugs and Substances Act
Nicole WHITMAN 38 Belleville
1. Conspiracy to Commit an Indictable Offence, contrary to section 465(1)(c) of the Criminal Code
2. Participation in a Criminal Organization, contrary to Section 467.11(1) of the Criminal Code
3. Commission of offence for a Criminal Organization, contrary Section 467.12(1) of the Criminal Code
Mark STEWART 43 Belleville
1. Conspiracy to Commit an Indictable Offence, contrary to section 465(1)(c) of the Criminal Code
2. Participation in a Criminal Organization, contrary to Section 467.11(1) of the Criminal Code
3. Commission of offence for a Criminal Organization, contrary Section 467.12(1) of the Criminal Code
Steven DICKINSON 35 Belleville
1. Conspiracy to Commit an Indictable Offence, contrary to section 465(1)(c) of the Criminal Code
2. Participation in a Criminal Organization, contrary to Section 467.11(1) of the Criminal Code
3. Commission of offence for a Criminal Organization, contrary Section 467.12(1) of the Criminal Code
4. Trafficking – Schedule I Substance to wit, Cocaine – contrary to Section 5(1) of the Controlled Drugs and Substances Act x5
5. Possession of Property Obtained by Crime under $5000 – contrary to Section 354(1)(a) of the Criminal Code x5
Mark DUNN 52 Belleville
1. Conspiracy to Commit an Indictable Offence, contrary to section 465(1)(c) of the Criminal Code
2. Participation in a Criminal Organization, contrary to Section 467.11(1) of the Criminal Code
3. Commission of offence for a Criminal Organization, contrary Section 467.12(1) of the Criminal Code
4. Trafficking – Schedule I Substance to wit, Cocaine – contrary to Section 5(1) of the Controlled Drugs and Substances Act x3
5. Possession of Property Obtained by Crime under $5000 – contrary to Section 354(1)(a) of the Criminal Code x3
Michael RENZI 41 Belleville
1. Conspiracy to Commit an Indictable Offence, contrary to section 465(1)(c) of the Criminal Code
2. Participation in a Criminal Organization, contrary to Section 467.11(1) of the Criminal Code
3. Commission of offence for a Criminal Organization, contrary Section 467.12(1) of the Criminal Code
Jesse THIBERT 43 Lakeshore
1. Conspiracy to Commit an Indictable Offence, contrary to section 465(1)(c) of the Criminal Code
2. Participation in a Criminal Organization, contrary to Section 467.11(1) of the Criminal Code
3. Commission of offence for a Criminal Organization, contrary Section 467.12(1) of the Criminal Code
Gary BUNTON 36 Trenton 1. Conspiracy to Commit an Indictable Offence, contrary to section 465(1)(c) of the Criminal Code
Robert PARSONSON 46 Trenton
1. Conspiracy to Commit an Indictable Offence, contrary to section 465(1)(c) of the Criminal Code
Joshua SYTSMA 23 Oshawa 1. Conspiracy to Commit an Indictable Offence, contrary to section 465(1)(c) of the Criminal Code
Dylan KEARLEY 28 Cobourg
1. Conspiracy to Commit an Indictable Offence, contrary to section 465(1)(c) of the Criminal Code
2. Possession for the Purpose of Trafficking – Schedule I Substance to wit, Cocaine – contrary to Section 5(2) of the Controlled Drugs and Substances Act
3. Possession of Property Obtained by Crime under $5000 – contrary to Section 354(1)(a) of the Criminal Code
Dillon HEUVEL 31 Oshawa 1. Conspiracy to Commit an Indictable Offence, contrary to section 465(1)(c) of the Criminal Code
Justin WHITFORD 24 Belleville 1. Conspiracy to Commit an Indictable Offence, contrary to section 465(1)(c) of the Criminal Code
Ryan HIGGINS-MICHAUD 27 Belleville
1. Conspiracy to Commit an Indictable Offence, contrary to section 465(1)(c) of the Criminal Code
2. Fail to comply with a recognizance, contrary to section 145(5)(a) of the Criminal Code
Adamo BRUNINO 25 Woodbridge
1. Possession of Property Obtained by Crime under $5000 – contrary to Section 354(1)(a) of the Criminal Code
2. Firearm Trafficking – contrary to Section 99 of the Criminal Code
Alexander VERONEZ 19 Trenton
1. Conspiracy to Commit an Indictable Offence, contrary to section 465(1)(c) of the Criminal Code x2
2. Possession of Property Obtained by Crime under $5000 – contrary to Section 354(1)(a) of the Criminal Code