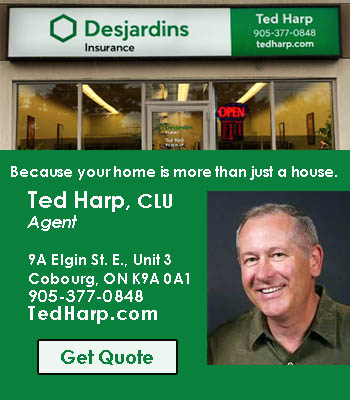 By Cecilia Nasmith/Today's Northumberland
In a year when Cobourg council has been laser-focused on cutting costs to keep the tax bill down, they have decided to refer to the budget process a presentation that calls for substantial raises for all of them.
Bryan Lambert's submission to Monday's council meeting called for a 43% raise for Mayor Lucas Cleveland (his salary rising to $65,000 from $45,412), a 67% raise for Deputy Mayor Nicole Beatty (going to $52,000 from $31,082) and a 75% raise for each of the remaining five councillors (going to $45,500 from $25,963) – plus benefits.
Lambert wants the raises to take effect April 1. For the nine months remaining in 2023, this would add $103,643 to the tax levy. Thereafter, every 12 months, it would add $138,790.
His argument was that this kind of money would attract the best and brightest, as it is closer to a living wage. If you averaged out the current salary remuneration over a 35-hour week, he said, the disparity becomes clear. The higher amount better reflects their duties, responsibilities and skills, as well as the importance of the decisions they are making on behalf of 20,000 people in running a $60-million municipal corporation with more than 300 employees.
"That's not chump change. Those are serious numbers," Lambert said.
"Council salaries should not be a barrier to those who seek to serve in public office."
Lambert had a list of ways to offset this new higher cost, including closing the Venture 13 Innovation and Entrepreneurship Centre.
Councillor Brian Darling wondered what kind of public support there could be for such a move, and asked Lambert how many people he had approached or surveyed.
"A very limited number," Lambert admitted.
Darling suggested that, for some people, public service is not all about the money.
"If that is your particular philosophy, your contribution is appreciated. Contribute it to charity, don't take the salary, or take a reduced salary," Lambert suggested.
"But don't penalize someone who wants to serve but can't because of a financial barrier."
Darling reminded Lambert that, in last fall's election, there were plenty of candidates for the offices available.
"It's not like we aren't getting a lot of people applying for the job," he said.
Deputy Mayor Nicole Beatty asked Director of Finance Ian Davey if he had time to prepare the numbers they would need to consider the matter. Davey gave them the numbers on the spot – $103,643 for nine months of this year which, with benefits factored in, would probably total $110,000.
Armed with those numbers, council will make this matter part of the current budget deliberations.