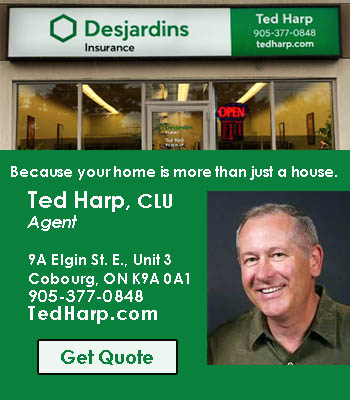 By Cecilia Nasmith/Today's Northumberland
Loyalist College is here to stay, Acting President and Chief Administrative Officer Mark Kirkpatrick told Northumberland County council's Economic Development, Tourism, Land Use Planning standing committee Wednesday – just hours prior to the public information session scheduled for that evening.
The Port Hope campus will take its place beside the Belleville campus to support Northumberland's community and regional industries, Kirkpatrick said.
Striving to become Ontario's destination college, Loyalist enrollment has set new records in the last two semesters, not only with international students but also domestic students. Its job opportunities are attracting more and more resumes, not only from the local community but also other post-secondary institutions. And it is ranked among the top 50 research institutions nation-wide.
"I really do believe and feel we are seeing a college on the move, a college that's making a difference," Kirkpatrick stated.
They also strive to be part of the community, not only in things like tailoring their skills-development training to support the needs of local industries but also in action – like setting up the first COVID-19 mass-immunization clinic in the Bay of Quinte region on their Belleville campus.
"This demonstrates how, as an institution, we step up when the community needs us," Kirkpatrick said.
Locally, Port Hope Loyalist students participated in the Santa Claus parade and they have introduced a speaker series that is open to everyone (most recently welcoming Arlene Dickinson).
And that investment in the community is growing beyond their storefront location downtown. They have a long-term lease on the former St. Mary Elementary School at 10 Pine St., where massive renovations are planned to turn it into everything one expects to see in a post-secondary institution, from high-tech labs to common spaces for the students.
Their offerings (at this time) include diploma courses in business and computer-systems technician, as well as Ontario College Graduate Certificates in global project management and artificial intelligence and data science.
Their five-year plan calls for the facility to grow from 120 students next fall to 407.
"If we don't get 120 students this fall, I am not closing the doors and walking away," Kirkpatrick pledged.
"We have made a long-term investment. We will just work harder to find those students."
The economic impact on Port Hope is unknown, but their impact from the Belleville campus is well documented.
The spending impact of operations is $55.6-million and support for 683 jobs.
The spending impact of students is $8.3-million and support for 192 jobs.
The spending impact of alumni is $334.9-million and support for 4,449 jobs.
Regionally, Loyalist adds $398.9-million or 3.8% of the region's GRP, and supports 5,324 jobs (or 1 in 24 jobs in the region).
"We are here to stay. We are not going anywhere," he said.
They are even keeping the storefront location in downtown Port Hope as sort of a front door for economic development and a location where they can work with local community and industries "to engage and do whatever we can to help the local region prosper."
Committee Chair Brian Ostrander, in his role as Brighton Mayor, is well aware of the impacts on Quinte Region.
"I would like to thank Loyalist for your investment in Northumberland County, your partnership, your willingness to partner with county council and local business."