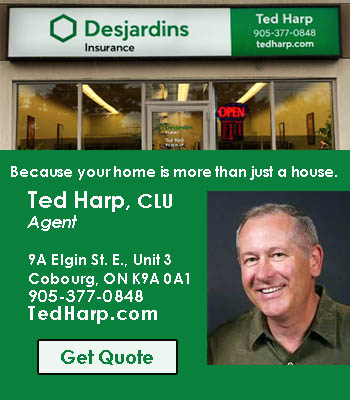 By Cecilia Nasmith/Today's Northumberland
The Art Gallery of Northumberland was not only hit hard by COVID-19 but also by being forced to close for most of 2015.
At a special budget meeting of Cobourg council this week, Board Chair Michael Maynard said the gallery is back.
"The Art Gallery of Northumberland has turned a corner, and is recognized now as a cultural driver in Cobourg and across the county, welcoming thousands of visitors each year," Maynard said – referring to the gallery's comeback after being forced to close its doors for most of 2015.
Maynard was proud to say that one highlight of this year was eliminating its long-standing debt.
Executive Director Olinda Casimiro pointed with pride to their new floor, installed last fall with grant funding. Mayor Lucas Cleveland congratulated her on such a major project being completed at zero cost to the tax levy.
Now in its 63rd year, the gallery boasts a permanent collection of more than 1,400 works of art and contributes to all six strategic directions set out in the Town of Cobourg Cultural Master Plan. In addition to 10 exhibitions last year, they brought back the educational Spotlight Series and will soon be welcoming people to Yoga in the Gallery.
They also go outside their third-floor space at Victoria Hall for such events as a mural installation at King and Division streets in November and the Loom in the Lobby project at the Cobourg Community Centre.
They engage young people beyond the school tours they host, having set up a youth council whose first project was painting community trash cans.
Casimiro listed their communications avenues, from Facebook and Instagram accounts to website, monthly newsletters and signage.
Their budget request of $150,000 for the town would account for 54% of their budget, she said, and works out to a cost of only $7.50 per Cobourg resident.
Councillor Miriam Mutton complimented Casimiro on the loom project, pointing out that it's not the first community art project – residents of Cobourg created those fish hanging from the ceiling, she said, In fact, as a Big Sisters volunteer, she worked on one with her Little Sister that's still there.
Councillor Nicole Beatty asked about numbers of visitors to the gallery. Casimiro said in 2019 – the last pre-COVID year – they welcomed about 12,000 visitors, or 20 to 25 a day. In 2022, they welcomed 3,500, but that was a year when the gallery was closed for two full months – in January due to the pandemic and over four weeks in October and November to allow for the floor installation.
Still, she said, they did welcome 25 a day at times in August. That, combined with the strong numbers that turn up for their programming and some outstanding future exhibitions planned, should help get attendance back up.