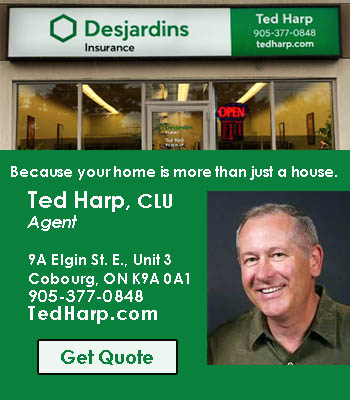 Volunteers have once again come forward to help the homeless after they were evicted from the bus terminal in Cobourg on Monday, November 21, 2022.
On Saturday, the bus terminal was opened and used as a warming centre overnight Saturday and Sunday.
On Monday, a number of homeless that had been staying inside the terminal were evicted by police and by-law.
Local homeless advocate Missy McLean was incensed the people would be put out into the cold with no other overnight options.
But on Tuesday, it seems that once again through the communities efforts, people no longer have to sleep in the cold.
Volunteers will be taking shifts overnight in St. Andrew's Presbyterian Church located at 200 King Street West until the warming centre at St. Peter's Anglican Church located at 240 College Street opens on December 5, 2022.
Outside St. Peter's Church the sign says, "Everyone Deserves A Home."
Even before the warming centre opened up for the first time on Tuesday evening, people were entering the church looking for warmth.
McLean said the same volunteers that helped over the weekend have grown in numbers to help at St. Andrew's Church.
"The church has given the volunteer group that has come together permission to use space to a overnight warming room for folks to shelter out of the cold."
As long as there are volunteers, the church will allow the overnight warming room.
"It's been 12-hours, but I'm overwhelmed by the response that we've had from the community. Folks have really shown up for their neighbours. If what we heard today is any indication, I think we're going to be good."
Overnight shifts will be approximately two-hours in length to make it as manageable as possible.
McLean said she hasn't heard any reason why people were evicted from the bus shelter on Monday.
"We're focused on everything we've got going on right now. We've had this overwhelming response from volunteers, we've had a overwhelming response from the community in terms of offering donations. We've had gifts cards, food and snacks provided. We've had bedding and warm blankets for folks.
Through the network of volunteers those that need the warming centre have been notified.
Since Saturday, McLean said, "it's been a lot of rewarding work, mixed in with a lot of frustration, a lot of anger and a lot of worry. But when I think about the folks who are going to benefit from having access to this warm, safe place tonight – it's all worth it."
The St. Andrew's Warming Centre will be open from 8:30 p.m. until 8 a.m. daily under December 5.
Town of Cobourg Goes From Kind Gesture to Turfing the Homeless