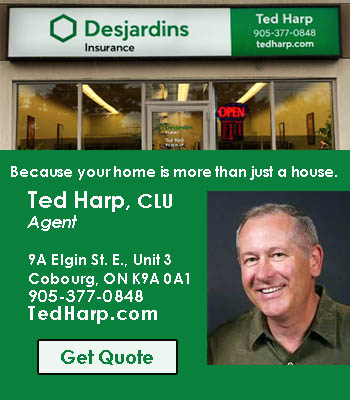 Damaging the wiring for a CCTV camera doesn't deter Cobourg Police Chief.
Cobourg Police Service are investigating after wires were cut to a closed-circuit television camera that was being installed on the south side of University Avenue East, just west of Walton Street sometime between the evening of November 9th and the morning of November 10th.
At a press conference at the location of the damage, Cobourg Police Chief Paul VandeGraaf said police believe the wires were cut by what appears to be a reciprocating Sawzall.
The camera being installed was one of 25 cameras that are part of the mesh network in the downtown core. CPS Crime Analytics Department determines the camera locations through the analysis of crime data.
VandeGraaf said it was "disheartening" that it happened, but it certainly won't deter the project, or the camera installation.
"As we were in the process of installing this newest addition, somebody obviously proved our analytics to be correct."
"Somebody doesn't want us to be in this neighbourhood. Recognizing this criminal nature of mischief does not deter us from moving forward with out network."
"The misbehaviour of some, the illegal activities of others will not deter us. The camera will be live here and we continue to provide safety for our community."
Neighbours in the area where cameras installed stood by and watched the press conference and later stated they are fully in support of the cameras being installed at the location.
"This is our effort from all of our officers, civilian members to combat the illegal behaviour of many in our community."
Officers canvassed the area going door to door looking for any information on the mischief.
VandeGraaf stated the service has seized worth over $100,000 on the street in the month of September.
In November 2020, Cobourg Police Service received $200,000 from the Province through the Ontario Closed Circuit Television (CCTV) grant program to support the Community Safety Network enabling rapid post-event response for victim identification and crime prevention.
Anyone with information is asked to contact police at 905-372-6821 or leave an anonymous tip with Crime Stoppers by calling 1-800-222-TIPS or visiting stopcrimehere.ca. Tips received through Crime Stoppers may be eligible for a cash reward.
The damage to the equipment was repaired before the press conference began.