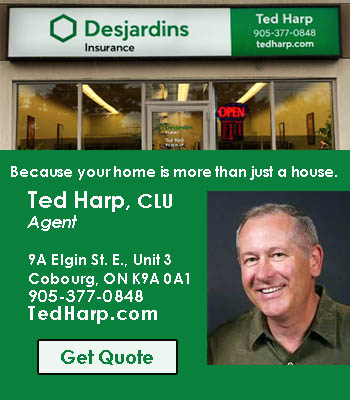 A quick trip to McDonald's in Cobourg on Sunday, October 30, 2022 turned into something more mayor elect Lucas Cleveland expected.
It was around 1 p.m. when Cleveland was going through the drive-thru at the William Street business.
Cleveland ordered a Happy Meal, but the server wouldn't accept the $100 bill.
Speaking to Today's Northumberland around 6 p.m. on Sunday, Cleveland stated, "it's all on camera. There was no profanity."
Cleveland said he has filed a Freedom of Information request with Cobourg Police and is hoping to obtain the body-worn camera video as soon as possible so he can show he was, "calm, collected and kind. I never once raised my voice."
Cleveland said he would provide a copy of the video to Today's Northumberland as soon as possible.
"I was trying to buy a Happy Meal and the woman (server) said, "we're not accepting your money. It was very clear why she wasn't accepting my money and it had nothing to do with the $100."
Cleveland said he stated to the woman, "this money is money and I'm a customer. Just because you don't like me ma'am doesn't mean I shouldn't be able to buy McDonald's."
But the woman told the future Mayor that McDonald's has a policy of no $100 bills.
Cleveland said the woman took his $100, "and left me waiting at the second window.
After waiting in line at the drive-thru for approximately 20-minutes he went into the store, "to try and speak rationally" and asked for his money back if they weren't going to serve him.
Cleveland said the woman server refused stating the police were called.
"I said, "for what? I just want my money back so I can leave."
"I said, "ma'am please, I'm not a hoodlum just because I'm dressed like one."
"I said ma'am, "I just won the mayorship, I don't know why you're trying to embarrass me. Can I please have my $100 and leave?"
"I was there in track pants and a t-shirt, hung over from last night. Tired and embarrassed that this woman has called the police while holding my $100 hostage."
Cleveland said he wasn't causing any trouble and was just trying to buy his son a Happy Meal.
"And she won't sell it to me because she doesn't like me because I just won the mayor's job I guess."
"It's an embarrassment that's what it was. She was intentionally trying to embarrass me."
"She wouldn't serve me because she obviously doesn't like me."
"I went, ma'am I don't know why you're doing this. Is it because I just won the mayoral job?"
(The woman didn't answer)
So Cleveland waited outside in the car for the police to arrive.
One of the questions Cleveland is dumbfounded with is how the employee was able to hang on to his $100 when at that point he wanted his money back and just leave.
When police arrived, Cleveland said they gave him back his money, apologized and he left.
"I said sorry to waste your time."
Cleveland ended up going to KFC to get a Big Crunch Combo for his son.
Cleveland told Today's Northumberland, "unfortunately there are a lot of people who are unhappy I won this election."
Stating his been getting called out on the street and booed in restaurants.
"I walked into Kelly's the other day and couldn't even get a drink because I was booed out of the place."
(Clarification: Cleveland states he left the establishment because he was booed, not because they refused him service)
"It is what it is. This is what I signed up for."
"I'm not a perfect person but I didn't do anything wrong today except ask why I couldn't buy a Happy Meal with a $100 bill."
Cleveland is well aware the next four years is going to be tough.
"Every single thing is going to get dragged through the mud. But this is the campaign I ran on and this is what needs to happen because people need to understand what is actually going on."
Today's Northumberland reached out to Cobourg Police who offered no comment.
Today's Northumberland also reached out to McDonald's, who didn't reply back by deadline.