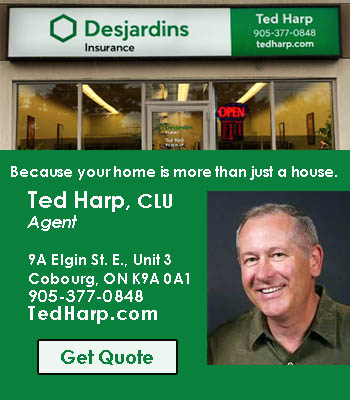 (St. Mary's Thunder photo)
By Jeff Gard/Today's Northumberland
Cobourg's St. Mary Catholic Secondary School Thunder won the Kawartha senior girls A/AA rugby championship in Peterborough on Wednesday, taking down a familiar foe in the process.
Following a lopsided 41-5 win over Brock High School in the semifinals, the Thunder earned a 24-19 victory in the final over the Holy Cross Hurricanes from Peterborough.
Holy Cross defeated St. Mary in last spring's OFSAA provincial championship gold medal game, which the Thunder hosted in Cobourg. In fact, Thunder player Grace Jenkins said the Hurricanes hadn't been defeated since 2019 prior to Wednesday's win by her club.
St. Mary had been building for this year's playoffs through a strong regular season.
"During some games we would get in our own way, but other than that we were coming out strong and this win at Kawartha has definitely been a long time coming and as a team I think we're really improving and getting stronger," Jenkins said.
Kiera Martin scored two tries for the Thunder with Leila Briscoe and Ryleigh Woods providing the other two in the win over Holy Cross. Gloria Knott added a convert.
Jenkins noted the great runs and scoring prowess by her three teammates and noted that Briscoe is a "driving physical force."
"She was taking out girls left and right as she was going down the field."
Defeating Holy Cross was a tremendous achievement for the Thunder.
"It's been a long time coming, for sure," Jenkins said. "We just wanted to celebrate all of our achievements, so every long run, every good kick, every awesome pass we celebrated during the game and it really helped us keep that positive atmosphere to overcome them and their defence and shut down their offence so that we could be up on them and continue to score and just keep our drive going."
This year's Thunder senior girls roster features a strong mix of returning players and new team members who have moved up from the junior division. That was evident in the convincing semifinal win over Brock.
"We got up early and started running on them and we were able to get almost everyone into that game so we all saw the field which was awesome," Jenkins said. "Every time that gets to happen is really exciting, especially for newer players to get more playing time because they're very deserving and show up to practice all the time.
"My teammates say it themselves, but we're like a family. We're all sisters, we have each other's backs and we're really good when facing adversity and we really have the heart to show what it takes to play both offence and defence because it's defence that wins games, but offence determines by how much."
St. Mary's senior girls now turn their focus to the Central Ontario Secondary School Athletics A/AA championship tournament, which they'll host Tuesday. Game times haven't been announced yet.
Teams will be competing to earn their spot at the OFSAA championship in the spring. Last season, the Thunder earned their berth as the host team, but this time around will have to win their way there.
"We've really been working hard, putting in the extra hours this year just so we're prepared for whatever team we're facing or whatever challenge we're met with next," Jenkins said. "It's definitely more pressure to have to make it in to qualify versus hosting it and getting the bye in. Obviously we still worked hard last season, but this season every game is just worth just that little bit more and we have to push that little bit more so we can try and make it to OFSAA."
With the COSSA region perhaps the strongest in Ontario, the challenge to qualify for the provincial championship is a tall task with Quinte area teams joining Northumberland and Peterborough area clubs in the mix. Case in point, although St. Mary just entered as the host last season, they still captured the OFSAA silver medal. Without hosting, they wouldn't have even been in the provincial championship.
"Sometimes it has its disadvantages, but being in such a strong loop at COSSA just, I feel like, makes our team better and every team that we play around our area is also helping to make us better because they want it just as much as we do so everyone's just in that battle trying to make it to the top," Jenkins said.