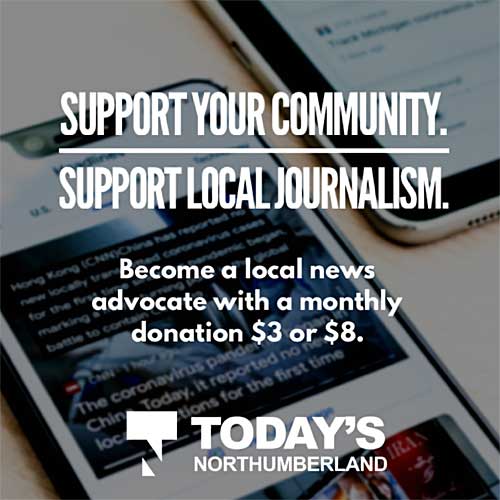 A special ceremony took place at the Emergency Services Base in Roseneath on Thursday, July 29, 2021 honouring a retired Fire Chief.
Friends, fellow firefighters, dignitaries, and family members were on hand for the unveiling of sign entering the Emergency Services Base as Ross Poole Way.
Alnwick/Haldimand Township Mayor Gail Latchford spoke of Poole's many accomplishments during the ceremony which was held inside the firehall due to inclement weather.
Poole's service in the fire service began in 1966 when the Roseneath Fire Department was formed.
A decade later the Province mandated fire responsibilities to the municipalities.
"Very little funding was available, if any, so fundraising and community donations continued to help support our fire services," said Latchford.
Poole served on the fire service in many capacities including firefighter, deputy chief, fire prevention officer and finally fire chief retiring in 2011.
"As Fire Chief you became a well respected member of the Northumberland County Fire Chief's Association."
With the amalgamation of Alnwick and Haldimand Townships it brought more responsibilities and changes within the new municipality, but Latchford said the Poole, rose to those challenges."
"As a leader in the fire services, your advice, teachings and dedication was instrumental in two fire services successfully joining to become one excellent for service for Alnwick/Haldimand Township."
Along with being a firefighter, Poole was hired on January 1, 1969 by Alnwick Township as Public Works Manager.
"You had two, 24/7 on call jobs, plus your farming operation."
Latchford also gave credit to Poole's wife, Blanche who had hot meals ready whenever he would show up from work.
"Your years of leadership have demonstrated resilience, determination and commitment. Ross you served your firefighters, road staff and the municipal councils and staff instead of waiting for them to serve you."
"As that dedicated leader, there is one thing you always demonstrated and that is respect."
Deputy Fire Chief Allan Sheppard spoke about working with Poole over the years.
"Ross was original."
"Throughout his years of service, Ross was well respected by all the emergency responders he worked with."
"Many of us learned many things from him."
Saying Poole was "super calm when situations got heated – Ross was the man."
"He showed us the way for so long. Now, we honour him by naming the entry to our Emergency Facility as "The Ross Poole Way."