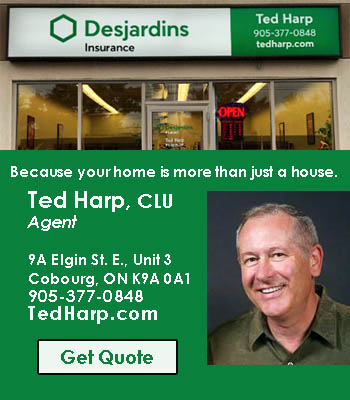 By Cecilia Nasmith/Today's Northumberland
Being at Port Hope's Primitive Designs is always an Alice-through-the-looking-glass kind of experience, especially when a new shipment comes in – as Today's Northumberland discovered at a recent arrival.
Owner Ron Dacey was interviewed on Father's Day weekend as he managed four tractor-trailer loads that had been arriving over the previous 10 days, bits and pieces from around the world to be put away or earmarked for specific projects (like the great white shark under construction behind him).
"This is product that was bought back last year, stuff that was supposed to arrive in February just arriving now. Like everybody else, it's being held up," Dacey said.
A two-ton great white shark, when complete, will join other creations on his lot, like the giant triceratops and an octopus who has managed to climb aboard a pirate ship that he built.
"From April 7 to May 8, I worked by myself on that pirate ship," he said.
"Left-over wood and a lot of things you will see from the store, wood carvings and different pieces around the property we have incorporated into it, and we have come up with this good-looking ship."
It's a trip just to drive past his lot on County Road 28 and see what's front and centre – perhaps a looming tyrannosaurus rex with menacing red eyes. Or you might drop by the Port Hope tourism office and get distracted by the giant yellow Transformer.
Asked where his ideas come from, Dacey recalls a life of travelling around the world, mentioning time spent in places from Marrakesh to San Francisco before he opened up in Port Hope 20 years ago.
"My life and travel is conducive to a lot of things visually. You become creative," he said.
He has always taken the opportunity to pick up things that caught his fancy, perhaps to resell, perhaps to refashion. When inspiration hits, he said, "We do the sketch, we work on the computer to get the look we want and the size we want, we oversee it, we finance it and we hire artists in different areas to build it."
The biggest pieces are a special challenge.
"I do concept drawings, finding pictures, finding information, finding sizes – how big is the largest great white shark, how big is a pterodactyl really, how big is a triceratops – and trying to match some numbers to keep it sort of in perspective," he described.
"It's work. It takes time."
He pointed out a piece that had been built on the border of Laos, and a dinosaur that was constructed in northwest Thailand. Over 30 years, he has connected with a small army of international craftspeople who seem to be able to execute any idea he sends their way.
"We come up with ideas all the time," he said.
"We were tired of having just a simple store. We wanted to make the art store that we have into a bigger event. So this is still art – this is bigger art."
Dacey finds that the typical purchaser of these mammoth pieces is a private collector.
"We have a big warehouse with 100 antique cars from the '50s and '60s. They would buy one of these sculptures made of car parts.
"We also sell to Ripley's Believe It Or Not," he added, referring to the museum in Niagara Falls.
"We try to make sure our store has things that nobody else sells – or if they sell it, you don't see it very often – and it seems to go over well.
"We have been at it a long, long time so our success, I guess, is from experience. We try to find things that are different. It's easier for us because we travel all over the world and we know where everything is made, from Marrakesh to India to Nepal, Java, Sumatra, Vietnam – many, many countries."
Losing that ability to travel for the last year and a quarter due to the COVID-19 pandemic has changed how Dacey operates.
"We have been doing things by teleconferencing, by computer, live video chat, and it's tough. But we have managed to get it done," he said, but not without problems.
The prices of the treasures he wants to acquire have inevitably gone up – probably hitting his wallet more than if he could have been present for some on-the-spot bargaining.
Even with translators, language problems seem to be magnified if you can't be there in person. Sometimes he thought the pieces were put together only to discover one or two went missing through simple human error.
And shipping-and-handling costs have probably tripled, whether by land or sea.
But it's still doable, he declared.
"You just have to keep going."
As much as he loves what he does, Dacey isn't ruling out new highways to explore.
"I have a son that's 20 years old and I'm waiting for him. If he wants to jump in and take over, I would be glad to go play Frisbee on the beach."