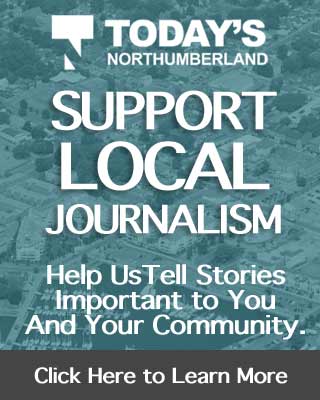 Hot off the press the Rotary Club of Cobourg "I Got The Shot" signs have arrived.
Rotary Club of Cobourg COVID-19 committee members Lynda Kay and Nancy Bruce displayed the signs to Today's Northumberland on Saturday, June 5, 2021.
The signs say "Beating COVID-19 One Jab At A Time – I Got The Shot – Thank You Volunteers."
The sign idea came thought committee member Gord Ley and thanks to the Town of Cobourg, 2,000 signs were ordered.
"Everybody is excited about getting vaccinated and I think the other thing is encouraging the community to come together," said Kay.
"The signs were a way to say, "hey I got the jab" and that I'm part of the movement to make sure that our community is going to be one of the safest in the Country and that our community is going to make hopefully at least 90% immunity."
With people anxious to get their second vaccine, Kay said, it's a nice way to build community. To say, "hey I've got my shot and that we're all in this together."
The signs are available for a minimum donation of $10.00 with all proceeds going to Rotary Club of Cobourg's COVID-19 initiatives.
Pick up dates for the signs are Monday, June 7 from 2 p.m. to 6 p.m. and Saturday, June 12, from 9 a.m. to 12 p.m. at the YMCA located at 339 Elgin Street West in Cobourg.
Anyone can also pick up there sign at the Cobourg Community Centre when they get their vaccine.