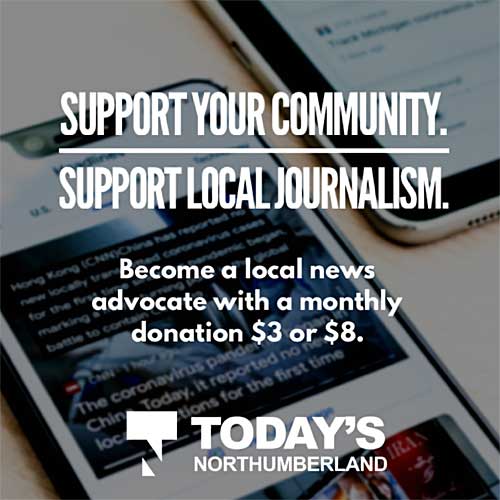 A change of command ceremony for the Cobourg Police Service was held in the Old Bailey Courtroom of Victoria Hall in Cobourg on Thursday, August 15, 2019.
The courtroom was packed with family members of incoming Police Chief Paul VandeGraaf along with officers from the Cobourg Police Service including Special Constables and Auxiliary Officers.
Members of Town Council, and other police services were also present including all members of the Cobourg Police Services Board.
Incoming Police Chief VandeGraaf took over for Kai Liu who will be heading up the Treaty Three Police Service.
Chief VandeGraaf had his badge presented to him by his father, Retired RCMP Staff Sergeant Gerry VandeGraaf.
Chair of the Police Services Board Dean Pepper presented the Chief's Ceremonial Sword to Chief VandeGraaf.
Below is the speech by Chief VandeGraaf along with Cobourg Police Association President Chantal Diotte.
Chief Paul VandeGraaf
Good afternoon
MP Rudd, Mayor Henderson, Chair Pepper members of Council and members of the Police Services Board, Chief Liu, visiting police members and members of the public…Thank you for attending today.
To the members of the Cobourg Police Service, past and present, sworn, civilian, and our volunteers thank you for attending today on what is the beginning of a new chapter in the long history of the Cobourg Police Service.
I would like to specifically thank President Chantal Diotte of the Cobourg Police Association and Vice President Lynne Sheils of the Cobourg Police Service Senior Officer Association for their kind remarks today. Together we will exceed the goals and expectations of our membership and the Cobourg community in truly making Cobourg one of the safest communities in Canada. I am looking forward to building on the established cooperative relationship we have in serving the members of our Service and our community.
I am deeply honoured to serve as the 13th Chief of Police for the Cobourg Police Service. Since arriving in 2014, the Service has seen considerable transformation as we have truly become a Service that is engaged with its community. This has been possible by the efforts of the women and men of the Cobourg Police Service and the many community organizations that we work collaboratively with. Be it Cornerstone, Rebound, Community Living, the YMCA just to name a few we have had made a tremendous impact. Moving forward, we will build on that impact to ensure that we remain innovative in how we respond to a variety of community issues. Innovation is the key to ensuring our success.
As Police Officers we must always remember that we are the on the front lines of maintaining law and order, but are also on the front lines of making an impact on social disorder. Ensuring our impact is effective; we must remain innovative in our response. Innovation is key in everything we do. We have been very innovative in our Corporate Services Division at Venture 13 due largely to the amazing team there.
That amazing impact has delivered many positive impacts in community and specifically in relation to greater community safety. Our Service is becoming known as a social enterprise, or an organization that applies strategies to maximize improvements in financial, social and environmental well-being. That is the true impact that we have…AND the opportunity to deliver on.
I am very proud that almost all the Supervisors are here today. As I will need your support in continuing the transition we have started. I have heard you all clearly in the last few weeks, and for them, I promise to take a breath and let you set the speed of change……well …sometimes!
We will measure our impact in all areas looking for successes and looking for areas that we need to improve on. Hopefully you have all finished reading the book Black Box Thinking, as we begin that journey now.
Innovation is the theme that will define my tenure as Chief. Innovation in business, innovation in police service delivery, but most importantly innovation in community safety. We have a solid foundation in our innovative service delivery incorporating Special Constables, Auxiliary members and citizen volunteers with our sworn membership. This strategy allows for a complete response to any community safety problems. Moving forward we will be incorporating analytics to not only tell us how we have done, but more importantly how we need to act and react in the future. We will become a far more predictive Service, one built on knowing where and when we need our resources to have the greatest impact.
As I said earlier, we are on the frontlines of both law enforcement and social order maintenance. We have to make sure that we find the most appropriate areas of intersection with other police services, courts, community agencies and the community at large to have the greatest impact. As an example, we are never going to arrest ourselves out of the current Opiod problem. Events like two nights ago where the joint efforts of the Port Hope Police and Cobourg Police Service criminal investigation teams removed over $100,000 of drugs from the street will continue. We will actively identify, investigate and hold accountable those people who wish to prey on the vulnerabilities of some in our communities. BUT, we have to move forward with a dynamic harm reduction strategy with all community partners to address those root issues causing this epidemic. As a Service we have a SHARED responsibility for this response. This is the real impact we can have.
Policing is increasingly more complex and fast changing. I recognize that this has an impact on all of us. Each of us carries the burden of policing differently. We carry this because we realize that to be great police officers it is always about something more than ourselves. Moving forward in partnership with the Police Services Board and both Associations we will look to further our collaborative approach to ensuring the wellness of all our staff. Where we serve the community, we must serve our members. There is no one simple answer to this, but we will develop strategies that have immediate impact and long-term results. I am not the expert in this, but collectively we can deliver what is needed most in our shared responsibility.
In conclusion, I would like to thank Chief Kai Liu for his unyielding support and guidance over the past four years. I know Treaty Three will be well served with your leadership. Our conversations all times of day and night will be missed
Cobourg Police Association President Chantal Diotte
My name is Chantal Diotte, I am the President of the Cobourg Police Association. As you may have noticed by now my first language is French so please bear with me. I am honoured to be in attendance today for the swearing in of Cobourg's new Police Chief – Paul VandeGraaf.
Firstly, I would like to thank former Police Chief Kai Liu for his dedicated service to the entire Cobourg community. Now, on behalf of the uniform and civilian police personnel who make up the Cobourg Police Association, I would like to formally welcome Chief VandeGraaf to his new position.
The Cobourg Police Association is committed to ensuring our police personnel have a healthy and safe working environment given the challenges we face. We advocate for our members' individual and collective rights and interests, both locally and on a provincial level as an active member of the Police Association of Ontario. A great deal of our membership is made up of women and men who not only work in Cobourg, but live in Cobourg – and it shows. We are dedicated to making our town the safest place to live, work, and visit.
I'm looking forward to working with Chief VandeGraaf on furthering the development of much needed member wellness initiatives. It's so important for us to have appropriate supports in place that allow us to take care of those who take care of this community and its citizens.
Though the Police Chief and Police Association President have different roles when it comes to providing leadership for the uniform and civilian women and men who make up the Cobourg Police Service, we ultimately have the same goal – to ensure our police personnel have the resources and supports required to do their jobs as effectively and safely as possible. It is truly a partnership between the police service management and the police union. We might not always agree on every issue at hand, but a positive relationship developed through a mutual level of trust and respect is key to ensuring our goals are successfully achieved.
I look forward to working with Chief VandeGraaf, and again, warmly congratulate him on his new position with the Cobourg Police