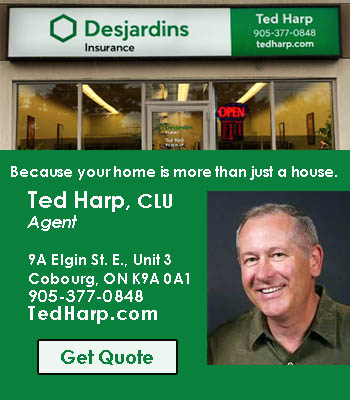 The Town of Cobourg in conjunction with the Cobourg Police Service and Northumberland County would like to ask the community for assistance to help eliminate illegal dumping and littering in streets and alleys as well as on private and commercial properties.
Illegal dumping is disposing of waste or unwanted materials in unauthorized or undesignated areas. Items dumped illegally may include, but are not limited to:
• Household garbage
• Construction and landscaping debris
• Tires and automotive parts
• Furniture and appliances
• Used oil and chemicals (such as paint or oil)
"Unfortunately illegal dumping is occurring in all of Cobourg's parks and we see everything from construction materials, freezers being emptied, and daily small grocery bags filled with household waste," replied Jason Johns, Facilities Manager for the Town of Cobourg.
Most illegal dumping is done to avoid paying disposal fees at landfills or failure to take the time and effort to dispose of items properly. Common areas for dumping may include vacant properties, alley ways, commercial dumpsters and along the roadside. Dumping causes devaluation of property, health hazards and stormwater pollution. Items dumped can wash debris and pollutants into the storm drain system, causing flooding, clogged drains and damage to fish, wildlife and plants downstream.
Northumberland County and Town of Cobourg Bylaw Enforcement Officers and the Cobourg Police Service will be fining anyone caught illegally dumping. Common areas for dumping will be monitored on a regular basis. Illegal dumpers can face a minimum fine of $105 or a maximum fine of $5,000.
"Our citizens and businesses are fed up with illegal dumping and we are pleased to work in tandem with the Town of Cobourg and Northumberland County to address the critical need to take legal action against illegal dumping," said Chief Paul VandeGraaf of the Cobourg Police Service.
How to Report Illegal Dumping
Citizens can help by reporting illegal dumping. Phone the Northumberland County Hotline at 1-866-293-8379 24 hours a day, seven days a week. Try to provide as much information as possible, such as the location of where the materials were dumped, vehicle description and license plate number and a personal description of the violator.
Dispose of Waste the Right Way – Information on Waste Collection and Community Recycling Centres
Many disposal options are available to residents of Northumberland County including curbside pick-up of garbage, recyclables, food waste (Green Bin), and leaf and yard waste.
The County also provides waste diversion programs at its Community Recycling Centres (CRCs) for items such as electronic waste, Styrofoam, bulky plastics, tires, dry wall, scrap metal, freon-containing items, and leaf and yard waste. CRCs in Bewdley, Seymour, and Brighton are currently closed to the public, however they will be reopening on a limited basis by May 1. In combination with ongoing curbside collection, limited access to the CRCs will further ensure that residents are able to dispose of all urgent waste items.
Restrictions will be in place at all CRCs to protect the health and safety of staff and customers during the COVID-19 pandemic. This includes modified operations from 8:30 a.m. to 3:00 p.m. as follows:
Bewdley CRC: open Mondays, Thursdays and Saturdays as of April 27
Brighton CRC: open Monday to Saturday as of April 29
Seymour CRC: open Wednesdays and Fridays as of May 1
Other restrictions will include limiting the number of vehicles entering the premises at one time, and limiting payments to debit and credit card only. Please note that while Household Hazardous Waste and clothing are also part of the County's waste diversion programs at CRCs, these materials are not being accepted during COVID-19. Residents are asked to store these materials until the CRCs resume normal operations.
With current public health direction that people stay home as much as possible, Northumberland County strongly encourages residents to limit trips to the CRCs to essential waste disposal only at this time. If you have capacity to store items at home, please do so until CRCs return to normal operations.
One Free Bag of Garbage per Week
Northumberland County would also like to remind citizens that in response to COVID-19, households will be permitted to put out one free bag of garbage per week on their regularly-scheduled collection day until May 29, 2020. A maximum two-bag limit per week per household remains in place. County Council will continue to assess whether an extension beyond May 29 is required.