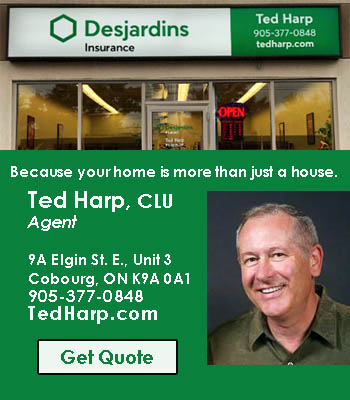 By Cecilia Nasmith/Today's Northumberland
The butterfly-wing banners that surround the fountain in the Rotary Harbourfront Park need to be replaced periodically, and this was the year.
Also this year, as Cobourg council heard at this week's committee-of-the-whole meeting, the flying of the new Butterfly Wings will be delayed in order to refurbish the poles and arms that display them.
Director of Community Services Brian Geerts said that work crews had discovered the metal arms were not in as good condition as they should be. As a result, the $13,000 budgeted for the Butterfly Wings will not quite cover the current replacement and the motion passed called for an additional $6,000 to be funded from the Committee for the Arts in Public Space Reserve – "so that when they are restored, the arms look just as beautiful as the new Butterfly Wings," he said.
The current structures – eight poles and 16 arms – have been stored outside since 2019, and have been significantly weather-beaten. They will need to be sandblasted and repainted before another season.
"I'm sure the public will be very excited to see the Butterfly Wings again in the park," said Deputy Mayor Nicole Beatty – chairing the meeting in the absence of Mayor Lucas Cleveland at a Great Lakes conference in Chicago.