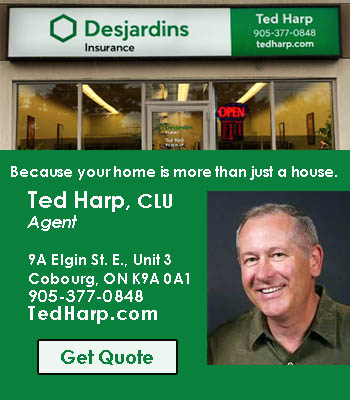 By Cecilia Nasmith/Today's Northumberland
Following its recent council meeting, the Municipality of Port Hope has amended its bylaw to allow appointment to the Deputy Mayor's seat to be on a rotating basis through the 2022-2025 council term – and has installed Todd Attridge as the first Deputy Mayor.
During deliberations, Councillors Les Andrews and Chris Collins removed their names from consideration for the rotating-appointment schedule, leaving four councillors eligible. Council formalized the Deputy Mayor schedule through assigning the duty by calendar year – Attridge in2023, Claire Holloway Wadhwani in 2024, Vicki Mink in 2025 and Adam Pearson in 2026.
"I'm very excited to be this term's first Deputy Mayor, and I believe firmly in the distribution of responsibility and authority," Attridge stated in the announcement.
"During the election, I ran on a platform of greater communication, co-operation and transparency in municipal government, and the rotating Deputy Mayor role is a small step towards achieving that goal. The change to a rotating Deputy Mayor schedule demonstrates that members of council, through actions and words, are here to serve the entire community and are invested in its success."
Deputy Mayor is not a legislated role within the Municipal Act, but many Canadian municipalities elect or appoint the position as part of their council complements, with the intent of having someone to act as Mayor when the Mayor is absent (or should the Mayor's position become vacant).
In Northumberland County's other six member municipalities, it is an elected position.
Mayor Olena Hankivsky said she is pleased with the introduction of a rotating schedule for the Deputy Mayor position.
"This change aligns with a growing trend in municipalities to promote fairness and equity, and speaks tot he tone that this council is setting in our first few months of this term. I know that Todd's strong leadership in Year One of the Schedule will greatly benefit this council and community."
For more information, visit the council page on the municipal website.
The press release included a brief biography of the new Deputy Mayor, born and raised in the small farming community of Leamington. He received a Bachelor of Commerce degree from the University of Guelph.
He and his husband moved to Port Hope in 2017, following in the footsteps of many friends.
He is founder and President of DifferentMatters, a behaviour-change agency that helps organizations drive results by building a deep sense of belonging and purpose within their teams. This is a second career, as Attridge – a proud foodie (and avid traveller) – also owned a restaurant in Toronto for many years.