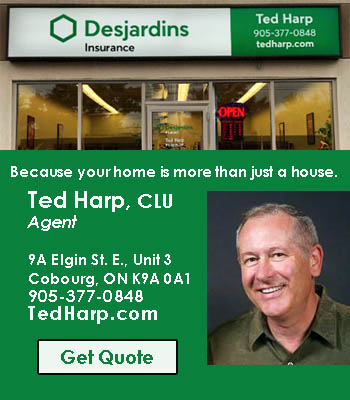 Three time Stanley Cup and Conn Smythe trophy winner Justin Williams came home to Cobourg for his annual Justin Williams Hockey Camp.
The Camp took place at the Cobourg Community Centre starting from Monday, July 22, 2019 and ending on Friday, July 26.
Over 80 players took part in the annual event from all parts of Canada and beyond.
It's an annual Camp that couldn't be done without the assistance of Williams, friends, family and volunteers.
Every year Williams takes on an active role on the ice with the players and instructors.
The Camp not only improves the skill level of all the participants, but it donates upwards of $30,000 each year to local charities.
Throughout the week, participants were put through various drills on and off the ice to better themselves.  On Friday, there was a friendly skills competition between the participants and instructors.  After, it was a pizza lunch and then a time participants could ask Williams any question.  Favorite arena, or meal before a game.  Williams answered them all – except one.  When a young child asked if he was going to play in the upcoming season and where he would like to play – Williams graciously declined to answer – for now.
After, Williams flanked by his two children signed each and every items children had for him before the memorable week was over – till next year.
Today's Northumberland spoke with Williams about the last year with the Caroline Hurricanes and his future.
TN – How was the year for you last year going back to Carolina?
JW – I'm getting more and more comfortable saying it was a good year. I was always have a tough time saying it was a "good year" if it doesn't end in a win (Stanley Cup), but only one team gets to do that. The longer the lay off has been the more I can say it was a good year, just not a great year.
TN – The team did a lot better than what the expectations of the team were.
JW – Our expectations were a lot higher. We try to raise the bar for hockey in Carolina, but you can't take a step back, but were obviously happy with the trend we have going."
In terms of the future, time is ticking down on what decision Williams will make for the upcoming season – retire, play, or move to another team. As yet, the 38-year-old veteran player said he hasn't made up his mind, but did say, he's "weirdly at ease" with what the future holds.
JW – You want to do things 100%, that's what you try and teach your children. You do that every time you play. You just want to win. You want to play, you want to compete. I still want to do that. I've been relatively happy the past few years and that's allowed me to be competitive and still be a factor on the ice.
TN – It's a family decision being so close to your wife and children?
JW- I sat my kids down and asked, "do you want daddy to be around more? And they said, "no we want you to play more. It didn't really come as a surprise, but just hearing it from them is eye opening that they enjoy it and they are able to watch their father do something that he loves and that they love coming too. It's a good family atmosphere what we've been able to experience together.
TN – They are at that age (Williams son Jaxon is 11-years-old and daughter Jade is 8-years-old) where they can appreciate it a lot more.
JW – Absolutely. A lot of players aren't as lucky as I am to be playing a long time and at the same time have kids young enough to appreciate what their parents do, what their father does. Some have them later and don't really get to see it. I'm very grateful to play as long as I have. My son said, "hey why don't you just win one more Cup" and it's pretty refreshing to hear that.