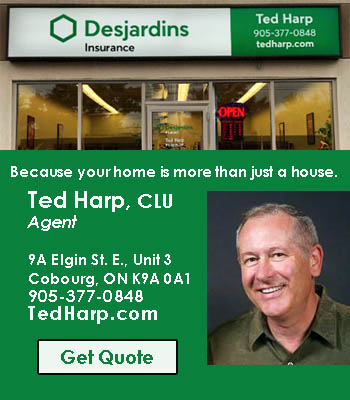 Cecilia Nasmith/Today's Northumberland
1. Chet Pasko and his wife Sandy are seen with a display of old album covers at Chet's second-storey Apt. One Records in downtown Brighton, a must-stop destination if you have any rock-and-roll in your soul.
Hanging out in second-storey rock-and-roll heaven
By Cecilia Nasmith
If you have any rock-and-roll in your soul, Apt. One Records in downtown Brighton is a must-stop destination for you.
Climb the stairs at 27 Main St. to an actual second-floor apartment (past the milk crates stuffed with old albums on the stairs) to see what owner Chet Pasko has in store (or just to share your own particular rock-and-roll enthusiasms – he's always up for that too).
People of a certain age could be forgiven for not knowing that music on vinyl is back in a big way. So many Baby Boomers started out with a great record collection which they reinvented over the years to accommodate technical progress, going to eight-track tapes, cassettes, compact discs and/or on-line streaming.
Chet never gave up on vinyl. And even though they're producing new records with digital technology, his preference is the old analog ones that have the actual years on them.
"Everything in here is 99.9% used," he said recently, sweeping an arm around the small apartment to encompass the 78s, the 45s, the records, the CDs, the boxed sets, the concert DVDs, the old-fashioned record racks and carriers, the figurines, the books, the rack of rock T-shirts, the board of concert buttons, the instruments and a goodly inventory of vintage stereo equipment.
The counter behind which he conducts business is in the kitchen, and three small rooms of the apartment are stuffed to capacity with amazing finds, like the Sid Vicious figure addressing the microphone with an air of menace, the AC-DC drumsticks and the plump, cheerful California Raisins.
Chet unrolls a poster of U2 in their All That You Can't Leave Behind days that he will soon post next to a host of other images above the milk crates, shelves, racks and tables full of records.
Chet has been a collector himself for more than 30 years.
"I had so much stuff at home, it was my daughter that mentioned, 'Why don't you open up a store.' And here I am," he said.
"There's a lot of pressure here – like deciding what record I want to play next. But I really enjoy it. And I really enjoy meeting the people."
His own enthusiasms gravitate to the '60s and '70s.
This was the golden age of the album cover, when they took great pains to put a compelling image on the packaging. Many of his customers purchase vinyl expressly for the album cover – to frame, to use as gifts or just to cherish. Chet has framed some of his own favourites, and loves the memories his customers share of how they loved these images when they were younger and what they might have meant to them.
Later on, these images would be shrunk for the cassette versions of these releases. Sometimes it didn't matter – you could still make out members of the Mamas and the Papas in the bathtub on If You Can Believe Your Eyes and Ears, for instance.
But often, shrinking meant reducing some great art into illegibility – for example, the colourful R. Crumb cartooning on Big Brother and the Holding Company's Cheap Thrills or the photographs of faces and images on the Beatles' Sgt. Pepper's Lonely Hearts Club Band that each had some meaning or other.
One of the joys of his business is to talk to fellow vinyl junkies.
"Vinyl people love the sound of vinyl, even that crackling – it brings back memories," he said.
"I have had people say they bought brand-new vinyl, and they love it. And sometimes people say they played the original as well as the new records, and the old ones sound better. They know the sound.
"I'm just a used-vinyl guy."
His business model is to buy up music and memorabilia from estates, or when people move or downsize. This has given him an inventory that covers from the 1950s to the 1990s in almost every genre. Even in cases where someone never played a record he or she might have sold to Chet, he markets it as used.
The vintage stereo components are popular with true aficionados. Chet's wife Sandy recalls a customer who actually works for a company that makes stereo equipment, and he prefers the vintage equipment. It was made to last, Chet said. And it can be repaired, so it can keep right on trucking.
Now well into its second year of business, Apt. One Records is becoming a gathering place as well as a store, Sandy said.
"People come in and see a record, and it triggers a memory and starts a conversation about the concerts and the stories. It's fantastic," she said.
"Kids remember their dads playing Pink Floyd or Led Zeppelin," Chet added.
"They loved that music so much they come in looking for it."
Customers love the novelty of the second-floor apartment location. Second-storey shops are common in the big city, Sandy said, but it's less common in Brighton. Even though the door is open and the signs are out, people sometimes enter diffidently, poking a head in and asking if it's all right to come in.
People offer to take their shoes off, Chet said. And almost none of them have seen a store with a fridge and stove right out in the retail space.
Sandy owns the Dragonfly store directly below Apt. One, and having her husband nearby to help with things like unpacking shipments is handy.
And it works out well for Chet, she added.
Dragonfly sells ladies' lifestyle clothing, jewelry, handbags and accessories, just the kind of store no woman wants to be rushed through. If they have their husbands with them, Sandy will suggest they might want to go upstairs and browse.
"They hang around up here, and pretty soon their wives are waiting for them," Chet reported.
After Easter, Apt. One will go to its summer hours – 11 a.m. to 5 p.m. Thursdays through Saturdays and noon to 4 p.m. Sundays. Typically, Chet will set aside Mondays through Wednesdays for buying trips, but he is flexible – if you'd like to take a look outside regular hours, call him at (613) 921-1290.
Chet also hopes you'll call (or e-mail him at aptonerecords@gmail.com) if you are in the market to sell as well.