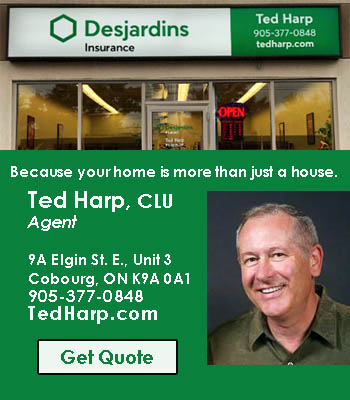 To celebrate World Water Day, Lower Trent Conservation joins Conservation Authorities across the Province in releasing a new series of Watershed Report Cards. The Report Cards provide an overview on the current state of many of Ontario's watersheds in terms of lakes, rivers, streams, groundwater, wetlands and forest cover.
The Report Cards are being released in conjunction with World Water Day, celebrated each year on March 22 to draw attention to the state of freshwater and the importance of advocating for the sustainable management of freshwater resources.
Forest conditions within the Lower Trent watershed region generally ranked from good to fair, or Grade "B" to "C". While the percentage of total forest cover across the entire watershed is above the minimum target set by Environment Canada, or "B" grade, the amount of forest interior (larger forested areas) and riparian forest cover (forested shorelines on lakes, rivers and streams) falls short.
Surface water quality grades, ranging from good to fair, were only assigned for 5 of 12 watersheds across the region.  The assignment of grades for surface water quality, as well as groundwater quality and wetlands, was limited due to insufficient data.
"To help fill some of our data gaps, we're adding 9 new sampling sites to our surface water monitoring program and expanding the sample analysis for all 18 sites starting in 2018," explained CAO Glenda Rodgers.
The expanded water quality monitoring program was approved by the Board of Directors at its March meeting.  The cost for the first year will be approximately $11,500.
"The additional data means we will be able to provide a full report on surface water quality for the next report card," added Rodgers. The Conservation Authorities' Watershed Report Cards are designed to be an ongoing product and completed every five years.
The Report Card presents information in a very user-friendly way based on a standardized grading system established by Conservation Ontario, the umbrella agency that represents Ontario's 36 Conservation Authorities. The purpose of the report cards is to inform people living in Ontario about local conditions and to provide a management and evaluation tool for Conservation Authorities and other practitioners to measure environmental change and target programs.
Water and land resources provide important ecological, economic and societal benefits and should be protected. Forests, lakes, rivers, wetlands, and other natural ecosystems contribute to our own health and well-being. They provide safe drinking water sources, filter pollutants, improve air quality and prevent flooding and erosion.
The Watershed Report Card provides residents, municipalities, industries and organizations with ideas on what they can do to improve the ecosystem health of the region. Planting trees, maintaining septic systems, eliminating use of lawn and garden fertilizers and pesticides, and conserving water are simple actions that can have an impact on the region's ecosystem health.
"If we all work together, we can make a difference," said Rodgers.  "Imagine if the 75,000 people living in our watershed region all made wise environmental choices! Improving the health of the watershed requires us to think and act on ways to balance environmental concerns with everyday life."
Lower Trent Conservation is a watershed-based, non-profit, environmental protection organization. Its watershed jurisdiction covers 2,070 square kilometres including the Trent River and the watersheds of eight main tributaries, as well as areas that flow directly into Lake Ontario and the Bay of Quinte between Grafton and Quinte West. Formed in 1968, Lower Trent Conservation is one of 36 Conservation Authorities in the Province of Ontario.
Conservation Ontario has details on results for across the Province at www.conservationontario.ca or www.watershedcheckup.ca. To find out more about the Lower Trent Region Watershed Report Card, go to www.ltc.on.ca, or call 613-394-4829.