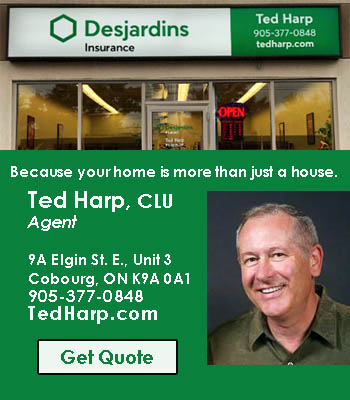 It's Ceilidh time once more! One of the most popular area entertainment options is again being offered by the Cobourg Legion Pipes and Drums, this time in celebration of St. Patrick's Day. To be held on March 10, at the LiUNA Local 183 Training Centre at 560 Dodge Street in Cobourg's east end, it will offer open doors at 5:30 pm, dinner at 6:00 pm and music until the bar closes at 11:00 pm. All this for the princely sum of $35.
A full evening of celtic revelry, of dinner, music and dancing will engage anyone interested in letting loose a little of their real or imagined Irish spirit. Open mic sessions will be offered, as will the pipes and drums of the Legion band, the celtic musical mastery of Madman's Window, and the magical sure-footedness of our own celtic country dance instructor Diane Coulombe.
This event is the principal annual fund raiser for the Cobourg Legion Pipes and Drums, as it seeks to replenish and acquire new uniforms for its members. The band has experienced unprecedented growth over the last year or two, with the result that uniform requirements have become greater, while some members still parade in original equipment from the band's more than 50 year history in the area. At about $5000 to outfit one drummer or piper, fund raising is essential, and in this case, great fun.
To help in this endeavour, many local merchants have very generously offered a wonderful range of donated items, which will be available through a Silent Auction. Why not add to the band's efforts to continue providing a well-practiced and well-dressed Cobourg Legion Pipes and Drums by availing yourself of the evening's auction items, musical offerings and the chance to dance. Join us on March 10, at the LiUNA Training Centre auditorium, 560 Dodge Street, from 5:30 to 11:00. Tickets are only $35, and are available at Northumberland Dental Hygiene Clinic, 21 King St. W., Nessie's Gift and British Fare, 16 King St., both on Cobourg's high street, and from any band member. Cead mile failte.